Anne Heche is an American actress and director who has starred in dozens of television shows and movies over the years. Anne began her career in the entertainment industry with the daytime soap opera Another World back in 1987.
Although she is one of the most bankable names in Hollywood, Anne's personal life has been a struggle from her abusive childhood to her scandalous lesbian affairs which even derailed her career.
Was Anne Heche In An Accident?
On 5th August 2022, Friday, actress Anne Heche was involved in a car accident setting both the vehicle and the house on fire in the Mar Vista area of Los Angeles, California. Anne was severely burned and hospitalized.
As per the reports, the driver of the vehicle was speeding down a residential street and collided with a residence. The impact of the fiery car crash left the car engulfed in flames and the driver suffered burn injuries. The Los Angeles Fire Department paramedics took the situation under control and took the female driver to a local hospital in critical condition.
According to DailyMail.com, Anne was 'high on cocaine' at the time of the accident but reports suggest that she was not drinking alcohol.  As per her friend, she was in 'terrible condition' after the life-threatening smoke inhalation.
Anne was fighting for her life in the coma and is not expected to survive the severe brain injury. According to her representatives and family, she has officially been declared brain dead and her life support will be turned off.
She will be technically alive and kept on a ventilator to determine whether any of her remaining viable organs can be donated as it has been her choice to be an organ donor.
Anne Heche Parents
Anne Heche was born as the youngest daughter of parents Nancy Heche and Donald Joseph Heche. Her father was a choir director who was also said to be involved in the gas and oil business. But Anne's family didn't know that her dad Donald was never involved in the gas and oil business ever until the day he died.
Her dad was a seemingly devout Christian who sexually abused Anne when she was a kid. According to her interview with ABC News, Anne revealed that she spent 31 years of her life suffering from a mental illness triggered by the molests and sexual abuse she faced as a kid from her dad. 
Moreover, Anne confronted her mom about her father's sexual abuse only after years of therapy. Her mom felt sorry for not acknowledging it sooner.
Her dad died of AIDS at the age of 45, which he supposedly got from his homosexual relationship.
Anne Heche Siblings
Anne Heche has 4 siblings and she is the youngest among all. Her brother Nate died in a car accident on 4th June 1983 but some suppose him to have passed away due to suicide. Likewise, her sister Cyntia died due to a heart defect and in 2006 her other sister Susan passed away due to brain cancer.
Her only remaining sibling is her sister Abigal with whom she rekindled the relationship after nearly 20 years of distance.
Anne Heche and Ellen DeGeneres
Anne Heche landed on gossip pages for her romantic relationship with Ellen DeGeneres in the late '90s. The duo first went public with their relationship when Anne brought Ellen as her plus-one to the film premiere of Volcano in 1997.
Anne and Ellen dated from the year 1997 to 2000. She claims that due to her relationship with Ellen, she was "blacklisted" by Hollywood and didn't do studio pictures for 10 years. Both Anne and Ellen faced scrutiny for their same-sex partnership at the time.
During the gossip, her Six Days Seven Nights co-star Harrison Ford stood by her during that time and she considers him as one of her heroes.
Who Is Anne Heche's Husband?
Anne Heche was married to Coley Laffoon. Anne and her former husband first met when Coley filmed a 2001 documentary on Anne and her then-partner Ellen.
The pair then tied the wedding knot in 2001 but parted their ways after 5 years of marriage. The reason for their divorce was cited as the irreconcilable differences but some supposed that it was the budding relationship of Anne with on-camera love interest James Tupper.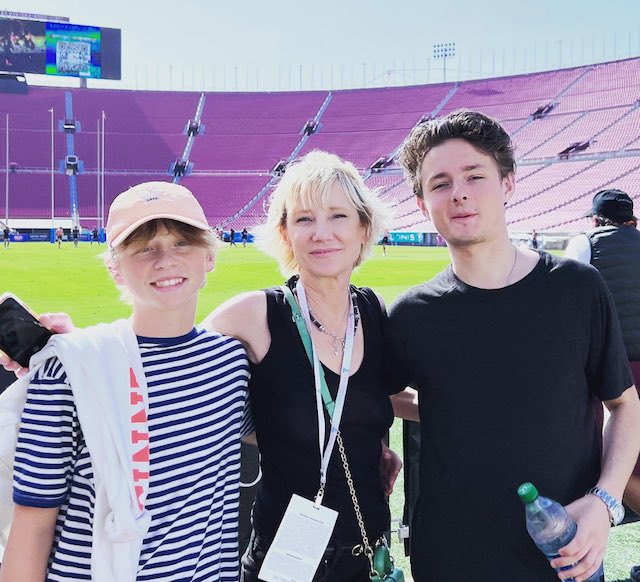 Anne and her ex-husband also share a son named Homer. Likewise, Anne also shares another son named Atlas with her former partner James Tupper. So, Anne Heche is the mother of 2 children in total. Anne and "Men in Trees" co-star James Tupper were in a relationship until they separated in 2018.
Similarly, Anne also briefly dated actor Thomas Jane.
Short Wiki
Anne Heche was born on 25th May 1969 in Aurora, Ohio with the birth name Anne Celeste Heche. 

As for her age, Anne is 53 years old, as of 2022.

Anne holds American nationality and comprises of white ethnicity.

Talking about the height of the actress Anne, she is 5 feet and 5 inches tall which is around 165 cm.

As an actress, writer, podcaster, and director, Anne's net worth is estimated to be around $4 million now.