The American actress Jodie Sweetin is best known for appearing in Full House and its sequel Fuller House as Stephanie Tanner.
Jodie has been active in her professional career for around 35 years and has many acting credits. Apart from her roles, she is also in the limelight because of her personal life.
In this regard, let's find out who is Jodie Sweetin's husband, her married life, previous marriages, divorces, her children, and many more here.
Jodie Sweetin's Husband
Jodie Sweetin's husband is Mescal Wasilewski with whom she got married on July 30, 2022. Mescal is her fourth husband whom you might not recognize as he is not from Hollywood.
Mescal is a therapist by profession who has been working in the field of addiction and mental health for more than two decades. According to Mescal's LinkedIn profile, he is currently working as a primary therapist at Catalyst Recovery. He is also a primary therapist and companion/coach at M Wasilewski Inc since 2017.
Talking about Mescal Wasilewski's education, he attended California State University, Northridge to earn his bachelor's degree in Sociology in 2013. He later joined Hunter College in 2017 where he received his Master of Social Work degree in 2019.
Wedding And Married Life
Mescal is Jodie's longtime boyfriend-turned fiancé. The duo was dating for around five years before getting engaged on January 17, 2022.
The duo got married in an intimate ceremony where they exchanged their personalized vows in front of their close friends and family. They tied the knot at a private home, in Mescal's brother's backyard in Malibu with Jodie's two daughters Zoie, 14, and Beatrix 11, who were her bridesmaid for her big day.
Jodie feels blessed to have Mescal in her life and has never hesitated to express how grateful she is in her interviews and on social media.
Mescal also has a good relationship with Jodie's daughter whom she shares with her ex-husbands. Zoie was born with her ex-husband Cody Herpin while Beatrice was born with her ex Morty Coyle.
Jodie and her husband have been together since 2017 after they were introduced by a mutual friend. The couple was previously in a long-distance relationship as Jodie was in Los Angeles and Mescal was in New York. Their long-distance dating ended in 2020 when Mescal moved to L.A.
Previous Marriage And Divorce
Jodie has been married thrice before getting married to Mescal Wasilewski. She was 20 years old when she got married to her first husband Shaun Holguin.
Her first husband Shaun is a police officer whom she met while studying at Chapman College. The ex-couple eventually began dating and got married on July 27, 2002.
When she was married to Shaun, she was taking a break from acting. It was when she tried crystal meth for the first time and was addicted to it within no time.
Her ex-husband and her family had no idea about her using it until 2005 when Jodie had to go to the hospital after a crazy night party. She decided to get help by telling her family about the addiction.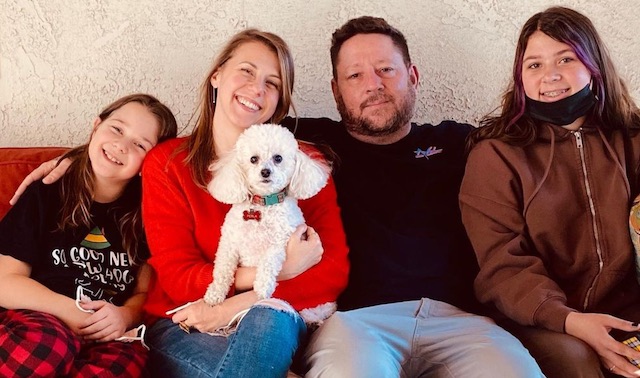 Jodie and Shaun had trust issues because of lying which led to their separation. She talked about her divorce from her first husband in 2006.
Meanwhile, in 2006, Jodie met Cody Herpin, her second husband. During that time, Cody was working as a driver and transportation coordinator on film sets.
Not long after their first meeting, they decided to get married. They got married on July 14, 2007, and eventually welcomed their daughter Zoie a year later. Zoie was born on April 12, 2008.
However, her second marriage also ended in divorce. The couple parted ways following financial stress after Cody left his job and became a stay-at-home dad.
Since their house was in foreclosure and all of their bills were overdue, Jodie filed for a legal separation in November 2008. Their separation followed a messy custody battle.
Two years later, she gave birth to her second daughter, Beatrix, with her ex-boyfriend DJ Morty Coyle. Beatrix was born on August 31, 2010.
Shortly, Morty asked Jodie for marriage and the duo got married in March 2012. Like her two marriages in the past, her marital relationship with her third husband also ended after around three years of wedding.
Jodie filed for divorce in 2015 and the reason behind their split is not yet known. The ex-husband and wife duo share joint custody of their daughter.
Before getting married to Mescal, Jodie was engaged to Justin Hodak with whom she called off the engagement in 2017.
Family, Parents
Jodie Sweetin was adopted by her uncle Sam Sweetin and his second wife Janice Sweetin. Her biological parents were both in prison so she was adopted and raised by her uncle and aunt when she was nine months old.
During the initial days of her career, Jodie did not talk about her being adopted. Later, Jodie openly talked about her adoption but hasn't revealed much about her real parents.
Jodie is very close to her parents. Recently, on Father's Day in 2022, Jodie shared an old picture with her dad and expressed her love for him in a long and sweet caption. She wrote,
"Happy Fathers Day (yesterday, but every day, really) to my favorite cake eating companion ❤️ I'm so grateful that I got to spend Saturday morning with my dad, eating breakfast at a place my family has been going to for 35 years, laughing and enjoying time spent with my parents."
Jodie was raised as the only child of her parents so she doesn't have any siblings.
Jodie Sweetin's Net Worth
Jodie Sweetin has been able to garner both fame and fortune from her career as an actress and television personality. Active in the entertainment industry since 1987, Jodie has been able to amass a net worth of millions.
As per Celebrity Net Worth, Jodie Sweetin has an estimated net worth of $2 million. Well, her net worth in 2022 is estimated to be in the range of $2 million to $5 million.
Recently, Jodie was seen in Beyond the Edge, Worst Cooks in America, and Name That Tune.
Short Wiki
The American actress Jodie Sweetin was born in the year 1982 and is currently at the age of 40.
 
Her birthday is on January 19 and her zodiac sign is Capricorn.
 
She attended Los Alamitos High School and Chapman University.
 
Jodie started dancing at the young age of 3. She took ballet and tap-dancing classes.
 
She debuted in The Hogan Family in 1987.
 
Jodie is best known for her roles in Full House, Fuller House, and Hollywood Darlings.