Sherry Cola, who broadened her artistic career with stand-up comedy, is now highlighted as an entertainer with a vast spectrum of storytelling as a comedian, actor, and writer.
She is best known for portraying the role of Alice Kwa in Good Trouble and lending her voice to The Tiger's Apprentice and Turning Red.
Does Sherry Cola Have a Husband or Wife?
You might have seen Sherry's romantic relationship on-screen in Good Trouble where her character is lesbian.
Her character Alice overlaps with her life as they are both comedians and queer. Yes, you read that right! Sherry Cola is bisexual.
Talking about her marital status, she is not married, as of November 2023. Likewise, she doesn't have a husband or wife.
Is Sherry Cola Dating in 2023?
Sherry Cola's dating life has intrigued most of her viewers who loved her watching in Good Trouble.
Sherry was miles away when it came to opening up about her partner or boyfriend. She did not use to open up anything about her love life in any of her interviews.
However, she surprised her fans when she made a red carpet-appearance with her partner Marisela Zumbado.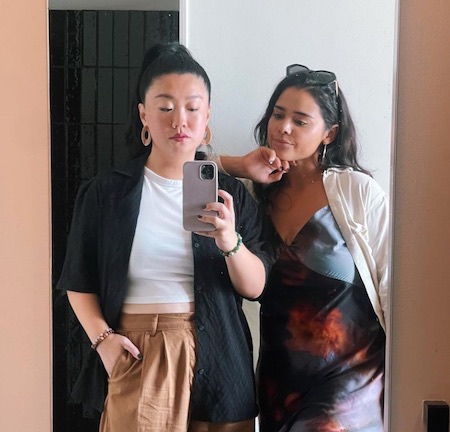 The love birds have been sharing glimpses of their dating life on social media. While Sherry is inclining her career to new heights of success, her girlfriend Marisela has been by her side as the greatest supporter.
The exact date since when Sherry and Marisela are dating is unclear. However, they are not reluctant to give insights into their relationship through their social media posts.
Sherry attended the 2023 Oscars with her girlfriend and even posed together for the pictures.
Back in June 2022, Marisela shared a picture of the duo kissing on her Instagram handle.
Likewise, in November 2022, Marisela wished her partner Sherry on her birthday in November 2022 with a cute video and caption.
During an interview with PopSugar, Sherry opened up about her lesbian character in Good Trouble. She said,
"I just feel really grateful to be able to tell these stories authentically, as someone who shares a lot of identities with Alice. I'm a bisexual, Asian woman, so it means a lot to be able to express and release through the work that I do." 
Sherry's girlfriend Marisela is also an actress. She is known for her roles in Good Trouble, Lethal Weapon, Deputy, On The Verge, The Rookie, and It's Always Sunny in Philadelphia.
Sherry Cola Parents
The emerging star full of infectious joy, Sherry Cola was born in the year 1989 to Chinese parents in Shanghai, China.
Sherry celebrates her birthday every year on November 10 and is currently at the age of 34.
Her parents moved to the United States when she was just four years old. She grew up with her family in Temple City, California, and the San Gabriel Valley just east of Los Angeles.
Growing up, Sherry learned a lot of valuable lessons from her parents, who have been her greatest supporters. Her parent used to run a restaurant in San Gabriel, California.
Sherry has been expressing her love for her mom and dad through her social media posts. She often shares her parents' pictures and exhibits her love and gratitude for them.
Back in August 2022, Sherry shared an old picture with her beautiful mom wishing her on her birthday. She captioned the picture writing,
"happy birthday to my mama! the most hard-working generous woman i know! she deserves the world and i'm gonna give it to her!."
She has also been sharing pictures with her dad. Sherry shared a screenshot of her video call with her father in July 2022 on Instagram writing, "papa turned 60 this week!"
Sherry has now made her parents proud with all her achievements. However, she has a long way to go as an entertainer.
In an interview with Glamour in July 2023, Sherry talked about her mom Zengping and her desire to give everything that her mom deserves.
She said,
"My parents made something from nothing. So I really owe my mom, Zengping, everything. I hope that when I "make it" make it, if you will, it'll align with her retiring from her restaurant so I can take her with me everywhere and we can see the world because she works so hard. That's where I get my work ethic from—my mom is still busting her ass at her restaurant in San Gabriel Valley."
Sherry further said,
"She wakes up before the sun's up and has to take care of my grandpa. She carries so incredibly much. I will always say that my mom has never lived for herself, so I want to pay her back in some way, shape, or form eventually through this dream that I've achieved. I really hope she feels fulfilled and gets to live wholeheartedly one day."
Sherry Cola Education
After moving to the United States with her family, Sherry received her early education in California.
Later, she enrolled at California State University, Fullerton. She attended the university for seven years and majored in Entertainment and Tourism Studies.
Meanwhile, she worked at the campus radio station, Titan Radio.
Sherry Cola Net Worth
Sherry Cola has been professionally active for more than six years now. She started her career in television with the recurring role of Natalie in I Love Dick in 2017.
In the same year, she appeared in Transparent, Life in Pieces, and SafeWord, as per wiki.
Sherry has now been able to gain name, fame, and fortune from her career. Her net worth in 2023 is estimated to be more than $3 million.
In the year 2023, she earned some fortune through movies like Shortcomings and Joy Ride. She will be seen in The Tiger's Apprentice and Sick Girl which will help her to amplify her net worth in the future.