The English actor Charlie Hunnam is popular for appearing on the FX series Sons of Anarchy as Jackson 'Jaz' Teller for which he was nominated for the Critics' Choice Television Award for Best Actor twice.
He is also known for his roles in Queer as Folk, Undeclared, Crimson Peak, The Gentleman, Triple Frontier, Green Street, and many more.
Who Was Charlie Hunnam's Wife?
Charlie Hunnam's wife was American actress Katharine Towne. Katharine is known for her roles in What Lies Beneath (2000), Evolution (2001), and Mulholland Drive (2001).
She was born on July 17, 1978, in Hollywood, Los Angeles, California. Her parents are Robert Towne and Julie Payne.
Her father Robert is a famed screenwriter who is known for his works in Chinatown (1974), Shampoo (1975), Days of Thunder (1990), and Mission: Impossible franchise (1996, 2000).
Charlie met Katharine while auditioning for Dawson's Creek. Their first meeting turned into a relationship soon and they got married after dating for only three weeks.
Everything in their relationship happened fast including the divorce. Charlie and his ex-wife Katherine got married on 25 July 1999 and got separated three years later. They were divorced in 2002.
The estranged pair eloped before Charlie had to go back to his home in England. They tied the knot in Vegas in front of Silver Bell Wedding Chapel's Reverend RJ Cotton at 2 A.M.
While talking about his marriage during an interview with US Weekly in 2017, Charlie described it as "three terrible years."
He said,
"First time I was ever in Vegas I got married, which didn't turn out that well. I had known the girl for three weeks. We had fallen madly in love and it was the first time I had ever been in love."
He also talked about the end result of marriage saying,
"Three terrible, painful, expensive years. I got the cats at the end of it, so that was good. There was a small victory."
Who Is Charlie Hunnam's Partner?
Although Charlie had experienced a failed marriage in the past, he is now relishing a blissful relationship with his longtime girlfriend-tuned partner, Morgana McNelis.
His girlfriend Morgana is a jewelry designer and actress by profession. She has appeared in short movies like Acting 101 and 187: The McKenna Murders.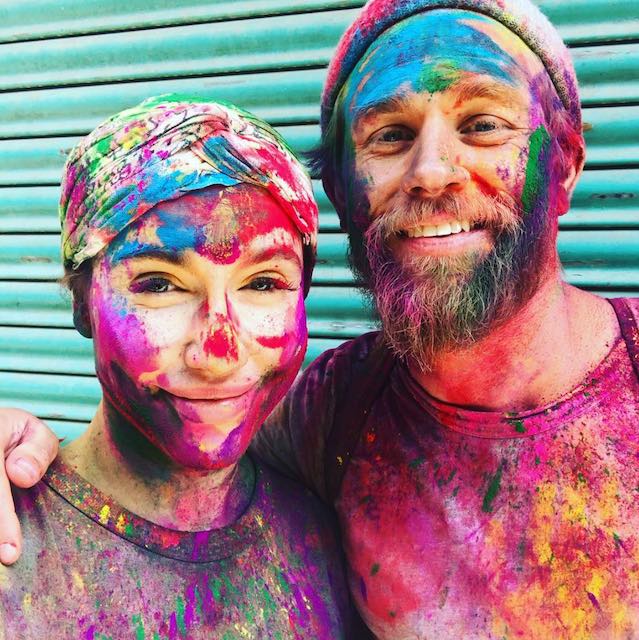 She owns a jewelry brand named Maison de Morgana. She has shared her jewelry designs on her Instagram page.
Morgana also has her own website where she sells her products.
Dating Life: How Did They Meet?
According to reports, Charlie met the love of his life, Morgana, through her business. The duo then began dating in 2005. Since then, they have been enjoying a blissful romance keeping their relationship out of the public eye.
However, Charlie has talked about his relationship with his lady love in his interviews.
Charlie kept his relationship with his girlfriend private until 2014 but when the public knew about their dating life, Morgana received many hate comments and trolls for her looks.
Charlie, being a supportive and loyal boyfriend, defended Morgana through a Facebook post in 2016, which is now deleted. As per Entertainment Weekly, he wrote,
"She is an intelligent, beautiful, kind person who just tried to live a simple life and has nothing to do with the entertainment industry. If you want to talk s**t, talk s**t about me, leave her out of it. This is a girl I love very much and have spent the last 11 years of my life with and hope to spend the next 60 years."
Charlie and Morgana have now been together for 17 years. In between these years, they rarely attended public events together.
Even though Charlie is not on social media, Morgana once shared a picture with Charlie from their vacation to India. She shared a picture with Charlie celebrating Holi in India in March 2019.
Any Plans For Wedding?
Charlie and his partner Morgana have been in a relationship for around 17 years so their fans have wondered whether they will ever get married or not.
Charlie was also asked about his plans of getting married by Andy Cohen in his 2020 interview to which he revealed that he is "sort of indifferent" about tying the knot. However, Morgan doesn't feel the same and is eager to become a bride.
Later, he told TooFab that his comments about marriage were "stupid" which really hurt his girlfriend's feelings. He clarified his statement by saying,
"I know I gotta say, that really hurt my girlfriend's feelings and I really regretted saying that. I actually didn't mean it at all, it was, frankly, just stupid s— I said in the heat of the moment."
He further said that he considers himself married. He explained,
"I'm, like, so romantic, and the reality is I sort of consider myself married. I've been with my girlfriend for 14 years. I suppose what I was trying to articulate the official government sanction of it doesn't mean anything to me but the romance of it means an enormous amount."
He continued,
"I really regret saying that. But listen, you spend 12 hours a day for three days doing interviews straight, you're going to say stupid s—, especially a guy like me that's not that smart."
Regardless, Charlie has been expressing his love for his girlfriend through his interviews and giving insight into their relationship with fans. We wish Charlie and his GF Morgana the best for what's to come!
Does Charlie Hunnam Have Children?
Since Charlie was married in the past, you might be wondering whether he has any children with his previous wife or not. Well, Charlie doesn't have any children with his ex-wife Katharine Towne.
He doesn't have any kids even with his partner of 17 years, Morgana. However, Charlie once opened up about his desire to have babies.
During an interview with Entertainment Tonight in 2017, when Charlie was asked about his plans of having kids in the future, he revealed that he thinks about having children a lot.
The actor explained,
"There's not a day that goes by that I don't think about them... as is my girlfriend. We're in the first generation that's intellectualizing it rather than just going on pure primordial instinct. We are dealing with seemingly insurmountable challenges in society like looming inevitable economic collapse, environmental destruction... it's a question about the responsibility of bringing more children into the world."
His interview suggested that he might have children with Morgana in the near future but the duo has not yet welcomed a baby.
Charlie Hunnam's Parents And Siblings
His parents' names are William Hunnam and Jane Bell. His mother Jane is a business owner and a ballet dancer.
His mother raised him as a single parent. When Charlie was at the age of 12, his mom remarried and he moved to Melmerby, Cumbria with his family.
Talking about his siblings, he has an older brother named William. He also has two younger half-brothers from his mother's side. They are Oliver and Christian.
Charlie Hunnam's Net Worth
You might not be surprised if we tell you that Charlie Hunnam has collected a huge net worth from his professional career as he has already marked a place in his professional career with huge success and fame.
According to Celebrity Net Worth, Charlie Hunnam's estimated net worth is $20 million.
Charlie was recently seen as Charlie Waldo in the American British mystery film, Last Looks.
He will also be seen in the upcoming American epic space opera film, Rebel Moon, and the upcoming drama thriller, Shantaram, as Lin. His appearance in his upcoming projects is expected to amplify his net worth.
Short Wiki
Charlie Hunnam was born in 1980 in Newcastle upon Tyne.
 
Charlie, who is currently at the age of 42, celebrates his birthday on the 10th of April.
 
His zodiac sign is Aries.
 
He attended Queen Elizabeth Grammar School in Penrith, Cumbria but was expelled after playing rugby and fighting with his classmates.
 
Charlie later joined the Cumbria College of Art and Design in Carlisle.
 
He has a degree in film theory and film history.
 
He is 6 feet tall in height.
 
He doesn't have any children with his ex-wife, Katharine Towne, and girlfriend Morgana McNelis.
 
The list of his ex-girlfriends includes Sophie Dahl, Stella Parker, and Georgina Townsley.