Heather Helm is known to the public as the wife of American actor and comedian Matthew Lillard. Her husband Matthew is popular for playing the role of Shaggy Rogers in Scooby-Doo and its sequel. He is also known for his works in SLC Punk!, The Descendants, Fat Kid Rules the World, The Bridge, Good Girls, and many more.
In this article, let's find out more about Matthew Lillard's wife, Heather Helm's short bio, age, education, and many more.
Short Wiki, Age
Heather Ann Helm is a real estate agent and a businesswoman by profession. She was born in the year 1971 in Pasadena, California, USA. Her birthday is on July 17 and her zodiac sign is Cancer.
A true South California native, Heather grew up in Pasadena admiring its breathtaking architecture. Later, she pursued a career as a real estate agent and launched the company Compass with Ted Clark.
Heather specializes in luxury property and also sells property across all price points. She has been in the real estate business since 2009 and has been ranked top 1% of realtors in Southern California.
Previously, she worked at Disney as the Director of Special Even Marketing. Meanwhile, she even started her company called Portera. Portera imports antique Spanish doors.
Talking about her education, she attended La Canada High School and then joined the University of California, Los Angeles. She earned a Bachelor of Arts degree in English Literature in the year 1993.
Married Life With Matthew Lillard
Heather has been married to American actor Matthew Lillard for more than two decades. Matthew is also a comedian, producer, and director who has been active in the entertainment industry since 1990.
Heather and Matthew got married in 2000, after dating for a couple of years. The duo reportedly met in 1998 and experienced a connection immediately.
Heather met her future husband at a party. Matthew was so smitten by her that he invited himself along when Heather mentioned that she was going to a friend's wedding in Italy.
Even after being married for 22 years, Heather and Matthew's chemistry remains fresh. Back in 2020, on their 20th wedding anniversary, Matthew shared three pictures- one from their first meeting, one from their wedding, and one recent picture, and stated how time flies when you're partnered with your best friend. He wrote,
"The moment we met, the moment we said yes and now. 20yrs of marriage goes by so fast when you're partnered with your best friend. I love you Heather Lillard."
Heather and Matthew will be celebrating their 22nd anniversary on August 26, 2022.
Family, Children
Heather and her loving husband Matthew are relishing a blissful family life with their three kids- Addison Grace, Macey Lyn, and Liam.
Shortly after the wedding, Heather got pregnant with their first baby. She gave birth to their eldest daughter Addison on June 13, 2002. Addison currently studies at the University of Southern California (USC).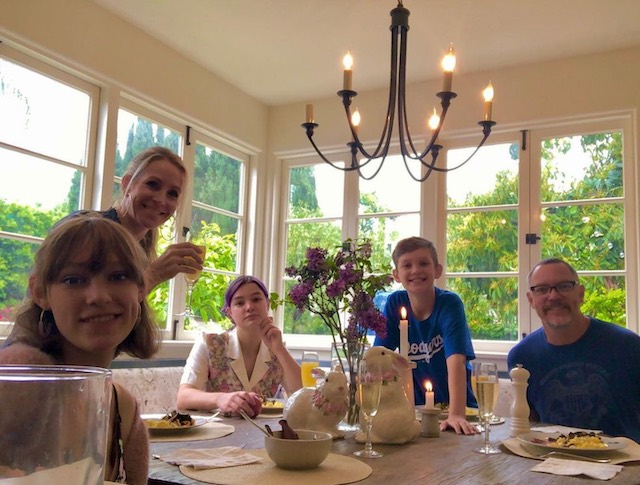 Two years later, Addison was joined by her younger sister Macey Lynn on October 19, 2004. The couple welcomed their third child, son Liam in April 2008.
Heather and her husband prefer to keep their children away from the limelight. They sometimes give glimpses of their family life through social media.
Currently, the family of five resides in Los Angeles.
Heather Helm's Net Worth
Heather Helm has been involved in real estate full-time for around 13 years. She has sold property across all price points over the last 10 years.
In between these years, she has also assembled a good fortune from her profession. The exact value of her net worth hasn't been revealed yet; however, it is estimated to be in the millions in 2022.
Similarly, her husband Matthew Lillard has a net worth of more than $5 million now.