The Dutch YouTuber star and gamer, Jelle Van Vucht or popularly known as Jelly on Instagram and YouTube got fame after uploading videos on his YouTube channel JellyYT which are comical at times. He also promotes content creators by establishing themselves in the gaming world with his another channel named GTA5Videos.
He attended an audio-visual course in Eindhovento to learn video skills, but unfortunately couldn't complete his studies due to the opening of the second YouTube channel and his clothing line business which was a great platform to sell items to his fans.
He is also a member of a small group named "Robust" whose players play games like Scrap Mechanic, Gmod and GTA and upload videos on different gaming problems on their respective YouTube channels.  
Jelle Van Vucht Relationship Timeline
September 2014: Jelly and Sanna meet
Jelle met Sanna in the Netherlands just 5 days before he created his YouTube channel. The couple eventually fell in love and began dating on September 15, 2014. He also shared pictures with Sanna exhibiting on Instagram exhibiting their relationship.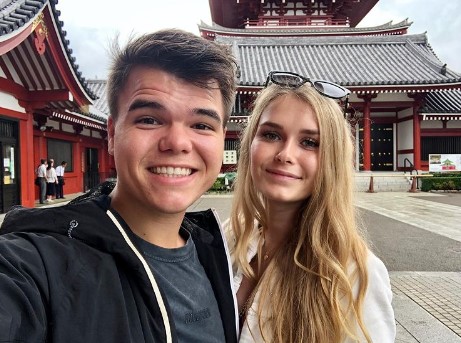 Like Jelle, his girlfriend is also a YouTuber who uploads her videos on her channel named IamSanna. His partner-in-crime is very multilingual and can speak plethora of languages including English, Dutch, Spanish, French, and Norwegian. Her such talent helps the pair while traveling in any part of the world.
8th February 2015: Jelle Posted "Q/A With My Girlfriend"
With his fresh relationship with Sanna, he started posting videos on YouTube with Sanna. The pair answered the most asked questions by their fans and posted the video on Jelle's YouTube Channel with the title "Q/A With My Girlfriend." The couple revealed how happy they are together and expressed their wish to spend life together.
March 2016: Travelled with Sanna
As the couple loves traveling, they have explored different parts of the world like Amsterdam, Malaga, NYC, Spain etc sharing pictures and scenes together. They seem to be living happy life with each other.  His dedication to her had helped him so much to be far from controversies and scandals up till the date the couples were dating.
From here, they also started posting gaming videos together collaborating with Roblox.
October 2018: Jelle And Sanna Shifted To New House
Relishing a healthy living relationship, they moved on to the new house in Monaco. So, after high demand of their new house tour by fans, Jelly finally got time to make a video and posted on March 17, 2019. He displayed every corner of their house and how they are spending their life together. 
15th September 2020: 6th Anniversary 
The couples shared pictures on Instagram celebrating 6th Anniversary of their love life. But following their 6th anniversary, the couple started posting less about each other on social media which created speculation regarding their separation.
2021: Did Jelle And Sanna Breakup?
Meanwhile, in 2021, the rumors of Jelle and Sanna's separation started to surface. Roblox YouTuber Kyle posted a video on November showing a discrete conversation between the couple.
Reportedly, Sanna stated that she and Jelle had been getting into plethora of fights. Jelle also stated they would be getting separated. But it was just a rumour, they had no intention of breaking up and says that the video is a scam.
Are Jelle And Sanna Still Together In 2022?
Since Jelle has been skeptical in sharing glimpses of his love life, fans got curious about his relationship with Sanna. People even assumed that the couple might have parted ways.
However, both Jelle and Sanna have followed each other on Instagram and also haven't deleted their pictures, as of writing. The last picture Jelly posted with Sanna was on their 6th anniversary in 2020 while on the other hand, the last picture of the duo on Sanna's Instagram was in late March 2021.
Moreover, Jelle also appeared on series of Instagram story highlights of Sanna which was named as June 2022. It seems that Jelle and Sanna have not broken up but are keeping their relationship relatively private.
Jelle Van Vucht's Family life
Jelle Van Vucht was born on October 14, 1996 in Roermond, in the southern part of Netherlands. He is 24 years old now. He was raised by his parents with older sibling named Koen Van Vucht.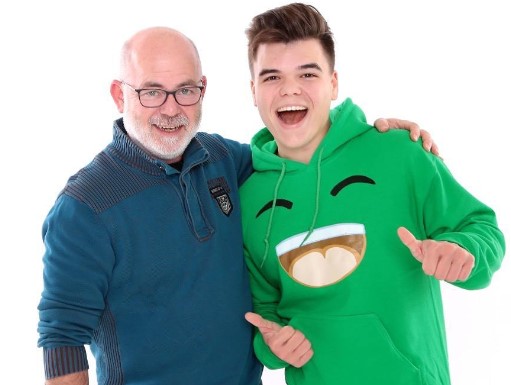 He graduated high school and joined Einndhoven University of Technology, but couldn't complete his education there as his interest in that particular field was lost. He was able to speak few languages like English, German and Dutch. 
Jelle used to make comedy-acting videos like Action film|action, Combat|fighting, and additional free running during his pre-teen. His sense of humor has made his gaming videos popular and outstand.
Jelle Van Vucht's Net Worth
Jelle is one of the popular YouTubers among young people because of his strong suggestions on how to play the games smartly and successfully. His tips made the gameplay easier to access. Through his success at this young age, he was able to earn a huge amount of money for himself which was itself an embarking kickstart for him to motivate all the youngsters who want to succeed in their life via YouTube. 
Jelle's net worth as of 2022 is estimated to be more than $18 million. He has assembled a whopping net worth through sponsors, partnerships, and sales from his clothing brand and various other merchandise.
Social Media and Profiles
Jelle has built up some impressive stats over the past few years helping him to gain more. As of now, Jelle has reached 1.2 million followers on Instagram, 22.7 million subscribers on YouTube, and more than five billion video views. 
Short wiki 
Jelle Van Vucht was born in 1996 and is at the age of 25 now.

His birthday is on October 14 and his zodiac sign is Libra.

He graduated his high school. 

He then joined the Eindhoven University of Technology for further education but later on, he quit it.

Jelle started his career by taking videos and further started his own YouTube channel named JellyYT.

At the same time, he dropped out and owned a clothing line through which he used to sell items for his fans.

Jelle really enjoys motivating the youngsters through his videos and provides suggestions.

His height is 5 feet and 7 inches.