Byron Pitts is a multiple Emmy-award-winning journalist who covers national news stories and in-depth features for ABC News since 2013.
Byron, who is regarded as a news veteran, is the ABC News Anchor & Chief National Correspondent. He reports for all ABC News digital properties and is best known for reporting in Good Morning America, Nightline, This Week, World News with Diane Sawyer, and 20/20.
Who Is Byron Pitts Wife?
Byron Pitts' wife is Lyne Pitts. Lyne is a producer who owns Matlese Productions, Inc. She began her journalism career by joining the CBS News in 1980 where she began working as an executive producer of THE EARLY SHOW in December 1999. During her tenure in CBS, she worked as a Senior Broadcast Producer and also a writer.
According to Lyne's LinkedIn profile, she joined NBC News as an executive producer in February 2006 and was appointed as Vice President in Strategic Initiatives in 2007.
After working in NBC News for 3 years, Lyne joined The Root as Managing Editor where she worked from September 2013 to May 2016.
Lyne is now the CEO of Maltese Productions, Inc. since 2012. She is also the CEO of BLP Productions, LLC since 2009.
Family Life, Children
Well, it's not sure since when Byron and Lyne have been married but in all these years, they became parents to three children. They have three daughters named Christiani Pitts, Brittni Pitts, and Tiffani Clayton.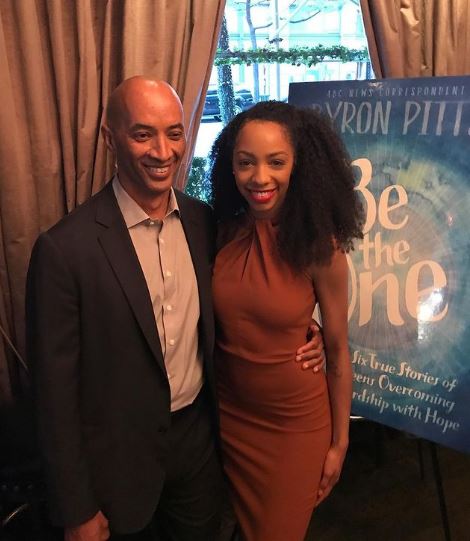 Bryon has been relishing a blissful family life with his wife and kids. Although he hardly gushes about his married life on social media, he seldom exhibits his love for his daughters. He is a proud dad as all his children are walking their own path proudly.
His youngest daughter Christiani is a Broadway star. Tiffani is a business owner- she owns GudMoodEssentials. Likewise, his daughter Brittni is a stylist who owns SummerNParis clothing.
What Is Byron Pitts Net Worth?
The American journalist and author Byron Pitts has assembled an amazing net worth from his job. According to Celebrity Net Worth, his net worth in 2021 is estimated to be $5 million.
Byron has assembled the prominent part of his net worth from the salary he receives as an anchor. With more than 20 years of experience as a journalist, Byron has worked for ABC News, CBS News, WSB-TV, WCVB-TV, and more. He began his career at WNCT-TV in Greenville, N.C.
He published a memoir titled Step Out on Nothing: How Faith and Family Helped Me Conquer Life's Challenges in 2009. Similarly, he released his book "Be the One" in 2017.
Short Wiki
American journalist Byron Pitts was born in the year 1960 in Baltimore, Maryland. He is currently 60 years old.
 
Byron was born to his parents Clarice and William Pitts. He was raised by a single mother who graduated when he was at the age of 8.
 
Byron has two siblings.
 
He attended Archbishop Curley High School and then joined Ohio Wesleyan University. Byron graduated with a Bachelor of Arts (BA) in Journalism and Speech Communication in the year 1982.
 
For the coverage of the 9/11 terrorist attacks, Byron won a national Emmy Award.
 
Byron loves playing golf and spending time with his family (daughters and grandchildren) in his free time.