The rising actress Kiana Madeira is marking a place in the entertainment industry with some notable acting credits.
You may have seen her playing the role of Maureen "Moe" Truax from Netflix's Trinkets. Recently, she portrayed the role of Deena in Netflix's Fear Street trilogy.
Kiana Madeira Wiki
Kiana Madeira is a Canadian actress who was born in the year 1992. Currently at the age of 28, Kiana celebrates her birthday on November 4.
Kiana was born in Toronto and grew up in Mississauga. Her star sign is Scorpio.
According to IMDb, Kiana's height is 5 feet 5 inches (1. 65 m).
Find Out: Is Olivia Welch Dating? Personal Life And Net Worth
Family Details
Kiana Madeira hasn't revealed the name of her parents. However, she was born to an Afro-Irish father and Portuguese mother.
Born as the middle child of her parents, Kiana has two siblings. She has an older brother named Nikane Madeira aka Efflo Tu and a younger sister named Kyla Madeira.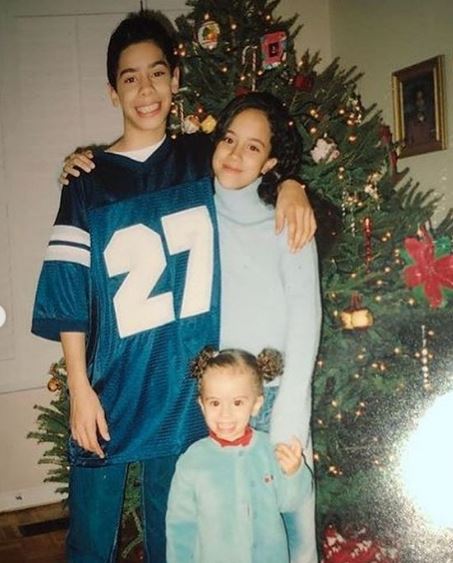 Both her siblings are in the field of entertainment. Her brother, who is popular with the name Efflo Tu, is an artist.
Efflo is a lyrical and conscious rapper whose music is available on Spotify and Apple Music.
You May Like: Does Sadie Sink Have Boyfriend? Her Wiki And Net Worth
Her sister Kyle appeared in Amazon's The Expanse in the year 2015. Likewise, her brother shared the screen with her in the Canadian sitcom Little Mosque on the Prairie in the year 2007.
During an interview with The Bare Magazine, Kiana revealed that her brother's music inspires her and makes her feel like she's home.
Likewise, she has gushed about her parents in different interviews. In a recent interview with Hypebae, Kiana was asked about how she prepared for her character Deena for Fear Street.
In response to the question, Kiana said,
"Luckily, my parents are fairly young and they had their early 20s, late teens experience during that time. I actually talked to them a lot about what their experience was like with no cell phone, growing up with the dial-up era and having pagers. I was really curious about technology during that time. They were such a great help."
Kiana currently lives in Toronto. Since she lives away from her family, she contacts them every day and constantly prays for their well-being.
Is Kiana Madeira Dating Or Married?
Actress Kiana Madeira is now engaged to be married!
Yes, you heard that right! Kiana has been in a committed relationship with her longtime boyfriend-turned-faience, Lovell Adams-Gray.
Her partner Lovell is an actor best known for his roles in Power Book II: Ghost, Rogue (2014), DCs Legends of Tomorrow (2018), Coroner, and more.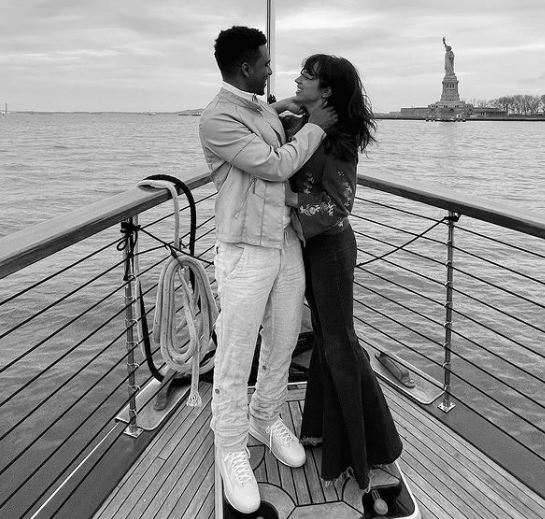 The duo has been very open about their love life. While there are many actors who prefer to shroud their love life in secrecy, Kiana and Lovell have been very transparent about their love life.
Kiana and Lovell began dating sometime in 2016. Four years after asking Kiana to be his girlfriend, Lovell proposed to her with a beautiful engagement ring.
Suggested Read: Is Emily Rudd Dating? Boyfriend, Family, Net Worth
On December 30, 2020, Kiana shared a picture of her flaunting her engagement ring on Instagram. On 3 January 2021, she shared a series of pictures with her fiancé stating that they've been engaged.
Kiana expresses her love for her husband-to-be on various occasions. She never hesitates to state how blessed she feels for the presence of love in her life.
Kiana hopes to become a mother and wife one day. She thinks that being a wife and having children will change how she is an actor.
What Is Kiana Madeira's Net Worth?
Canadian actress Kiana Madeira is notable for her roles in the Fear Street film trilogy and television series Trinkets.
She rose to fame with the portrayal of Sierra in the Disney TV movie Bad Hair Day (2015). Apart from that, she is known for her roles in The Night Before Halloween (2016), Really Me, Sacred Lies, Wynonna Earp, and The Flash.
As of July 2021, she has appeared in six movies and 23 television series. Her recent acting credit includes Fear Street trilogy (2021), Sacred Lies (2018-present), Trinkets (2019-2020), and Coroner (2019).
With all those acting credits under her belt, Kiana Madeira has been able to garner both fame and fortune. Although the exact value of her net worth hasn't been revealed yet, her net worth in 2021 is estimated to be more than $1 million.
Kiana, who began acting at the young age of 10, will be playing the role of Nora in After We Fell and After Ever Happy.