The American rapper, singer, record producer, and songwriter Maria-Cecilia Simone Kelly, professionally known as Rico Nasty, is accomplishing success as one of the rising rappers in the USA. She began self-releasing content in 2014 and by 2016, she released her Extended Play named "Life of a Rockstar".
Then by late 2017, she released five solo mix-tapes in high school. She also released SoundCloud singles such as "iCarly" and "Hey Arnold".  This was later remixed and it featured Atlanta rapper Lil Yachty. She dropped her singles such as "Smack a Bitch" and "Poppin" which helped her to rise higher in 2018.
Is Rico Nasty Dating? Her Boyfriend
Delving into Rico Nasty's dating life, she was in a relationship with Malik Foxx in the past. Rico and Malik began dating in 2016.
After dating for two years, the couple began searching for a house together to live in. They attended several public events together and also gave insights into their love life through social media.
However, Rico has now revealed that she was physically abused by her boyfriend through her Instagram post, which is now deleted.
Earlier this year on March 28, Rico posted that she has been a victim of physical assault by her long-time boyfriend, Malik Foxx.
She shared,
"I can't believe u just put your hands on me. And I didn't even touch you @dodontsay_." She continued, "Guess I'm one of 'them' now."
"So lemme get this straight. U go through my phone for yearsssss. I finally ask for yours and can't see it. @dodontsay_ u dead to me. u a liar."
She continued,
"Years of f–king torture," the Poppin rapper continued. "Can't do s–t. And now I wanna see what u been up to and I can't? Ur crazy as s–t. All the s–t you've done to me??????????"
"Lmaoaoaoaoaoa, he probably about to log into my s–t and delete this. I swear I hate my life."
Not long after Rico deleted her posts regarding the allegations, Malik tried to clear his name through his Instagram post. He said that he was "chased, threatened, and had things thrown at him" when he asked Rico to leave him alone. He then put her outside and locked the door.
Malik wrote,
"@riconasty You've painted a picture that i hit you last night and that's a lie I didn't put my hands on you You attacked me And i asked you to leave and you wouldn't so i got you out my room and locked the door Your legit crazy! You posted that bullshit ass lie and deleted it seconds later because your cap You a liar and you fasho ain't shit for this one Stop tryna trash my name bro That's shit ain't cool You can be mad all you want about the relationship but don't label me a woman beater That's not at all what it is."
Months after the allegation, it's not clear whether Rico is still together with her boyfriend Malik or not. She has deleted all the pictures with Malik on Instagram because of which her fans have speculated that they might have broken up.
Rico has also collaborated with Tinder to help users to find a match on a deeper level. She made a cameo in Tinder's Swipe Night which follows a group of friends facing the end of the world with only hours to live.
Talking about the series during an interview with Essence, the rapper also opened up about the Tinder profile which would catch her eye. She said,
"A Tinder profile that would catch my eye would probably be one with the least info on it so I can meet them in person and really see what's up, just in case they were gassing their profile."
Her Previous Relationship And Son
Rico was pregnant with her son when she was a teenager. She was just 18 years old when she welcomed a baby boy named Cameron with her late partner Brandon. Brandon was Rico's best friend and boyfriend who passed away due to Asthma when Rico was still pregnant with their baby.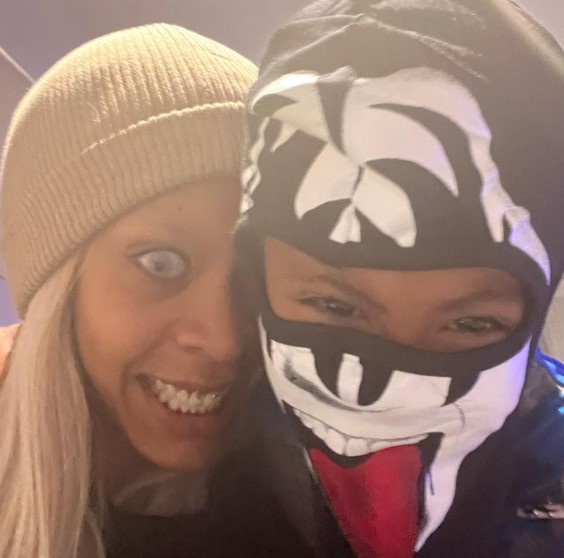 Rico paid tribute to Brandon on Tales of Tacobella with her song title "Brandon" in 2017.
The rapper is so much attached to her son which is evident in her social media posts. She is working hard with the raps so that her son doesn't have to follow in her footsteps.
Rico doesn't want her son to pursue what she is doing; she wants him to be something bigger than this.
She wants her son to pursue a career in any creative stuff rather than rapping which makes good use of his time. She is fighting to ensure that her family doesn't have to struggle as much as she did.
Rico imagines peace and balance in her son's life and is currently focused on it right now.
Rico Nasty Family Life
Rico Nasty was born on May 7, 1997, in New York, USA. She is 25 years old now. Her birth name is Maria-Cecilia Simone Kelly.
Her father is African-American and her mother is Puerto Rican so, she holds mixed ethnicity. Rico has American citizenship.
She along with her parents moved to Palmer Park, Maryland when she was very young. She was raised in Prince George's Country, Maryland.
The main reason for her to choose rapping as a career was because of her father who was a rapper himself. Therefore, she started rapping in childhood.
Rico Nasty Net Worth
Rico Nasty is one of the rising rappers in the world who has assembled both fame and fortune from her career. Rico has collected a whopping net worth from her job as a rapper, singer, and songwriter. Her net worth in 2022 is estimated to be more than $1 million.
Before pursuing her career as a rapper, Rico worked as a Front Desk Receptionist at a hospital. She quit her job because she earned more as a rapper.
With her efforts and dedication, it seems that her net worth deserves to stake up more in the future.
She has also been a magazine model in 'Fader' and 'Oyster'.
Social Media and Profiles
From her professional works and fan following, Rico has reached 2 million followers on Instagram, 121K followers on Facebook, and about 800k followers on Twitter.
She also owns a YouTube channel titled Rico Nasty where she has 607k subscribers, as of now.
Short Wiki
Rico Nasty was born in 1997 and is currently at the age of 25.
 
Her birthday is on May 7 and her zodiac sign is Taurus.
 
She attended Baltimore Boarding School in the sixth grade.
 
Unluckily, she was suspended from school so she graduated up to high school.
 
Rico wanted to pursue her career in singing so, she began rapping in high school.
 
In 11th grade, she released her first mix-tape named 'Summer's Eve' with other two mix-tapes 'The Rico Story' and 'Sugar Trap' in 2016.
 
She also worked as a Front Desk Receptionist at a hospital but left that job because of her popularity in mix-tapes.
 
Furthermore, she was also declared as seven female rapper on the label, signing in with Atlantic Records in June 2018.
 
Her height is 5 feet and 3 inches.