Rob France has grabbed the attention as the husband of fashion designer, Tan France. With the rising fame of Queer Eye star Tan, Rob and their married life has also been a matter of interest to people out there.
In this regard, here is all that you wish to known about Tan France's husband, their married life and more.
Who Is Rob France?
Rob France is an artist. He is a freelance illustrator.
Since Rob is a self-taught artist, he is experimental with his art. One can see his work and purchase it in Rob France Illustration, which ranges from $300 - $900.
Rob focuses in occasional abstract portrait and figure illustrations. Each of his illustrations are exclusive original and sold as a unique.
Before becoming a full time illustrator, Rob worked as a pediatric nurse.
Rob France is currently at the age of 43. He was born in the year 1978.
His Married Life And Husband
Rob has been married to Tan France, age 37, for more than a decade. The couple has been married twice- they tied the knot in London and then got married again in New York City when it became legal.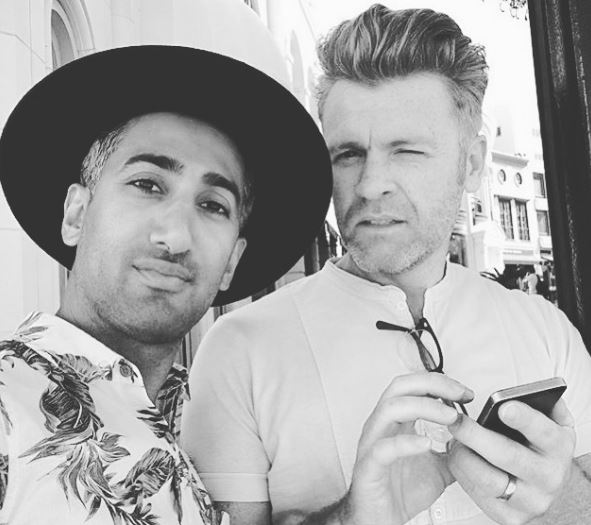 Do you know that they got married without engagement? During an episode of Queer Eye in 2018, Tan reveled how they decided to get married. He said,
"It was just a case of, 'you know we're going to get married one day, right?' We had just agreed that it was going to happen... and we arranged the date!"
There was no big event for the engagement or for wedding. The couple tied the knot when they realized they wanted to spend rest of their lives together.
Tan's family didn't want to hear and to be involved in their wedding when Tan told about Rob and their upcoming marriage. But after so many years, Tan's family has embraced him and Rob.
Their relationship has changed so much in all these years- it has become much stronger and ecstatic. The duo never hesitate to gush how lucky they are to have each other in their lives. Now, the couple is eagerly waiting for the arrival of their bundle of joy in their lives- their baby.
Expecting Baby With Husband!
Rob France and his husband Tan France are expecting their baby in summer. Rob shared the happy news by posting an illustration of a baby on Instagram with the caption,
"We have a beautiful little angel on the way and I didn't think it was humanly possible to feel like this. ❤️😭❤️😭."
Tan also shared the news by sharing a picture of himself with an ultrasound image over his stomach. He wrote,
"So happy to finally share that WE'RE HAVING A BABY!! No, I'm not pregnant, despite this VERY realistic pic. With the greatest gift/help of the most wonderful surrogate, Rob and I are lucky enough to be on our way to being parents, this Summer. Something we've wanted for SOooo many years."
The duo always wanted to have kids and start a family. Back in 2018, Tan opened up about his desire to have children. During an interview with Press Association he said that he wants to have six children with his husband.
What Is Rob France's Net Worth?
Rob France has been able to assemble amazing worth as a talented figure illustrator. His illustrations ranges from $300 - $900 and every piece of his work is unique and sold original.
In the year 2021, Rob is believed to have amassed net worth in millions as an artist. In addition to that, he also entitled to his husband's fortune. His husband, Tan France's net worth in 2021 is estimated to be $5 million.