Financial correspondent Jackie DeAngelis is a Fox News Reporter who provides financial analysis and commentary. Besides her experience in FBN, she has 13 years of experience at CNBC where she was chief energy correspondent. 
Jackie has also been part of Yahoo Finance as anchor of the midday program called The Ticker. Being a media personality Jackie's personal life has been a matter of interest among the viewers. So, here let us help you find the answers to the queries that you have about Jackie DeAngelis.
Is Jackie DeAngelis Married?
With her undeniable looks, Jackie certainly doesn't lack admirers and lovers but when it comes to having a person she admires, Jackie has always kept that in shades. Despite being a media personality Jackie has opted to keep her personal life out of public radar. However, back in 2015, Jackie revealed about waiting for the man of her dreams.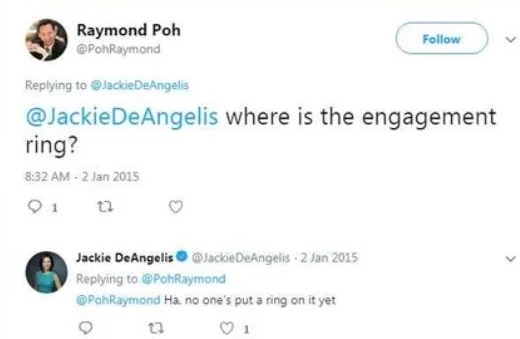 Suggested Read: Abbie Boudreau's Married Life With Her Husband And Kids (Updated 2023)
When asked "Where is the engagement ring?" by Raymond Poh via Tweet in early January 2015, Jackie replied that there was no one to put on the ring yet. However, after that, she never gushed about either being single or having a partner. With no evidence of being married or conducting any wedding, Jackie is likely single. 
Moreover, she is a dog mom and has a cute Cavachon named Friday.
Jackie DeAngelis Parents
The Beauty with Brain reporter Jackie DeAngelis was born on 18th July 1980 in Alpine New Jersey. Louis DeAngelis is the name of her late father while Elizabeth DeAngelis is her mother's name. Talking about her siblings, Jackie grew up alongside a brother whose details are yet to be unveiled.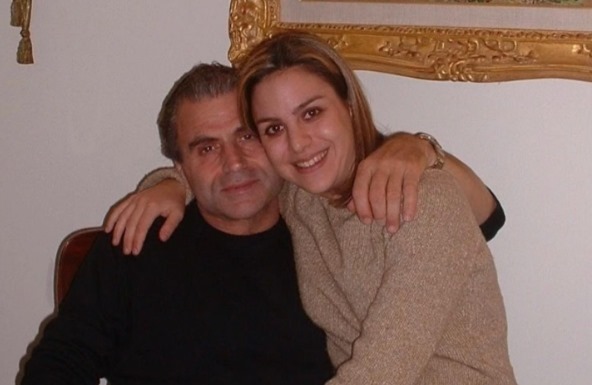 Suggested Read: Who Is Bill Ritter's Wife? (Updated 2023) His Family & Children
Unfortunately, Jackie lost her father on 16th March 2022 the same year her grandmother celebrated her century birthday. Her grandmother turned 100 on 20th December 2022.
Suffered From Breast Cancer
Despite coming from such a strong heredity with no history of breast cancer in her family, Jackie was diagnosed with stage 1 breast cancer in June 2022. 
While in conversation with Fox Business News, Jackie revealed that early detection saved her life. 
The first call that Jackie made after hearing the detection was to her mother. And as her cancerous tumors were nearly invisible instead were like cornflakes crushed in a bag. So, she was provided with two options: lumpectomy or mastectomy.
Jackie then preferred to undergo a double mastectomy. Although the procedure was difficult and she never had such fear in her life, Jackie overcame the fear and came back to work just two weeks after the surgery.
Suggested Read: Insight Into T. J. Holmes Family Life, Wife, Net Worth
Jackie DeAngelis Net Worth
Jackie DeAngelis initially started her business career as a technology analyst for Oaktree Capital Management. She then gathered 13 years of experience anchoring an online commodities program, CNBC's daily programming, interviewing business titans, and more on CNBC. With years of experience as a financial correspondent, Jackie might earn a handsome sum of salary while her net worth may range in the millions but her exact earnings are yet to be revealed.
Short Wiki
Jackie DeAngelis's full name is Jacqueline.

Jackie graduated from Cornell University with a bachelor's degree in Arts specializing in Asian studies and history.

 Later she received a Juris Doctor degree in 2008 from Rutgers School of Law.

In Late November 2022, Jackie DeAngelis accidentally lost her sentimental ring given to her by her late father down a grate on the sidewalk of New York. Random New Yorkers came together and helped her find the family heirloom.

Besides English, Jackie is also fluent in two other languages: Mandarin and Farsi.

Jackie DeAngelis is 5 feet and 6 inches tall (168cm) in terms of height.