Naomi Osaka, who was named the best athlete in women's sports at the ESPYS, is a four-time tennis Grand Slam champion. She is a Japanese professional tennis player who became the first woman to win successive Grand Slam singles titles since Serena Williams in 2015.
Naomi has a wildly successful tennis career. But does she also have a blissful personal life and someone special to share her achievements with? Let's find it out!
Is Naomi Osaka Dating Now?
Yes, Naomi is currently dating. Along with a prolific career, Naomi is also relishing a blissful relationship with her boyfriend Cordae.
Naomi and her rapper boyfriend Cordae began dating after they exchanged their numbers in 2019. The couple reportedly met during a Clippers game in 2019. Later, they went to an LA Clippers basketball game for their first date.
Naomi and her boyfriend Cordae have been very private about their love life; they even opened up about their relationship a year after they began dating.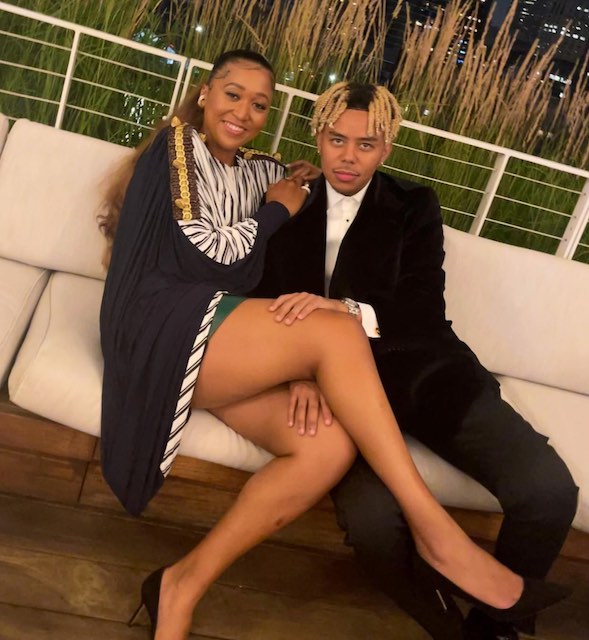 The couple doesn't like to flaunt their relationship on social media; however, they have been gushing about their relationship in their interviews.
In the beginning, Cordae had no idea who Naomi was and how big her name was in the sport as he did not follow tennis. But now when he has known Naomi for a couple of years, he has been her biggest supporter.
According to Naomi, Cordae has been an essential part of her journey. She has revealed how he supported her during the 2020 U.S. Open. She wrote on Instagram,
"He stopped everything he was doing because I FaceTimed him a couple days earlier and said I was feeling sad and lonely in the bubble. I later found out that he hopped on a plane shortly after that call and then quarantined himself for a couple days in a hotel to see me."
Not just Cordae, Naomi has also been supporting her boyfriend. She promoted her boyfriend's new album after her first win in the Australian Open in 2021. She wrote "FABEV" — an acronym for Cordae's "From a Bird's Eye View" on the tournament's camera lens after taking down Colombia's Camila Osorio 6-3, 6-3 in her first match in Melbourne.
The couple, who has been giving major relationship goals, loves recommending books and movies to each other. They also prefer to keep their love life private as they believe that a "relationship is really a sacred thing."
If you have gone through Naomi and Cordae's Instagram handles, you won't find posts exhibiting their romantic relationship. Talking about the privacy in their relationship with GQ, Cordae said,
"We don't really post intimate moments, because I feel as though they're sacred. A relationship is really a sacred thing. Once you let outside influences get into it, it becomes less sacred."
Suggested Read: Leylah Annie Fernandez Family, Parents, Siblings, Dating, Net Worth
Who Is Naomi Osaka's Boyfriend?
Naomi Osaka's boyfriend Cordae is an American rapper and singer whose real name is Cordae Amari Dunston. He was previously known as YBN Cordae and Entendre.
Cordae was born in 1997 in Raleigh, North Carolina. He is currently at the age of 24 and his birthday is on August 26.
He gained fame by releasing the remixes of My Name Is by Eminem and Old Niggas. Later in 2019, he released his debut studio album The Lost Boy. The single "Bad Idea" received two nominations for Best Rap Album and Best Rap Song at the 62nd Grammy Awards.
Her Parents and Siblings
Naomi Osaka was born to Haitian and Japanese parents. Her mother's name is Tamaki Osaka and her father's name is Leonard François.
Born in Chūō-ku, Osaka in Japan, Naomi has lived most of her life in America. However, she doesn't identify herself as American as she has revealed that she doesn't necessarily feel like she's American.
Naomi identifies herself as Black and Asian and supported Black Lives Matter wearing different black masks during her matches.
Her parents met in Japan when her mom was in high school and her dad was in college. Tamaki and Leonard kept their relationship private for years and when Tamaki's parents knew about their relationship, they didn't talk to her for around a decade and a half.
When Naomi was three years old, her parents moved to Long Island to live with her dad's family.
Talking about her siblings, she has a sister named Mari who also plays tennis professionally. Their father started coaching them when they were young although he did not have tennis experience.
Suggested Read: Is Emma Raducanu Dating? Her Boyfriend, Parents, Net Worth & More
Naomi Osaka Net Worth
Naomi Osaka has been playing tennis professionally for more than a decade and has successfully marked her place as one of the talented tennis players. She has assembled both fame and fortune from her professional career. According to Celebrity Net Worth, Naomi Osaka has a whopping net worth of $45 million in 2022.
Naomi has accumulated some part of her fortune through endorsements. Back in 2020, she earned around $38 million through tennis winnings and endorsements. Likewise, in 2019, she made around $25 million.
Short Wiki
Naomi Osaka was born in the year 1997 and is currently at the age of 24.
 
Her birthday is on October 16 so she will turn 25 years old on her birthday in 2022.
 
Her zodiac sign is Libra.
 
Naomi was homeschooled since she practiced on the Pembroke Pines public courts during the day.