Best known for giving the voice to Peter Parker / Spider-Man in the animated series Ultimate Spider-Man on Disney XD, Drake Bell is an American actor, voice actor, singer, and musician.
Along with that, he has worked as a voice actor in many television series and movies like Phineas and Ferb (2013), Avengers Assemble (2013-2015), Hulk and the Agents of S.M.A.S.H. (2013-2015), Ben 10 (2017), The Adventures of Kid Danger (2018), The Nutcracker Sweet (2015), A Stork's Journey (2017), and The Big Trip (2020)
Relationship With Janet Von Schmeling
With inclining fame, Drake Bell's personal life has always raised curiosity among his fans. However, the actor had always been miles away from giving insights into his love life.
He even kept his married life with producer Janet Von Schmeling private for 3 years.
During an interview with Entertainment Tonight in 2017, Drake said that he has a girlfriend who's also from the industry.
Even though he didn't reveal the name of his girlfriend, fans were quick to guess that it was Janet.
Talking about how they met, he revealed that they met through mutual friends. He explained,
"A friend of mine, his daughter was out visiting and then she was … and we were all just hanging out, and I was like, 'Hey, you're really cool.' And she thought I was pretty cool too and it worked out."
Although Drake revealed his ladylove in 2017, his relationship status was baffling till 2021.
Drake tweeted that he has been married for almost three years. He further wrote that he and his wife are blessed to be the parents of a wonderful son.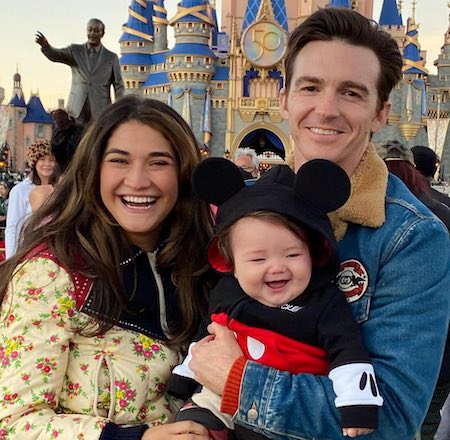 Previously, his relationship was a pretty ambiguous subject amidst his controversy with his ex-girlfriend who accused of him being physically and verbally abusive.
However, Drake's married life with Janet didn't last long and they had already separated by early 2023.
In January, the news of Drake and Janet's separation came to light. Although they parted ways after four years of marriage, parenting their son was said to be their top priority.
Janet filed for divorce after Drake was reported missing and endangered in Florida. As per the divorce papers filed in Los Angeles County's Superior Court in April 2023, Janet cited "irreconcilable differences."
She also requested legal and physical custody of their son.
Drake and Janet were dating for five years before they decided to tie the wedding knot in 2018.
Suggested Read: Adria Arjona Is Married! Who's Her Husband?
Previous Relationship & Ex-Girlfriend
The Nickelodeon actor was in a long relationship with actress Melissa Lingafelt. The estranged couple was in a dating relationship from 2006 to 2009.
They began dating when Drake was 20 and Melissa was 16 years old.
But a decade after the separation, Melissa made accusations stating that Drake was abusive and alcoholic.
 Melissa took TikTok to expose how Drake was when they were together. She said he started verbally abusing her about a year after they began dating.
She further added that their relationship turned violent when Drake began to abuse her physically.
Contrary to the allegations, Drake said that what Melissa said is false. He explained that he never abused his ex-girlfriend. He then said that Melissa asked for financial help a year ago.
Melissa later shared a TikTok video showing a police report from December 2009 and also journals she kept in the years 2007 and 2009, from the night of alleged abuse by Drake.
The controversy didn't end there as different women who've had a romantic involvement with the actor spoke against him.
Melissa even shared a message from Drake's ex-girlfriend Paydin Layne LoPachin whom he dated for five years. The text read,
"Hey Melissa. This is Paydin. I was Drake's girlfriend for 5 years after you …. I will stand by your side and back you up as I went through the same horrific verbal, physical, and mental abuse."
Suggested Read: John Waters Partner, Children, Family, Net Worth
What Is Drake Bell's Net Worth?
Drake, who began his career at the age of five by appearing on Home Improvement, has been active in the entertainment industry for more than three decades.
Throughout his career, he has worked as an actor, singer, musician, songwriter, and voice actor.
With his hard work, passion, and dedication, he has been able to win various awards and also has gained huge popularity.
Similarly, he has amassed a huge fortune from his career. According to Celebrity Net Worth, Drake Bell's net worth is estimated to be $600 thousand.
Short Wiki
Drake Bell was born in the year 1986 in Newport Beach, California. His birthday is on the 27th of June.
 
Drake, who is currently at the age of 37, was born to his parents Robin Dodson and Robert Bell. When Drake was just five years old, his parents divorced.
 
His music career started in the early 2000s. He also performed and co-wrote 'Found a Way' which is the theme song to Drake & Josh.
 
Drake Bell stands tall at a height of 5 feet 8 inches (1.74m).
Suggested Read: James Earl Jones Bio, Wife, Children, Family, Net Worth