You never know when and where you'll find your soulmate. While there are many people who struggle to find the perfect partner for them, there are many who find love in the craziest way.
The Uncut Gems star Adam Sandler is one of those people who found love in the craziest way. Despite having a busy schedule as an actor and comedian, Adam manages his time for his family.
If you are one of those who aren't aware of his life behind the camera, read the article till the end as we will be providing some information related to his personal life.
Actor Adam Sandler Is Blissfully Married!
On the one hand, the American actor is relishing a prolific career and on the other, he is enjoying a blissful married life.
Adam Sandler is married to Jackie Sandler. Jackie is a model and actress who has appeared in many of Adam's movies like Grown Ups, Grown Ups 2, Little Nicky, Just Go With It, and 50 First Dates.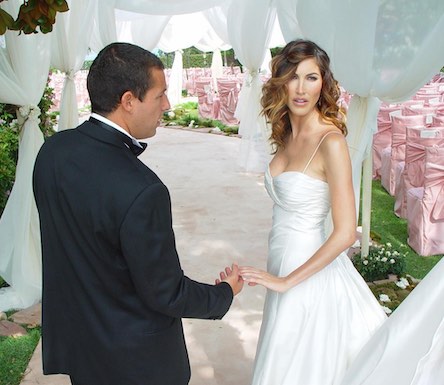 Recently, Jackie appeared on You Are So Not Invited to My Bat Mitzvah alongside her husband and daughters.
Their daughter Sunny Sandler played the character of Stace Friedman whereas Sadie Sandler played the role of Stacy's older sister, Ronnie Friedman.
Likewise, Adam played the role of Stacy and Ronnie's father Danny Friedman in the Netflix coming-of-age comedy-drama.
Adam and his girlfriend-turned-wife Jackie got married on June 22, 2003, after almost five years of dating.
The couple tied the knot in front of their family and friends at Dick Clark's oceanfront Malibu estate. The list of guests also included Rob Schneider, Rodney Dangerfield, Jennifer Aniston, and many more.
Suggested Read: Antony Starr Wife: His Married Life, Family, Kids & More
How Adam Sandler Met His Wife?
Adam Sandler met the love of his life when his career graph was inclining. After finding success by appearing in movies like Happy Gilmore and The Waterboy, he met Jackie for the first time.
During that time, his next big film Big Daddy was underway and Jackie was chosen for a minor role in the 1999 American comedy film.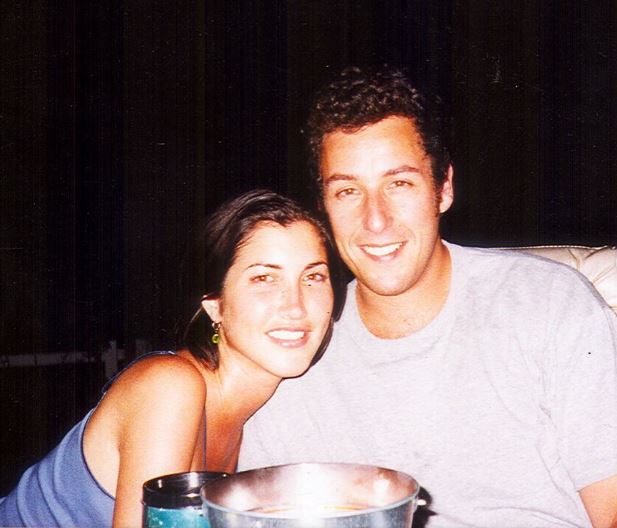 Jackie, who was a model and actress, was selected to play a minor role as a waitress.
By the time the movie was released in June of 1999, the couple was already dating. On July 31, 2020, Adam shared old images with his beautiful wife on Instagram and remembered 22 years ago when they locked eyes and fell in love.
Earlier this year in June 2023, Adam shared a picture with Jackie from their wedding and wished her their 20th wedding anniversary.
He wrote that her "I do" has been the best gift of his life and penned a sweet caption expressing his love for her.
Suggested Read: Dave Andron Age, Wife, Family, Children, Net Worth
Family Life With Wife & Children
Adam has a strong relationship with his wife Jackie with whom he has two children. Along with a successful professional career, he has an enthralling family life.
Three years after tying the knot, Adam and his gorgeous wife Jackie were blessed with their first child- a daughter named Sadie. Their daughter Sadie was born on May 6, 2006.
Sadie has followed in her dad's footsteps as an actor. She was recently seen in You Are So Not Invited To My Bat Mitzvah alongside her family.
Previously, she was seen in Hubie Halloween (2020), Pixels (2015), Hotel Transylvania (2012), and Bedtime Stories (2008).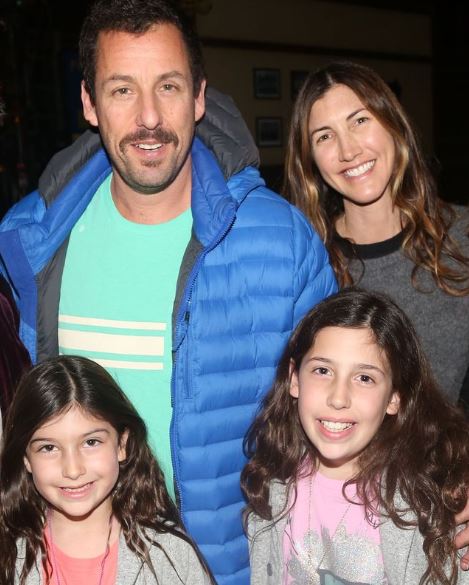 Jackie got pregnant with their second baby two years after welcoming their first child. On November 2, 2008, they welcomed their second daughter, Sunny.
Adam has been making both his daughters involved in his projects since they were very young.
Like her elder sister Sadie, Sunny has appeared in some of her dad's projects. She was the main character of You Are So Not Invited to My Bat Mitzvah (2023).
Previously, she made appearances in 2011's Jack and Jill and 2015's Pixels.
Currently, Adam lives in Los Angeles, California with his family.
Suggested Read: Louis Osbourne (Ozzy Osbourne's Son) Wife, Children, Job, Net Worth
Short Wiki
Adam Sandler, who gained massive fame after working as a Saturday Night Live cast member, was born in the year 1966. Adam's birthday is on the 9th of September. He is currently 57 years old.
 
Adam was born to his parents Stanley Sandler and Judith "Judy" (née Levine) in Brooklyn, New York. His father was an electrical engineer whereas his mother was a nursery school teacher.
 
At the age of six, his family moved to Manchester, New Hampshire where he attended Manchester Central High School. Later he joined New York University's Tisch School of the Arts from where he graduated in the year 1988.
 
Also, a singer, film producer, and screenwriter, Adam's Hollywood feature films have combined to earn more than $2 billion at the box office. Similarly, he has been able to muster a huge net worth of $440 million. According to Celebrity Net Worth, Adam takes $20 million salary per movie.
 
He appeared in Murder Mystery and Uncut Gems in 2019. He is also known for providing a voice to Dracula in the Hotel Transylvania franchise since 2012.
 
In the year 2023, he worked in Murder Mystery 2, The Out-Laws, You Are So Not Invited to My Bat Mitzvah, and Leo.
 
His upcoming project is the science fiction drama, Spaceman, where he plays the role of Jakub Prochãzka.