Brandon Hatmaker is an American author, reality TV star, philanthropist, and pastor who has more than 2 decades of experience in project management and developing/leading teams.
Known to be the ex-husband of author Jen Hatmaker, Brandon is the Executive Vice President of Round Mountain Reserve. He was also the managing partner and project manager of Austin Luxury Builders.
Brandon Hatmaker Age, Parents, And Education
The American philanthropist and business person, Brandon Hatmaker was born in the year 1972.
His birthday is on July 25, which makes his age 51 in 2023. Brandon's zodiac sign is Leo.
Brandon hasn't revealed much about his early life and parents. However, it is said that his father was also a pastor.
Likewise, Brandon hasn't revealed any details about his siblings. The names of Brandon's parents and siblings remain undisclosed.
Brandon was raised in a strict Christian family.
As for Brandon Hatmaker's education, he received his early education in his hometown.
Later, he attended Oklahoma Baptist University and graduated with a Bachelor of Arts degree in 1995.
Brandon Hatmaker And Jen Hatmaker's Married Life
Brandon has spent almost half of his life with his ex-wife Jen Hatmaker.
The duo met in the early 1990s when Brandon was pursuing a degree at Oklahoma Baptist University.
They tied the wedding knot not long after they began dating. Brandon and Jen got married on December 30, 1993.
However, they decided to end their marital relationship after nearly 3 decades of togetherness.
When married, they founded the Austin New Church in Austin, Texas, and a non-profit organization called Legacy Collective to prevent child trafficking and help people with healthcare and housing.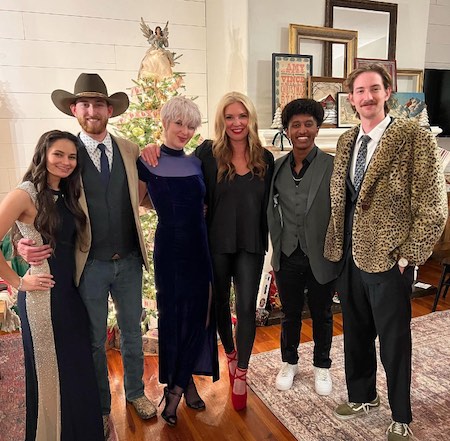 The news of their separation came when Jen announced their divorce through her Instagram in September 2020.
She wrote,
"We are in a moment with no handbook and without a single clue how to navigate this privately, much less publicly. I don't know how to hide grief, so I haven't, and I am grateful for your absolute decency these last few weeks."
Jen continued,
"I don't know how to say this, and I still cannot believe I am even saying it, but Brandon and I are getting divorced. Although the details are ours alone, this was completely unexpected, and I remain stunned as we speak. I am shocked, grief-stricken, and broken-hearted."
The announcement even created speculations that one of them was into infidelity which led them to split.
However, Jen requested not to pry, ask, or push about the situation even out of concern.
Suggested Read: Sherry Cola Parents | Sherry Cola Family
Brandon Hatmaker's New Wife
Three years after his divorce from Jen, Brandon is now blissfully married to his second wife, Tina Hatmaker.
Tina has described herself as a wife, mom, and Texan on her Instagram bio.
Brandon and Tina tied the wedding knot on December 3, 2022. Since then, Brandon has been giving insights into his married life with Tina through his social media posts.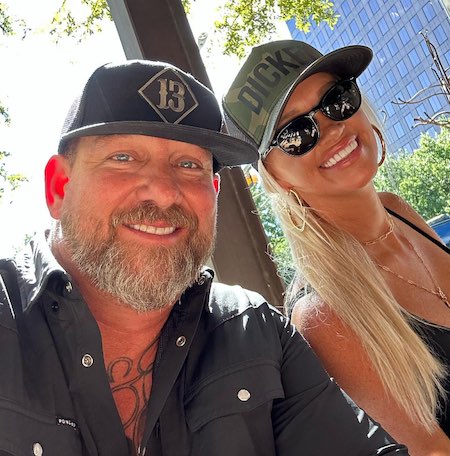 Recently, on November 7, 2023, Brandon shared a carousel featuring his pictures with his wife with the caption, "Always good to get out, even better on a bike, and the best with my bros and my girl"
Previously, he shared pictures with Tina while watching F1 races in downtown Austin.
Tina might have been married in the past; however, there is no information about her ex-husband.
According to her Instagram bio, she is also a mom but there are no details of her children.
She is the step-mom to Brandon's children from his previous relationship.
Find Out: Was Simon Elrahi Married? Wife, Children, Net Worth
Brandon Hatmaker's Children
Brandon has five kids with his ex-wife Jen. The names of his children are Gavin Hatmaker, Caleb Hatmaker, Sydney Hatmaker, Ben Hatmaker, and Remy Hatmaker.
Gavin, Caleb, and Sydney are Brandon and Jen's biological children while Ben and Remy were adopted.
Their two children were adopted from Ethiopia when Remy was five years old and Ben was eight years old.
Job And Net Worth
Brandon has made a name for himself as an entrepreneur, author, television personality, and philanthropist.
His career has garnered him both fame and fortune. As for Brandon Hatmaker's net worth, it is estimated to be more than $2 million.
Brandon is currently involved in Round Mountain Reserve as its Executive Vice President since November 2021.
Previously, he worked at the Austin Luxury Builders as a managing partner, project manager, and content and branding strategist.
He was also the CEO and Co-Founder of Legacy Collective from 2016 to 2021.
Brandon is also known for his appearance on the HGTV show My Big Family Renovation alongside his ex-wife Jen in 2016.
Read More: Who Is Maria Bartiromo Married To? (Updated 2023) Her Husband, Children & Net Worth