You might recognize Sherry Cola for playing the role of Special Agent Lucy Chun in the American comedy-drama, Claws.
Sherry was recently seen as Lolo Chen, one of the four leads in the 2023 comedy Joy Ride.
Sherry couldn't have made it to where she is today without the support from her parents. She has revealed that she wants to give everything to her mom; and pay her back in some way through the dream that Sherry has achieved.
Sherry Cola Parents
Sherry Cola was born to Chinese immigrant parents on 10th November 1989. She was born in Shanghai, China but was raised in in Southern California's San Gabriel Valley after her parents moved to the States when Sherry was just 4 years old.
Her parents ran a restaurant after they emigrated from China.
Sherry has been vocal about her parents' struggle and how they have supported her to pursue her dreams.
During an interview with Glamour in July 2023, Sherry opened up about her desire to give back to her parents for all the efforts, love, and sacrifice that they have given.
Sherry said,
"My parents made something from nothing. So I really owe my mom, Zengping, everything. I hope that when I "make it" make it, if you will, it'll align with her retiring from her restaurant so I can take her with me everywhere and we can see the world because she works so hard."
She continued,
"That's where I get my work ethic from—my mom is still busting her ass at her restaurant in San Gabriel Valley. She wakes up before the sun's up and has to take care of my grandpa. She carries so incredibly much. I will always say that my mom has never lived for herself, so I want to pay her back in some way, shape, or form eventually through this dream that I've achieved. I really hope she feels fulfilled and gets to live wholeheartedly one day."
Sherry's mom's name is Zengping. She is often seen on her daughter's Instagram handle.
On Mother's Day in 2022, Sherry shared a cute video featuring her mom with a sweet caption. She wished Mother's Day to her mom mentioning her as a "strong beautiful sweet heart-of-gold superwoman."
Previously in August 2021, Sherry shared an old picture with her mom, wishing her mom on her birthday.
Her mother was born on 8th August 1962.
Likewise, Sherry has also been sharing pictures with her dad on her social media accounts. She wished her dad on Father's Day in June 2021 writing that he was the one who taught her to dream big.
Sherry Cola Siblings
While Sherry has opened up about her parents in her interviews and on social media, she hasn't given any hint about her siblings.
It's unclear whether Sherry has any brothers and sisters or not.
Nevertheless, stay connected with us to get updated on Sherry Cola's family.
You May Like: Is Jenny Han Married (Updated 2023)? Husband, Partner, Family, Net Worth
Is Sherry Cola Married?
Sherry Cola is not married and doesn't have a wife, as of November 2023.
She is openly bisexual and is currently dating actress Marisela Zumbado.
It's unclear since when Sherry and Marisela have been dating. However, their relationship is not hidden from the public.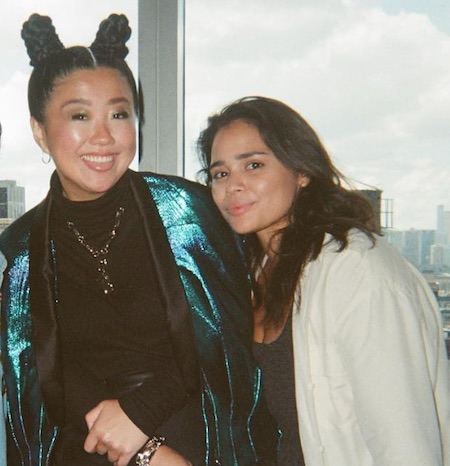 Sherry and her partner Marisela have been attending red-carpet events together and are also giving glimpses of their relationship through social media.
Marisela shared a cute video of them on Sherry's birthday in November 2022 and wished her with a sweet caption. She wrote,
"Happy birthday to mi amor, the best person I know, the warmth of so many people's lives. I celebrate you today and can't wait for every tomorrow with you! I 🫶🏽 u @shrrycola"
She also shared some glimpses from their New York trip in September 2023. While Sherry has not shared much about her dating life, her girlfriend Marisela has been giving glimpses of their relationship time and again.
Read More: Is Sherry Cola Married? Husband, Partner, Parents, Net Worth
Sherry Cola's Net Worth
It hasn't been long since Sherry Cola has been professionally active as an actress and comedian. However, she has already marked her place in the industry with a handful of acting credits.
Her career in the industry has conferred her both fame and fortune.
As for Sherry Cola's net worth in 2023, it is estimated to be more than $3 million.