Clarke Peters is a veteran actor best known for his work in The Wire (2002–2008), Endgame (2009), Treme (2010–2013), John Wick (2014), Harriet (2019), and Da 5 Bloods (2020).
Clarke has been professionally active for more than four decades so his professional life is like an open book. However, many of you might not be aware of his personal life.
Here is all that you wish to know about Clarke Peters' family life. Know about his wife, children, and many more.
Who Is Clarke Peters' Wife?
Peters Clarke's wife is Penny Clarke.
Peters has been married thrice so Penny is his third wife. He has been relishing a blissful married life with Penny for many years now.
He has opened up about their relationship in many of his interviews. Penny was his friend who later turned out to be his wife.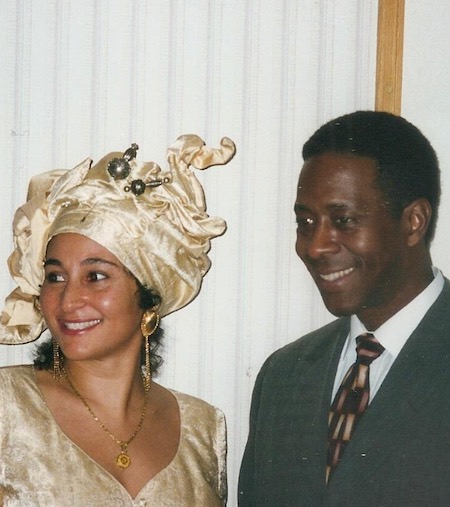 She was by his side when his son Guppy passed away. Due to the loving and caring nature that Penny showed during that time, their friendship turned into a relationship.
The couple is parents to a son named Max. Max seems to be following the footsteps of his father as he was seen portraying the role of young Michael Jackson in Thriller- Live.
Peters and Penny tied the wedding knot in a private ceremony. They shared the vows in the presence of their closest friends and family.
Peters and his wife are spotted together at various public events. He has revealed that he loves doing many wonderful things with her when he is at home.
He resides in London with his wife Penny and son Max. He also spends time in his house in the Charles Village of Baltimore which he bought in 2006.
Suggested Read: Jason Ellis Wife, Girlfriend, Children, Net Worth
Clarke Peters' Ex-Wives and Children
Before falling in love with Penny, Clarke had experienced two divorces.
He was first married to Janine Martyne with whom he has two children- China and Peter. China is an architect by profession whereas Peter is an artist.
Clarke and Janine used to sing together on recordings.
After parting ways with Jannie, he got married to Joanna Jacobs. They welcomed two kids together- Joe Jacobs and Guppy.
Guppy died at the age of four, in 1992, due to a kidney tumor.
Joanna is the daughter of the broadcaster David Jacobs. Clarke and Joanna got separated after ten years of relationship but his relationship with David remained the same even after their split.
Do you know that Clarke has two grandchildren?
He is the grandfather to China's daughter Maya and Peter's son, Cooper.
Clarke Peters Parents
Clarke Peters was born to Martin Peters and Loretta Peters. Talking about his parents' profession, his dad Martin was a commercial artist. Likewise, his mom Loretta was a homemaker and clerical worker.
Peters got his ability to design a set from his father. His father, who was interested in jazz and loved bebop, was the inspiration behind Five Guys Name Moe and Louis Jordan musical.
As for his siblings, he was raised with three brothers as Peter was the second of four kids.
His elder brother Anthony was the one who helped him get his first job in show business. Peters was 19 years old when he first worked in wardrobe in a production of Hair in Paris.
His other brothers are David and Rhett. David is a bass player while Rhett worked as a visual artist. Rhett currently works in emergency services.
Clarke Peters' Net Worth
Clarke Peters has been active in the entertainment industry since the 1970s. His involvement in various movies and TV series has helped him assemble a net worth of millions.
As for Clarke Peters' net worth in 2023, it is estimated to be around $2 million.
He was recently seen playing the role of Josiah Falls in The Man Who Fell to Earth (2022) and Whitney Houston: I Wanna Dance with Somebody (2022).
Clarke will be seen in the upcoming historical drama film God's Spy and television series like Eric and Truelove.
You May Like: James Earl Jones Bio, Wife, Children, Family, Net Worth