When the American public radio talk show host Diane Rehm was planning to spend her solo life by travelling, writing, and spending time with friends after the death of her husband, she found a new companion to accompany her in this journey.
Although she already had met the retired Lutheran minister John Hagedorn a long time back, their fate brought them together again after almost three decades.  The couple eventually fell in love and decided to get married.
Wedding Details!
The veteran talk show host showed a story about love and hope when she got married for the third time to retired Lutheran minister and therapist, John Hagedorn.
On 14 October 2017, she got married to Hagedorn at Washington National Cathedral. They tied the knot in a traditional, serious and formal wedding ceremony which was attended by their family and 250 friends.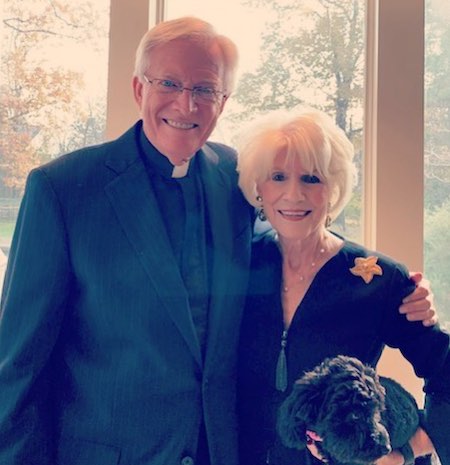 Rehm, who was at the age of 81 when she got married, walked down the aisle with her son and daughter whereas the groom waited for his wife-to-be with his two sons.
The blushing bride Rehm looked stunning in a pale rose peplum mermaid gown by Chiara Boni, an Italian designer. Likewise, the groom, who was 77 during the nuptial, wore a tuxedo with a black tie.
How Did They Meet?
The couple had already met 28 years ago at a mutual friend's daughter's wedding. During that time, both of them were married to their respective partners so their meeting was a pleasant exchange.
But in the summer of 2016, the duo again came across to each other when Rehm received a letter from Hagedorn. He sent the letter reintroducing himself and praising Rehm for her latest book, "On My Own." He even stated that he would love to take Rehm for a cup of coffee when she'll be in Florida.
On My Own is a memoir about Diane Rehm's life as a widow after her husband of 54 years, John Rehm, died in the year 2014.
When Rehm went to Orlando for a book-reading for 1500 fans, she emailed Hagedorn with an invitation to the event. Her now-husband drove for more than three hours and stood in line for two hours just to meet and speak to her.
Recalling the moment when they first met, Rehm stated,
"We have a photograph taken, I sign his book. He's about to walk away and he turns around and looks at me. I turned around and looked at him. And something happened."
The duo then again met in June and when Hagedorn visited Rehm in Washington, they toured museums and restaurants.
When the duo developed a strong connection between them, Rehm realized that she doesn't want to spend her life alone. The couple then got engaged in April of 2017.
Her Previous Relationship
The beloved public radio host was married twice before she fell in love with John Hagedorn.
She was previously married to John Rehm whom she met while working as a secretary at the State Department.
She got married to her ex-husband in the year 1959 and welcomed two children with him- a son named David Rehm and a daughter named Jennifer Rehm.
John Rehm suffered from Parkinson's disease and died on June 23, 2014, after not eating and drinking to end his pain.
Reportedly, her first marriage was with George Hamaty with whom she divorced in the late '50s.
Is Diane Rehm Still Alive?
Yes, Diane Rehm is still alive. According to her website, she is the director of emerita of the PEN/Faulkner Foundation. Likewise, she is also a trustee emerita of McDaniel College in Westminster, Md.
You can get connected with Diane through her social media accounts. She is active on Twitter with the username @drshow where she has around 52.3k followers.
Likewise, she is on Instagram with the username @dianerehm where she has more than 750 followers, as of writing.
Recently, she shared a BTS picture from her editorial meeting on her Instagram handle where she showed off her new Skechers.
Short Wiki
Diane Rehm was born as Diane Aed on September 21, 1936, in Washington, D.C, and is currently at the age of 86.
She is popular as the host of The Diane Rehm Show produced by WAMU and distributed by National Public Radio.
After the 2016 elections, Diane Rehm announced her plans for retirement.
Described as a leading voice in the right to die debate by The Washington Post, Diane Rehm has a net worth of $3 million.