Dylan O' Sullivan Farrow is known to the public as the adopted daughter of Mia Farrow and Woody Allen.
When Dylan was at the age of 7, she made headlines when she accused her father of sexually molesting her as a child. She considered Woody as her father after he legally adopted her in 1991. She was first adopted by Mia in 1985.
What Does Dylan Farrow Do?
Dylan Farrow is a writer and advocate for survivors of sexual abuse. She is the author of HUSH, a YA fantasy fiction novel, which she wrote to help share a story important to her. She published her debut novel with Wednesday Books in October 2020.
She is also an actress known for The Reckoning: Hollywood's Worst Kept Secret (2018), CBS This Morning (1992), and Alice (1990).
Dylan Farrow's Relationship Status
Dylan Farrow, who is now 35 years old, is married.
Who Is Dylan Farrow Married To?
Dylan Farrow is married to Dana Silver. Since Dylan prefers to keep her personal life shrouded in secrecy nothing more about her husband is known.
How She Met Her Husband?
When Dylan was a senior at Bard College, she met her husband at a dating site. During that time, Dana was a recent college graduate living in New York City.
In an interview with Elle, Dylan revealed how she initiated the conversation with her now-husband. Since Dana described himself as a geek, she sent him a message and flirted saying, "You didn't mention you were a cute geek."
The couple met for a date at Grand Central Terminal for coffee and pie. Their date went so well that they ended up dating. She then moved in with him after her graduation. 
Their Private Wedding
After dating for a couple of years, Dylan and Dana decided to get married. The duo shared the vows in an intimate wedding ceremony on May 16, 2010.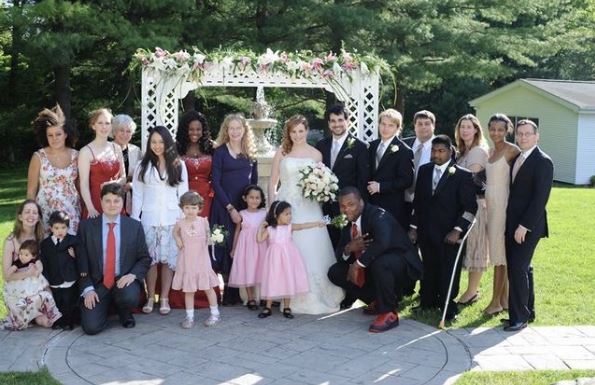 Mia has shared a rare picture from Dylan's wedding on her Instagram handle which features Dylan, her husband, and their family.
She keeps her personal life private to mentally distance herself from the events that she faced in childhood.
How Many Children Does Dylan Have?
Together for 14 years and married for ten years, Dylan and her husband have one daughter.
The news of Dylan being pregnant first came to light in April 2016. She gave birth to their daughter Evangeline on September 5, 2016.
Evangeline's grandmother announced the news of her arrival through Twitter 3 hours after her birth.
Dylan now lives in her mother's 88-acre Connecticut estate with her family. Her family also includes their two dogs- an English bulldog named Nova and a pug named Luna.
Short Wiki
Dylan O'Sullivan Farrow was born in the year 1985 and is currently at the age of 35.
 
Her birthday is on the 11th of July.
 
Reportedly, Dylan changed her name to "Malone" as an adult and hasn't been called the name "Dylan Farrow" in her real-life since she was 8.
 
However, it's her pen name which she uses in court documents and on social media.