XXXTentacion has been receiving love and support from his fans even after many years of his death.
Although his career in the music industry was short-lived, his fame, music, and legacy continue to be impactful and powerful.
XXXTentacio's fame has also grabbed his fan's interest towards his former girlfriend Jenesis Sanchez and their only child, their son Gekyume Onfroy.
Let's find out more about the little XXXTentacion in the content below.
Gekyume Onfroy Age 2023
Gekyume Onfroy is the only child of the late American rapper and singer-songwriter, XXXTentacion.
He was not born when his dad passed away on June 18, 2018.
At the time of his father's death, his grandmother Cleopatra Eretha Dreena Bernard announced the news of Jenesis' pregnancy.
Cleopatra said that her son had left behind them a final gift.
While some online supporters doubted that the baby was not of X, some expressed their happiness and wished that the unborn baby may become a legend like X was.
Gekyume was born on 26th January 2019. Gekyume is 4 years old as of 2023 and his zodiac sign is Aquarius.
Earlier this year on his 4th birthday, his mom shared cute pictures of him on Instagram with a sweet birthday wish. She wrote,
"Can't believe I have a 4 year old, how time flies. You are truly so loved. By so many. You have no idea. I wish your father could see the amazing little human you have become. You amaze me more and more everyday.

You're so special Gekyume 🌏

- Love Mom"
Later in May 2023, his mom Jenesis shared a picture of him on Instagram writing that he is a graduate. She shared her son's achievement by sharing his picture standing next to blocks that spelled out "Grad."
You May Like: Elliot Kingsley (Ozzy Osbourne's Son) Bio, Age, Parents, Dating, Girlfriend & More
Gekyume Onfroy Parents
Gekyume is the son of the late rapper XXXTentacion and his then-girlfriend Jenesis Sanchez.
His dad X was an American rapper and singer-songwriter who often made headlines because of his widely publicized legal trouble.
X is known for his depression- and alienation-themed music although he had a short career.
Talking about his mom Jenesis, she is an influencer who came to light after dating XXXTentacion.
She is still recognized as the ex-girlfriend of the rapper. Jenesis was pregnant with their baby when the rapper was shot dead in Deerfield Beach, Florida, at the age of 20.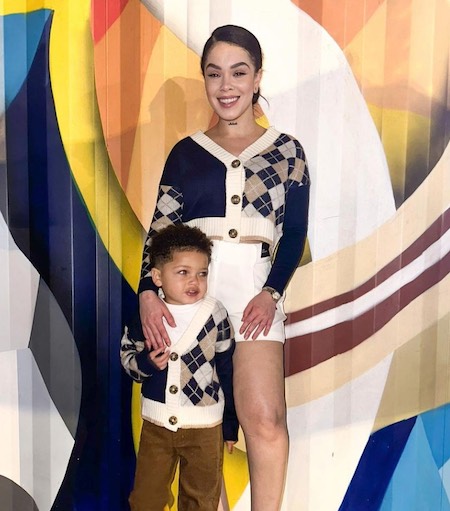 Meanwhile there aroused the rumor that X was not the father of the baby that Jenesis was carrying.
Reportedly, Jenesis went for a paternity test and filed a petition to prove that X was her baby daddy.
However, X's mother Cleopatra demanded to dismiss the case and opposed the petition. She also announced Jenesis' pregnancy saying that XXXTentacion has left us a final gift.
X and Jenesis began dating in 2017 and they were not married at the time of the rapper's death.
Jenesis is active on Instagram with the username @jenesisgiselle where she has been giving glimpses of her motherhood and sharing pictures of her cute son Gekyume.
Gekyume Onfroy Family
He is the grandson of Dwayne Ricardo Onfroy and Cleopatra Eretha Dreena Bernard.
He possesses mixed ethnicity as his dad once revealed that he also had Egyptian or Syrian, Indian, and possibly Italian ancestry.
He has an uncle named Aiden and an aunt named Arianna Drew from his dad's side.
Read About: Sandy Hackett (Buddy Hackett's Son) Wife, Children, Parents, Net Worth
Gekyume Onfroy's Net Worth
Did you know that Gekyume doesn't own the fortune that his dad left behind?
He has been omitted from his dad's will as his father XXXTentacion had stated his will before the birth of his son.
According to XXXTentacion's will, his estate and fortune were to be shared equally with his mother and brother Aiden.
XXXTentacin's net worth at the time of his death was reported to be around $5 million.
Gekyume is still a kid and has time to start his professional career. He is often seen wearing his clothes from NovaKIDS in the pictures posted by his mom.
Jenesis is often promoting NovaKIDS and FashionNova through her social media posts.