Netflix's original series "Squid Game" is heating up and is by far the most popular drama of this year. The massive success of the South Korean survival drama has brought the actor's popularity to the next level.
One of the characters that were able to leave a great impact on the audience was the villain Jan Deok Soo, the player no 101, played by actor Heo Sung Tae.
Actor Heo Sung-tae's acting and personality make him the perfect villain in the Squid Game. Unlike his on-screen character, he is not scary at all in real life- he is completely different from the character that he portrayed.
Let us help you to know more about actor Heo Sung-tae.
Heo Sung-tae Short Bio
The South Korean actor Heo Sung-tae was born in the year 1977 in Busan, South Korea. His birthday is on October 20. Heo will soon turn 44 in his upcoming birthday.
His zodiac sign is Libra and his ethnicity is Korean.
Talking about his education, he attended Pusan National University where he studied the Russian language and culture.
Before Heo tried his hand at acting, he worked at LG Electronics' overseas business marketing team. His job was to sell TV in the local market.
Heo once attended the variety show Happy Together where he revealed that he installed all the LG LCD Tvs in hotels in Moscow and was dubbed King of TV sales in Russia.
He then started working in the planning and coordination department in Daewoo Shipbuilding & Marine Co., which is one of South Korea's largest shipbuilding companies.
Heo was at the age of 35 when he debuted as an actor through an SBS audition.
He stays connected with his fans through Instagram with the username @heosungtae.
You May Like: Anupam Tripathi Wiki, Married, Wife, Girlfriend, Movies, Net Worth
Is Heo Sung-tae Married?
If you are wondering whether the actor is married or not then the answer to this question is 'Yes.'
Despite being in the limelight and the recent massive fame, the actor has successfully concealed his married life and the details of his wife. The name of his wife and other details regarding her haven't been revealed yet.
Reportedly, Heo and his mysterious wife got married in 2010. They were dating for around 10 years before they decided to tie the knot. So technically, the private couple has been together for more than two decades.
Heo made a physical love in the toilet with the player no 212 Han Mi Nyeo (played by actress Kim Soo Ryung) on Squid Game, which has been voted the "most hated scene" by Korean netizens.
Following that, netizens have dug out his 2016's radio show interview where he revealed that he has promised his wife that he wouldn't shoot any intimate scenes.
Heo said that he would do a naked scene on screen but would not do bed scenes even if he was offered 1 billion won. Furthermore, he said that he'll earn money slowly as his wife has already drawn the line.
You can see the interview here.
In an interview on JTBC's 'As You Say' in the past, Heo revealed that he decided to marry his wife the moment she recognized his dream.
Heo and his wife are currently relishing a private married life.
Suggested Read: Korean Actor Yoo In-soo Wiki, Age, Dating, Girlfriend, Family
Does Heo Sung-tae Have Children?
Heo hasn't revealed much about his married life in his interviews and on social media.
Likewise, it's unclear whether the couple has any children or not. However, Heo sometimes shares pictures with his niece on Instagram.
Similarly, he has been treating his fans with endless images of his cats with captions of life 'family' and 'roommates.'
Family Background
Although Heo Sung-tae has been very private about his personal life, he isn't hesitant in evincing his relationship with his mother and sibling.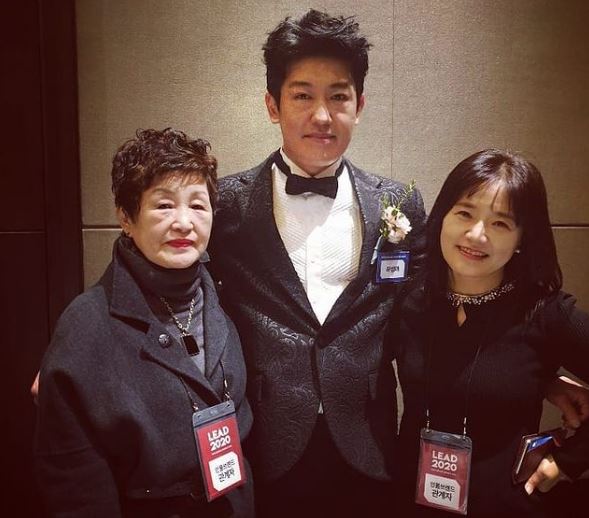 There is no information about Heo Sung-tae's father but he has been frequently posting about his mother. His mother's name is Hyekyung Lee.
A couple of days after the release of Squid Game, Heo shared a picture of his mom holding the poster of the series.
Similarly, he has been sharing pictures with his mom from different events, their dates, and family events. Heo has also shared pictures with his sister on Instagram. His sister's name is Heo Seong-ah.
Suggested Read: All of Us Are Dead Star Park Solomon Relationship Status|Wiki, Age, Personal Life Details
Heo Sung-tae Acting Credits And Net Worth
Since Heo Sung-tae decided to pursue a career in acting at the age of 35, he has more than 60 movies and TV shows under his name.
Heo has been cast in many supporting roles and most of them are villains. But before gaining fame as the berserk player 101, Heo Sung-tae played the role of an innocent cute man in Running Man.
He debuted in the year 2012 with the South Korean period drama, Masquerade. Two years later, he was seen in Man on High Heels, Haemoo, and The Royal Tailor. As per wiki, he had a minor role in City of the Sun in 2015.
He gained recognition after he appeared as Ha Il-soo in the 2016 South Korean period action film, The Age of Shadows.
Following year, he appeared in The Outlaws as Viper for which he received the 2018 Korea Cultural Entertainment Awards for Excellence in Acting (Movie).
His other acting credit includes The Swindlers (2017), Fengshui (2018), Rampant (2018), Your Honor (2018), Cross (2018), Watcher (2019), Mal-Mo-E: The Secret Mission (2019), Liver or Die (2019), Different Dreams (2019), Voice (2019), Psychopath Diary (2019).
In the year 2021, Heo Sung-tae was seen in Racket Boys as Coach Cheon, Beyond Evil as Lee Chang-jin, and Squid Game as Jang Deok-su. He will also be seen in the upcoming South Korean sci-fi mystery thriller, The Silent Sea.
When Heo Sung-tae was working in Daewoo Shipbuilding & Marine Co., he reportedly had an annual income of 70 mil won (around $58.5 k).
Heo is currently making a decent figure as an actor. The exact value of his net worth hasn't been revealed yet. However, it is reckoned to be in the range of $1 million - $5 million in February 2022.
Suggested Read: Is Park Ji-hoo Dating? Boyfriend, Wiki, Age, Family, Height & More