The Impractical Jokers Star James Murray never thought that he would get married or wanted to get married but when he found his current wife, his thought process regarding marriage changed completely.
Today, James is in a blissful relationship with his wife. In this regard, let us help you to know about his love life, relationship with his wife, and many more.
James Murray Wedding
The American improvisational comedian, James Murray, got married to his girlfriend-turned-fiancée, Melyssa Davies on 25th September 2020.
The couple, whose original wedding plans were altered due to the coronavirus, tied the knot at the Lake House Inn in Bucks County, Pennsylvania. They exchanged wedding vows in front of their close friends and family.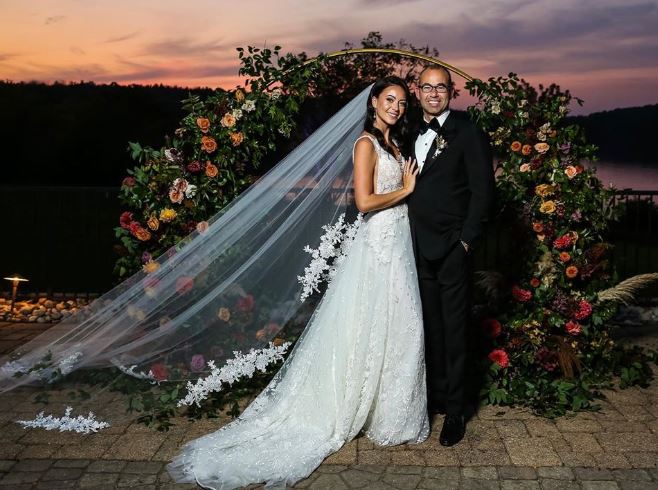 The wedding was officiated by fellow Impractical Jokers star Joe Gatto and had guests quarter of the original list they had.
Similarly, the couple initially had planned four different wedding lists and four different plans but due to the ongoing pandemic, the duo ended up going with a compromised list.
Despite that, the couple had a perfect big day. Separate houses for guests were offered and their immediate families stayed on the property.  Masks and sanitizing stations were set up for the ceremony.
Married for more than 3 years, James and his wife celebrated their third anniversary in Barcelona, Sardinia, and Corsica. Furthermore, while wishing the 3rd anniversary to his better half, James also revealed that his wife is now a notary public.
Together the duo also helps raise charity for the Fisher Center for Alzheimer Research Foundation. In 2023 the duo conducted the second annual charity party which included singing, dancing, drinks, raffle items, huge auction items, and more.
Suggested Read: What Is Carter Oosterhouse Doing Now? His Net Worth In 2023
Their Love Story
James Murray had never thought that he would like to get married one day but when he met his wife, Melyssa Davies, he knew that he was going to marry her.
James, who is currently at the age of 44, met the love of his life by chance at his debut novel Awakened's launch party in June 2018. The couple had immediate chemistry and hit it off that night instantly.
While recalling their first meeting, James says that it was the first time in his life he felt like himself. He's even thankful that he wrote Awakened as he met his lady love at the book's lunch party.
After discovering the instant chemistry, James and Melyssa eventually began dating. James proposed his girlfriend for marriage on August 30, 2019, outside their home they brought together in New Jersey.
James set up a picnic with champagne and a scrabble board for the proposal which turned out to be very romantic for the duo. And a year after getting engaged, the couple got married.
What Is James Murray's Net Worth?
The American comedian, television personality, and author James Murray has been able to garner both fame and fortune from his career.
James, who is best known for his work in Impractical Jokers, has been able to amass a huge net worth of $7 million. Moreover, in 2023, James and his comedian friend Carsen Smith released the third sequel of their hilarious and action-packed series called Area 51 Interns: Time Chasers.
Area 51 Interns: Alien Summer was the first sequel and the second sequel was Area 51 Interns: Zoned Out.
Suggested Read: Anthony Kiedis Wife, Girlfriend, Kids, Net Worth
Short Wiki
The improvisational comedian James Murray was born in the year 1976 in Staten Island, New York City. His birthday is on the 1st of May.
 
Before getting married to Melyssa Davies, he was married to Sal Vulcano's sister, Jenna Vulcano, the Season 3 finale, Brother-in-Loss. Although the marriage was legal, it was the result of Sal's punishment which was annulled shortly.
 
When James Murray attended Monsignor Farrell High School, he met his future comedy partners Sal Vulcano, Joe Gatto, and Brian Quinn.
Suggested Read: Kit Connor Siblings | All About His Brother And Sister