The Australian actor Kodi Smit-McPhee, who began his career as a child actor, has now successfully marked his place in the entertainment industry with several acting credits. He is the recipient of the Golden Globe Award for Best Supporting Actor and has also been nominated for a BAFTA Award, Academy Award, and a Screen Actors Guild Award.
Kodi is known for his roles in Dark Phoenix (2019) Alpha (2018), X-Men: Apocalypse (2016), Dawn of the Planet of the Apes (2014), Let Me In (2010), The Road (2009), and many more.
Is Kodi Smit-McPhee Dating Now?
Since Kodi has very much entered the public spotlight, his personal life has intrigued many people. His fans are curious about his dating life and the lady who has been accompanying him on several red carpet events.
Actor Kodi Smit-McPhee is currently dating and the lady who has been making public appearances with him is none other than his longtime girlfriend, Rebecca Phillipou.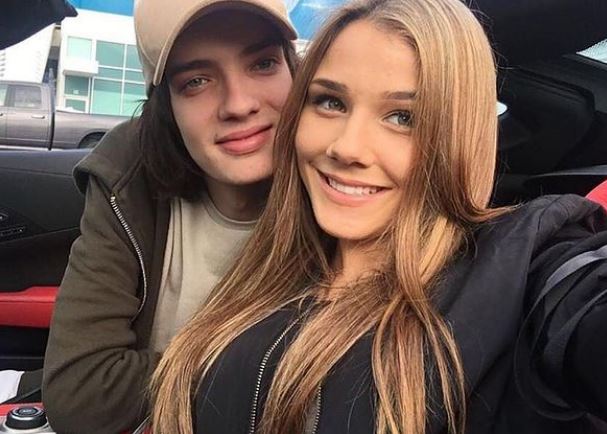 Kodi and his lady love Rebecca have been together for almost a decade as their union has been Instagram official since 2013. Likewise, they made their first public appearance during the 2014 premiere of Dawn of the Planet of the Apes.
Both Kodi and Rebecca have been sharing a glimpse of their relationship quite often.
Kodi also has gushed about her in interviews. During an interview with Variety in February 2022, Kodi was asked about whom he will bring to the Oscar ceremony in March for which he replied,
"I'll definitely be bringing my girlfriend. She's been my rock and my absolute emotional support through every up and down throughout my career."
Kodi has always been revealing how supportive and caring Rebecca is. Likewise, he has revealed how blessed he feels to have a best friend and soulmate as the same person. Although the couple is not married, they have called each other as 'husband' and 'wife' on their several Instagram posts which shows how close they are as partners.
Who Is Kodi Smit-McPhee's Girlfriend?
Kodi's girlfriend Rebecca Phillipou has been keeping a low profile despite grabbing the limelight with her actor boyfriend occasionally.
She has been sharing the pictures with her boyfriend on her Instagram handle exhibiting their strong chemistry. However, Rebecca hasn't shared any information about her background or occupation.
Rebecca was born in September 1996 so she is currently at the age of 25.
Rebecca is active on Instagram with the username @beccphilla where she has around 6.8k followers as of writing.
Kodi Smit-McPhee Family
Kodi Smit-McPhee's family is in Melbourne, Australia. He was born to parents Sonja Smit ad Andy McPhee in Adelaide, South Australia.
As for his siblings, he has an elder sister and a younger brother. His elder sister is Sianoa Smit-McPhee who is an actress and singer. Kodi and his sister followed in the footsteps of their father. Their father is an actor and a former wrestler.
Like his love life, he is not hesitant in talking about his family life. During the interview with Variety, Kodi revealed that he watched the Oscar nominations with his mom in the house where he grew up with his little brother. He also revealed that his dad taught him everything about acting.
Kodi Smit-McPhee Net Worth
Kodi has undoubtedly assembled a huge success at a very young age. He has garnered huge fame as an actor and also has collected an amazing net worth from his profession. According to Celebrity Net Worth, Kodi has an estimated net worth of $3 million in 2022.
Short Wiki
Actor Kodi Smit-McPhee was born in the year 1996 and is currently at the age of 25.
 
His birthday is on June 13 and his zodiac sign is Gemini.
 
Kodi is blind in his left eye after he was diagnosed with ankylosing spondylitis when he was 16 years old.
 
His recent acting credit includes 2067 (2020), Interrogation (2020), and The Power of the Dog (2021).
 
He will be seen as Jimmie Rodgers in the upcoming biographical musical drama, Elvis.