Disarmingly beautiful yet at the same time radiating youthful innocence, Kristine Froseth is an actress and model born to Norwegian parents but raised in New Jersey. 
Splitting time in between her working schedule in New Jersey, USA, and a small town outside of Oslo, Norway Kristine struggled to adapt to the language shifts and confluence of cultures. However, she is certainly adapting to the changes with an appreciation for everything.
Kristine Froseth Boyfriend: Dating Or Single?
No wonder the sparkling blue eyes and prominent cheekbones encapture the attention of many followers towards Kristine. But is there anyone in her life who has grabbed her attention? 
Well, it might not be dismaying to many to say that, Kristine is among those stars who opt to keep her personal life as private as possible. However, as we searched further, Kristine might be dating as of now. 
The Chanel darling and ambassador Kristine is time and often seen sharing pictures with a man named Carson Oberg. Her fans were quick to notice the blooming chemistry between the duo as Kristine posted a cozy selfie with Carson.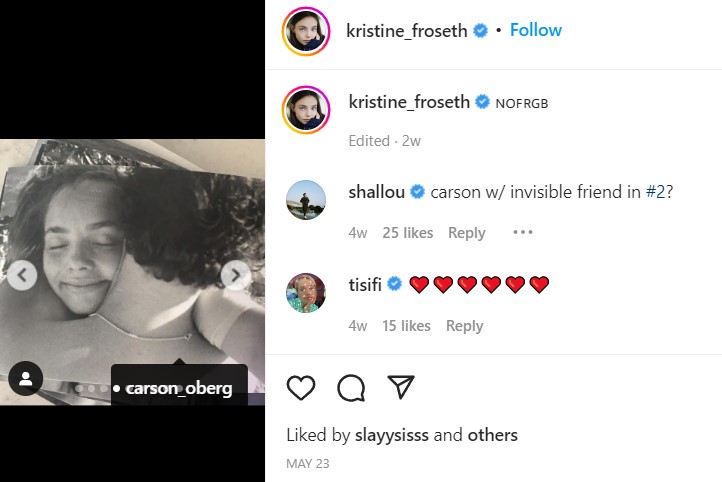 Similarly, as we go through Instagram posts of her possible boyfriend Carson, his posts too hinted at their budding romance. On 6th June 2022, Carson shared a series of images with Kristine having coffee at Paris Baguette with a caption that read, "first time drinking espresso".
Amidst those pictures included a photo where Kristine was seen being wrapped in a warming hug by Carson. 
Likewise, the first photo shared in the series by her possible bf Carson was also shared by Kristine on her Instagram with other pictures on 7th June 2022 with the caption, "lil bit here lil bit there 🖤".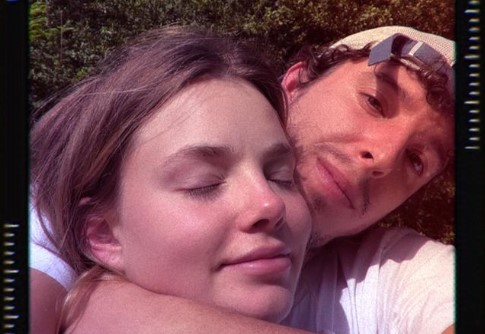 Although the pair is yet to officially announce their relationship status, fans can't help but fall in love with the glimpse they have shared on their respective social media accounts.
Additionally, Kristine did reveal that she went on a ball with her neighbor's crush when she was in 6th grade.
Kristine Froseth And Cary Fukunaga
Kristine was previously romantically linked to the "True Detective" and "No Time to Die" director Cary Fukunaga. Her name later came forward when she shared actress and professional skateboarder Rachelle Vinberg's initial statement in an Instagram story where Rachelle accused Cary of using his power to engage in relationships with younger women "as a groomer".
Rachelle's post about gaslighting men was also liked by Once Upon a Time in Hollywood star and Cary's former partner Margaret Qualley.
However, Cary's attorney later denied the claim and even added that Cary created a work environment that is creative, collaborative, and welcoming to all.
Parents & Siblings
Kristine Froseth was raised in 2 different countries (America and Norway) by her parents. During her childhood, her family used to move every 3 or 4 years between New Jersey and her hometown Drøbak, a small town outside of Oslo due to her father's job.
She had an average upbringing in 2 different places vastly different than each other. At Drøbak, her family used to live in the woods where they could run around and play. On the other hand, living in New Jersey was a lot more competitive.
Talking about the siblings of Kristine Froseth, she is said to have an elder sister but details about her sister are kept behind the curtains as of now.
Kristine Froseth's Net Worth
From being a mean girl in Netflix's Sierra Burgess Is a Loser to being a rival dancer/student at an elite Parisian ballet academy in the drama film Birds of Paradise, Kristine is now all set to appear in the 2022 American comedy film "Sharp Stick" as Sarah Jo.
The Society star Kristine Froseth initially started her journey as a model at the age of 16 after being discovered at a mall in Norway. American-Norwegian model turned actress Kristine Froseth is pretty much living a life as a fairytale turned into reality. 
Summing up, Kristine has worked in various successful movies and TV shows so her net worth is estimated to be around $400 thousand. 
Short Wiki
Kristine Froseth was born on 21st September 1996 in New Jersey, USA to Norwegian parents.

Kristine holds American-Norwegian nationality. 

As for her height, Kristine is 5 feet and 6 inches tall which is around 1.71m.

Kristine celebrates her birthday on the 21st of September every year so her zodiac sign is Virgo.