You might have seen Spanish actor Manu Rios portraying the character of Patrick Blanco Commerford on the Netflix series Elite. However, Manu has been in the limelight way before that.
Manu is an actor, model, and influencer who has been performing covers on YouTube since 2010. He also became a band member of the musical band Parchís in 2012.
He has a huge social media presence with over 10.8M followers on Instagram, 784.2K followers on Twitter, and 3.5M followers on TikTok.
Is Manu Rios Dating?
Being in the limelight has grabbed huge public interest in Manu Rios' personal life. There are many speculations made regarding the actor's sexuality and dating life.
Since Manu played a gay role in Elite, many people believe that he is gay in real life too. Although Manu hasn't talked about his sexuality openly, some online new portals state that the actor is gay and has been rumored to be dating Marc Forne.
The rumor of Manu and Marc's relationship came forward when they were said to be seen in Paris Fashion Week. They even joined for dinner with other boys working as professional dancers. They were also seen together at the historical attractions and enjoying their time at the beach.
Neither Manu nor Marc has confirmed or denied their dating rumors. His relationship has been more baffling since fans have noticed his closeness with his Elite co-star Martina Cariddi.
Back in September 2021, Manu shared a picture with Martina on Instagram with an orange heart in the caption to which Martina replied 'I Love You.'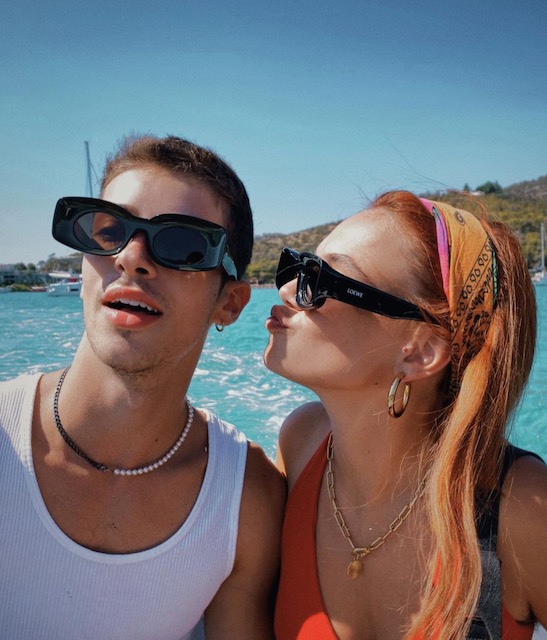 Since then, the duo has shared various images of them on Instagram with sweet captions because of which people started assuming Martina has Manu's girlfriend.
Manu has been linked with many of his co-stars but he has been tight-lipped when it comes to commenting on those rumors or opening up about his partner. Due to the privacy in his love life and many linkup rumors, there is confusion regarding Manu's relationship and dating life.
Suggested Read: Is Miguel Bernardeau Married Or Dating? His Family, Net Worth & More
Manu Rios Family, Parents
Not just his love life, he has also been secretive about his family life. However, he has revealed how supportive his parents have been towards him and his career.
During an interview with Wonderland Magazine in February 2022, Manu revealed that his father helped him build his career as an entertainer. He was asked about how he started out on social media and when did he realize that he has been gaining attention to which he replied,
"Before I started on social media, I used to do musicals and theatre and I wanted to share that on YouTube. I started posting videos of me singing covers. It was a little bit later on that a friend told me about Instagram, and he said that's where he posted his photos and videos."
He continued,
"I love photography, taking pictures, and modeling and I started to post those on [Instagram] too. My dad used to help me a lot, but it was really organic and natural and things just started growing from there."
According to some wiki sites, his parents' names are Manoli and Julian. As for his siblings, he has an elder brother named Josemy Rios. His family also has two dogs named Howard and Currillo.
Manu Rios' Net Worth
Before gaining fame from Elite, Manu had appeared in a couple of television series, He was seen in Pepe's Beach Bar as Mauri in 2014. He also competed in several Spanish talent shows like Tú Sí Que Vales and Cántame Cómo Pasó.
Manu has been posting covers on YouTube since he was at the age of 13. Today, Manu has been successful in garnering fame as an actor, singer, model, and social media influencer.
Likewise, Manu has also assembled a decent amount of net worth from his career. His net worth is estimated to be more than $1 million now and is expected to rise in the near future with the rise in his fame and success.
Short Wiki
The Spanish actor Manu Rios was born in the year 1998 and is currently at the age of 23.
 
His birthday is on December 17 and his zodiac sign is Sagittarius.
 
He was born in Calzada de Calatrava, Spain.
 
His height is 5 feet 11 inches (1. 82 m).