Melissa Leong is an Australian food writer, television host, and cookbook editor who earned a rapidly developing fanbase after appearing as the MasterChef judge. Her eloquent and genuine sensibility in the show not just helped her win the hearts of the audiences but she was also crowned with the title of Who's Sexiest Person of 2020.
Is Melissa Leong Married?
Melissa Leong is not married now but she was bound in a marital relationship in the past. The television host tied the knot with Joe Jones in 2017.
Her ex-husband Joe is a bar owner. According to one of her tweets, Joe is also an ex-pastry chef.
Melissa and Joe were married for more than three years from 2017 to 2020. In between these years, Melissa seldom talked about her married life and husband in her interviews but no one knew that her relationship with her husband would end with divorce.
During an interview with nzherald.com in July 2020, Melissa was asked about what she misses the most about home when she travels to which she replied her husband and cats. She said,
"My husband and our cats. Most of my travel is for work and I am not always able to bring him, and definitely not the fluffy ones. I am so grateful for technology so that I can speak to them every day and keep up to date on what's going on."
However, in December of 2020, she announced her separation from her husband.
Is Melissa Leong Dating?
After experiencing heartbreak, Melissa got lucky in love once again. Shortly after the split with her ex-husband Joe, she found love in Rob Mason. Her beau Rob Mason is a cosmetic entrepreneur and the founder of Morris Motley.
Melissa made her relationship with Rob Instagram official in October 2021. However, she had already made an appearance on Rob's Instagram 2 months ago in August.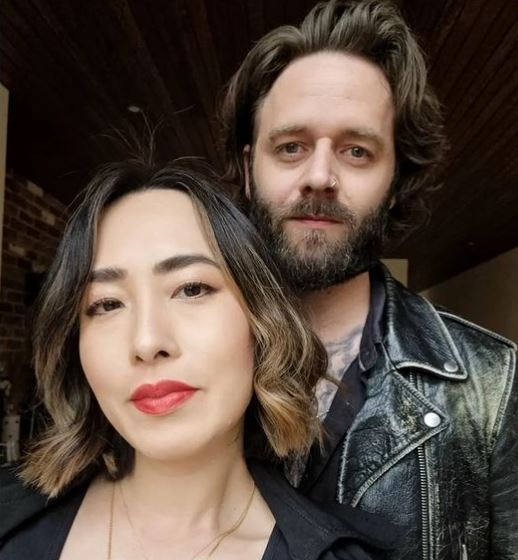 Currently, the lovebirds are not hesitant in flaunting their love for each other on Instagram. Melissa has shared various pictures of her partner-in-crime and expressed her love for him.
Similarly, she has also talked about her relationship with Rob in her interviews. During the Em Rusciano podcast, Melissa described her newfound happiness as 'very hard-earned.' She also shared that she tries not to share her private life but it's hard when she is in the public eye.
Melissa Leong Children
Melissa Leong doesn't have any children of her own but she is very close with Rob's children. Rob has daughters from his previous relationship.
Melissa Leong's Net Worth
Melissa Leong has done everything that is related to the food industry in Australia. She has been active as a freelance food and travel writer, food media consultant, cookbook editor, television presenter, and MC.
Previously, she was involved in digital advertising and has worked with the brands like LG, Nokia, and Coca-Cola. Popular as the judge of MasterChef Australia, Melissa has also assembled an amazing fortune from her career. Well, the exact value of her earnings hasn't been revealed yet but her net worth is estimated to be in the range of $1 million to $5 million.
Short Wiki
The Australian food critic Melissa Leong was born in the year 1982 and is currently at the age of 40.
 
She is a first-generation Singaporean Australian. She was born in Sydney to her parents who emigrated from Singapore to Australia.
 
She has Chinese ancestry.
 
Talking about her education, she studied accounting and economics but later pursued a career in food writing and broadcasting.
 
Some of her TV works are The Chefs' Line, The Cook's Pantry, and Everyday Gourmet.