The American journalist and sportscaster Bryant Gumbel is best known for hosting HBO's "Real Sports with Bryant Gumbel" for nearly three decades.
The show that he began hosting in April 1995 brought both fame and fortune to his life. Its success also garnered people's attention towards Bryant's personal life.
Who Is Bryant Gumbel's Wife?
Bryant Gumbel's married life is something that has always garnered people's interest.
He experienced a failed marriage in the past, which even affected the rankings of "The Early Show."
However, Bryant is now blissfully married to his second wife, Hilary Quinlan.
His wife Hilary is an Emmy-award-winning producer, author, and former member of the Board of Directors of UNICEF USA.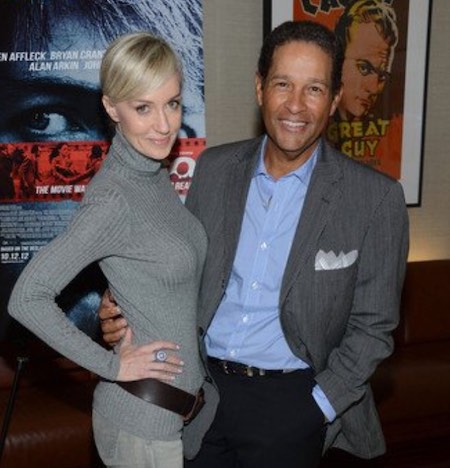 According to Hilary's LinkedIn, she has been an Executive Producer at WarnerMedia since June 2016.
She was on the Board of Directors of UNICEF USA from April 2012 to June 2022.
Likewise, Hilary worked as a Field Producer for HBO Real Sports for around a year from April 2020 to June 2021. She was a coordinating producer for Peacock TV for five months in 2020.
Bryant and Hilary's Wedding
Bryant and Hilary got married in an intimate wedding ceremony at the Breakers Resort in Palm Beach, Florida in August 2022.
Just over 20 guests including Bryant's children from his previous marriage witnessed their big day.
Bryant's son Bradley Gumbel was Bryant's best man for the ceremony.
Bryant Gumbel's Ex-Wife
Bryant Gumbel's first wife is June Baranco, a former flight attendant.
Bryant and June met in the late 1960s through June's friend who was dating Bryant's brother Greg.
The couple felt an instant chemistry and eventually began dating. June has revealed that Bryant was an attentive boyfriend, self-assured, well-spoken, quick-witted, and intelligent.
They frequently visited each other in the 1970s and were madly in love. However, their relationship had hurdles when Bryant finished his college and began working as a magazine sportswriter in New York.
Meanwhile, Bryant started working as a weekend sportscaster on KNBC.
They were eventually married in December 1973 after dating for more than a decade.
However, their marriage was not happily ever after as they had many differences and clashes in their relationship.
June even claimed that Bryant had extramarital affairs. Despite that, she couldn't end her relationship with her husband because of religious convictions and the belief that their divorce could ruin his career.
She prayed for a happy married life and a loving family and tolerated emotional abuse.
Nevertheless, their relationship ended in June 1997 and their divorce was finalized after a four-year legal battle in August 2001.
June reportedly received half of his $20 million fortune and the Westchester house.
Suggested Read: Vladimir Duthiers Wiki, Age, Family, Wife, Parents, Net Worth
Bryant Gumbel's Children
Bryant doesn't have any children with his current wife, Hilary. However, he has two kids with his former wife, June Baranco. 
The estranged pair had their first child, their son Bradley in 1979. Four years later, they were blessed with their daughter Jillian Gumbel in 1983.
Jillian attended Sarah Lawrence College and earned a Bachelor of Science degree. She then joined the University of Colorado Boulder but dropped out after two years.
Talking about Jillain's job, she teaches yoga and created an Illi company with her friend Allison Newell in February 2020.
Bryant's daughter Jillian is now married and a mother herself. She got married to William Russell Robbin in 2021 with whom she has two sons.
Bryants's son Bradley Gumble attended Lynn University for his early education. He later transferred to Manhattanville College to pursue further education.
Bradley was accused of robbery in 2002 and was arrested at Manhattan's Upper East Side. He was accused of snatching a purse from a woman but his defense attorney Benjamin Brafman stated that the identification was mistaken.
Family- Parents And Siblings
Bryant Charles Gumbel was born in the year 1948 to Rhea Alice (née LeCesne) and Richard Dunbar Gumbel.
As for his parents' profession, his father was a judge while his mother worked as a city clerk.
Bryant was raised with three siblings. The names of his siblings are Greg Gumbel, Rhonda Gumbel-Thomas, and Renee Gumbel Farrahi.
His brother Greg Gumbel is an American television sportscaster who is best known for his various assignments for CBS Sports.
Unlike Greg, his other two siblings are not in the industry. They have opted for privacy in their personal life and has kept their family details under wraps.
Find Out: Is Becky Anderson Married? Partner, Salary, Net Worth
Education
Bryant grew up in New Orleans, Louisiana, United States with his brother and sisters.
He went to De La Salle Institute, a catholic university, for his early education.
His family moved north when he was a child so he pursued his education there.
Bryant graduated from Bates College in 1970 with a degree in Russian history.
How Did Bryant Gumbel Become Famous?
Bryant was an editor for Black Sports at the initial stage of his career. Then late in 1972, he became a sportscaster on KNBC-TV.
His struggle and experience in early life gave him the opportunity to become co-host of NBC Sports.
He has hosted HBO's acclaimed investigative series Real Sports with Bryant Gumbel which became a turning point in his career.
He has won four Emmy Awards, an Edward R. Murrow Award, and an Edward Weintal Prize, among many other accolades.
Suggested Read: ABC Denis Phillips (Updated 2023) Bio, Age, Family, Wife, Children, Net Worth
Bryant Gumbel Face Surgery
Meanwhile, there were many rumors and speculations regarding Bryant Gumbel's facelift after people noticed a change in his appearance.
However, Bryant revealed that he had lung cancer which caused the change in his facial appearance. He shocked the television audience in 2009 by opening up that he was recovering from cancer surgery and treatment.
Bryant had to remove a tumor and a part of his lung. He said,
"It's nothing to hide from. They opened up my chest, they took out a malignant tumor, they took out part of my lung and they took out some other goodies."
Even after the surgery, Bryant had to go through some treatment as some cancer cells had escaped.
Bryant, who is not a smoker, had a tumor next to his lungs.
Bryant Gumbel's Net Worth
Bryant Gumbel is one of the most successful sportscaster and journalist who has contributed for decades in this field.
He is popular for being the co-host of the "Today Show" and the host of "Real Sports with Bryant Gumbel. 
He has won numerous awards for his exceptional contribution to the field of journalism.
Likewise, he has also mustered a whopping net worth of $25 million as of 2023. Bryant Gumbel's salary is estimated to be around $6 million.
Read More: Lou Dobbs Wife, Children, Family, Net Worth