Roxana Saberi is an American journalist currently working as a foreign correspondent for CBS News. She has also worked for the media organizations like BBC, Fox News, PBS, Al Jazeera, and Channel News Asia to name a few.
Roxana has covered a wide range of topics traveling the world. From protests to plastic pollution, Roxana has covered almost everything from the Middle East, Europe, and South America.  
Is Roxana Saberi Married?
The American journalist and author Roxana Saberi has always kept her personal life inside a closed box because of which people are still curious whether she has been married or not.
Roxana, who is currently at the age of 44, doesn't seem to be married right now. There is no information about her possible husband or partner. Likewise, Roxana also hasn't shared any information about her love life in her interviews or on social media.
Suggested Read: Is CBS News Jericka Duncan Married? Husband, Family, Net Worth
Is Roxana Saberi Dating?
Although the CBS News correspondent has shrouded her love life with secrecy, she was once in a relationship with Iranian-Kurdish film director Bahman Ghobadi.
Bahman, age 53, is also a producer and writer. He attended the Iran Broadcasting College and earned his degree in Bachelor of Arts in film directing. He is the founder of Mij Film.
Bahman is known for his feature films like A Time for Drunken Horses (2000), Marooned in Iraq (2002), Turtles Can Fly (2004), Half Moon (2006), No One Knows About Persian Cats (2009), and Rhino Season (2012).
Roxana and Bahman's relationship came to light when he plead on behalf of Roxana when she was convicted in Iran of espionage in April 2009.
Bahman was dubbed as Roxana's fiancé by Washington Times in 2009 but after all these years, it's unknown whether the couple was married secretly or not. Likewise, it's ambiguous whether they are still together or not.
Suggested Read: CBS News Adriana Diaz Married Life, Husband, Baby, Net Worth
Does Roxana Saberi Have Children?
Roxana Saberi doesn't have any children. She has been sharing pictures of her nephew and her friends' kids on Instagram who are often confused as her own children.
Parents & Siblings Details
Roxana Saberi was born to Reza Saberi and Akiko Sabari in Belleville, New Jersey. She possesses mixed ethnicity as her father is an Iranian and her mother is Japanese.
Talking about her siblings, she has a brother named Jasper Saberi. Jasper is married and has a son who frequently appears on Roxana's Instagram handle. Roxana and her brother Jasper were raised in Fargo, North Dakota.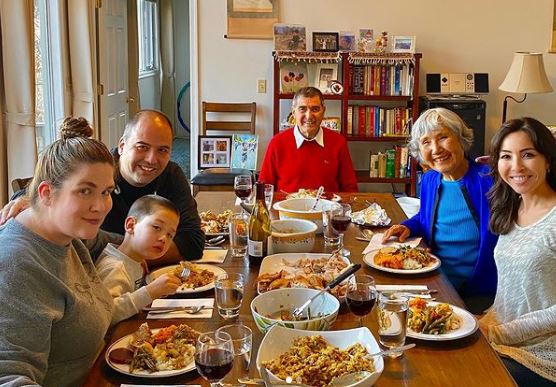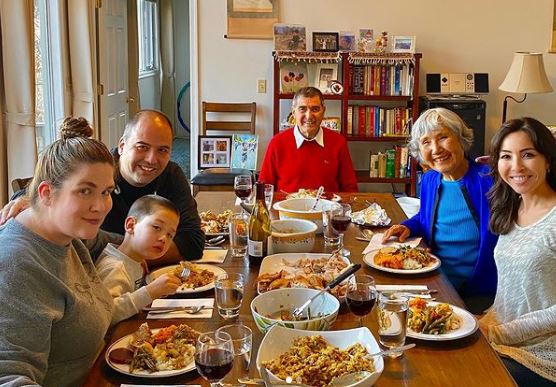 Although Roxana has been reluctant in giving glimpses of her love life on social media, she has been sharing her family pictures exhibiting the relationship that they share.
Back in Thanksgiving of 2021, Roxana shared a beautiful family picture featuring her mom, dad, brother, sister-in-law, nephew, and herself to wish her followers a happy Thanksgiving.
Suggested Read: CBS News Lee Cowan Bio, Wife, Family, Net Worth
Roxana Saberi Net Worth
Roxana, who started her journalism career as a news reporter in North Dakota, is now one of the popular correspondents of CBS News.
Roxana joined CBS News in September 2016 as a freelance correspondent. Before that, she worked at ITV/Blakeway, Al Jazeera America, and other networks like BBC and Fox News.
She has been assembling an amazing salary from her professional career. Although the exact figures of her salary are not known, her net worth in 2022 is estimated to be in the range of $1 million to $5 million.
Suggested Read: CBS Janet Shamlian Husband, Children, Parents, Net Worth, Now
Short Wiki
The American journalist Roxana Saberi was born in the year 1977 and is currently at the age of 44.
 
Her birthday is on April 26 and her zodiac sign is Taurus.
 
Her height is 5 feet 5 inches (1.65 m).
 
Before pursuing a career as a journalist, Roxana was the winner of Miss North Dakota in 1997 and was the top ten finalists of Miss America in 1998.
 
She attended Concordia College to earn her degrees in Communications and French.
 
Roxana then attended Northwestern University to receive her master's degree in Journalism. She also attended the University of Cambridge from where she did an M.Phil, in International Relations.
 
She is the author of Between Two Worlds: My Life and Captivity in Iran, which is about her experience in Iran.