2020 World Series MVP and Texas Ranger's shortstop player Corey Seager need no introduction. Born and raised in an athletic family, Corey Seager is loaded with baseball talent from a very young age.
Despite being part of a deep pool of shortstops, the former Los Angeles Dodgers baseball player Corey Seager is one of the most popular names on the free-agent market. Blessed with a smooth left-handed swing, Corey has an enthralling professional and personal life.
Who Is Corey Seager's Wife?
Corey Seager is happily married to his high school sweetheart Madisyn Van Ham. His wife Madisyn is his classmate's sister who does social media for Melissa's produce. Moreover, Madisyn is an East Carolina University graduate with a business degree.
Corey and his girlfriend turned wife Madisyn began dating during their high school days and they even attended Corey's senior prom together.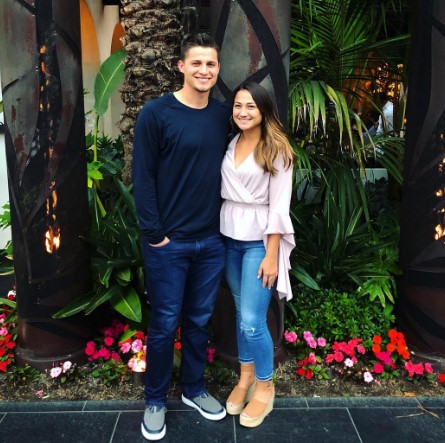 The pair were shortly in long distance relationship after the Dodgers drafted Corey. Although it was challenging to maintain a long distance, they stayed together and reconnected a few years later with more love. 
According to the 3rd-anniversary post shared by Corey on his Instagram on 25 June 2018, the pair likely began dating in 2015.
Corey always knew that he would propose to his lady love one day as he had an instant connection with her. So, he proposed to Madisyn when he was in Boston to see Tom Brady play. They got engaged in December 2019. 
Where Did Corey Seager Get Married?
Corey Seager and his partner decided to conduct their nuptials in the city of love "Nashville, Tennessee."
Their special day was planned by designer Sara Fried of Fête Nashville Luxury Weddings.
They tied the knot in the perfect combination of string lings and greenery on Saturday, 5th December 2020 at Saddle Woods Farm in Murfreesboro, Tennessee, near Nashville. Their auspicious ceremony was more delightful as their dog Hazel served as a ring bearer.
Although their wedding was conducted amidst the COVID-19 pandemic, necessary precautions were taken and COVID-19 screenings were performed on-site by a nurse.
The pair went to Bora Bora, Leeward Islands for their honeymoon.
Additionally, the newly married are yet to reveal their plans of having children.
Parents And Family
Corey Seager is the youngest child of dad Jeff Seager and mom Jody Seager. His mother was a three-sport high school athlete whereas his father played college baseball for Fairleigh Dickinson in New Jersey.
He has 2 elder siblings, namely Kyle Seager and Justin Seager. All Seager siblings are baseball players as his oldest brother Kyle used to play in MLB for Seattle Mariners while his other brother Justin was a junior at UNC-Charlotte that plays corner infield and outfield. 
Justin even was picked by the Mariners as a 12th-round pick in 2013 but he requested a release in the 2017 season. As of now, Justin works as a specialist for Blastmotion.
Salary And Net Worth
Corey Seager was drafted by the Los Angeles Dodgers in the 2012 MLB draft with the 18th overall pick. He then signed a contract with the Dodgers that included a $2.35 million signing bonus.
After nearly 9 years of his draft, Corey signed a 10-year, $325 million contract with Texas Rangers of MLB which is the largest contract in Texas Rangers franchise history. The contract included an annual average salary of $32.5 million and his base salary for the year 2022 is also about $32.5 million. 
Furthermore, MLB player Corey Seager's net worth is estimated to be around $50 million.
Short Wiki
Corey Seager was born on 27th April 1994 in Charlotte, North Carolina with the birth name Corey Drew Seager.

Corey went to Northwest Cabarrus High School located in Kannapolis, North Carolina.

Corey later committed to play his college ball for the University of South Carolina but was drafted by the Dodgers in 2012. So, he signed with the Dodgers instead of going to college.

Corey Seager holds American nationality and comprises of white ethnicity.

Corey is 1.93 m tall in terms of height which is nearly 6 feet and 4 inches.