Known by the nickname Greek Freak, Giannis Antetokounmpo is a professional basketball player currently playing for the Milwaukee Bucks of the National Basketball Association (NBA).
The Greek-Nigerian basketball player Giannis Antetokounmpo has been playing basketball professionally for more than a decade so his career and progression are like an open book. But are you aware of his love life and relationship status? If not then here is all that you wish to know about Giannis Antetokounmpo's personal life.
Is Giannis Antetokounmpo Married?
Giannis Antetokounmpo isn't married as of July 2022. Nevertheless, he has been enjoying a blissful relationship with his longtime girlfriend Mariah Riddlesprigger whom his fans consider as his wife.
The couple was first spotted at All-Star weekend in New Orleans in 2017 and has been inseparable since then. The exact date since when the couple has been dating is unknown.
Who Is Giannis Antetokounmpo's Girlfriend?
Giannis Antetokounmpo's girlfriend Mariah Riddlesprigger was a star athlete during her college days and is now indulged in business. She currently runs her own clothing line called 'Sincerely Mariah.'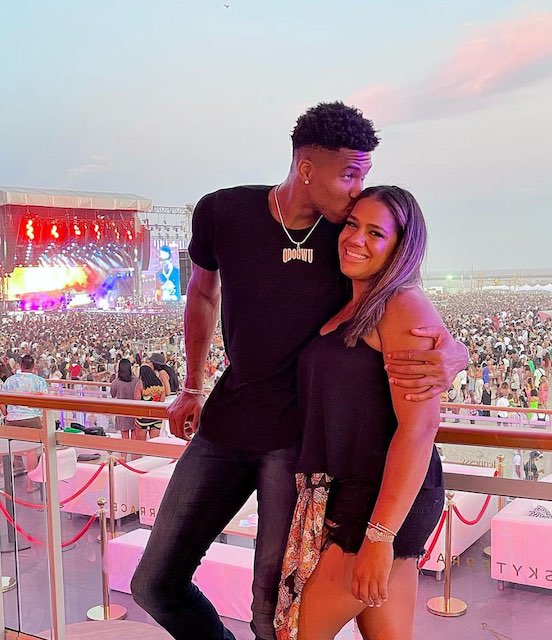 Previously, Mariah played volleyball at Rice University in Texas. As for her education, she attended Bullard High School, California, and earned her Bachelor's Degree in Arts in 2014. She then enrolled at Rice University in Texas where she received a degree in Sport Management and Sociology.
Mariah was born in the year 1992 in Fresno, California. Her birthday is on September 17 so she is currently at the age of 29.
Her parents' names are Pat Riddlesprigger and Cathy Riddlespriger. As for her siblings, she has two sisters named Makayla and Maya.
Like Giannis, Mariah's parents are also associated with sports. Her father was a player for Fresno State University and her mother worked in sales at 'Allstar Fire Equipment, Inc.
Mariah is active on Instagram with the username @sincerelyymariah where she has around 126k followers as of July 2022.
Giannis Antetokounmpo Chidren
As of writing, Giannis is a father of two kids. Mariah first announced the news of her expecting a baby sharing a photo with a tiny little stuffed toy and a mini-sized Jersey of Antetokounmpo.
The duo welcomed their first son, Liam Charles Antetokounmpo on February 10, 2020. The middle name of their first son is the homage to Giannis' late father who passed away in 2017.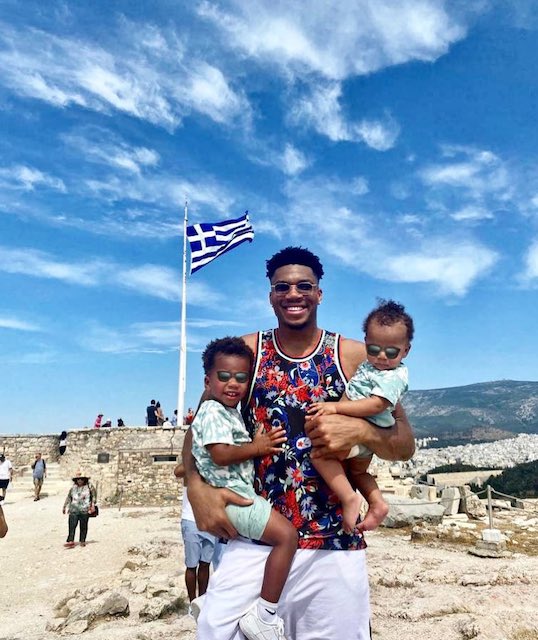 Shortly, the couple again shared the news of them expecting their second baby.
Back in May 2021, Giannis and his partner announced that Mariah is pregnant with their second child. They were blessed with their second baby Maverick Shai Antetokounmpo on August 18, 2021.
Giannis Antetokounmpo Parents And Siblings
His parents' names are Charles and Veronica. His father Charles was a Nigerian football player and his mother Veronica is a former high jumper.
Giannis isn't the only Antetokounmpo who plays basketball. Since his parents were athletes, Giannis and his siblings are more inclined to sports.
He has four brothers and all of the Antetokounmpo sons were given Greek and Nigerian names.
He has two older brothers named Francis and Thanasis and two younger brothers named Kostas and Alex.
Thanasis is one of the popular Antetokounmpo brothers who also plays professional basketball for the Milwaukee Bucks. Similarly, Kostas plays for LDLC ASVEL of the French Betclic Élite and the Euroleague, and Alex last played for Raptors 905 of the NBA G League.
Giannis has been very close to his parents and siblings being raised in a close-knit family. Unfortunately, his dad passed away in 2017 from a heart attack when he was just 54 years old.
Giannis' Instagram bio now reflects his love and gratitude for his dad which reads, "l AM MY FATHERS LEGACY." He has also released his first Nike signature sneaker including the phrase "I am my father's legacy" as a tribute to his father.
Giannis Antetokounmpo's Net Worth
At the young age of 27, Giannis Antetokounmpo has been able to assemble a whopping net worth as a professional basketball player. As per Celebrity Net Worth, he has an estimated salary of $45 million.
Likewise, Giannis' net worth is estimated to be $70 million in 2022. He has been able to accumulate his net worth with his salary, brand endorsements, and collaborations. Giannis is one of the highest-paid players in the NBA in the present scenario.
Short Wiki
The professional basketball player Giannis Antetokounmpo was born in the year 1994.
 
His birthday is on December 6 so he is currently at the age of 27.
 
His zodiac sign is Sagittarius.
 
Giannis' listed height is 6 feet 11 inches (2.11 m) and his listed weight is 242lb (110 kg).