Grant Williams is a brilliant young man who has ascended to the top of his craft as NBA first-round pick of Boston Celtics. Celtics jersey no 12, Grant's basketball accomplishments make up only a fraction of his talents as he is also a former chess champion and a math wiz.
University of Tennesse graduate Grant is well known as a man of stature on and off the basketball court but alongside, he is also a man of the character described as smart, humble, and preserving.
Is Grant Wiliams Dating?
When it comes to the dating life of handsome and talented Grant Williams, he currently seems to be single. But looking back, for his prom in 2016, he asked out his friend Celine with a handwritten template and a bunch of roses.
Suggested Read: Nik Stauskas Married, Wife, Family, Children, Net Worth
Besides, that Grant has never posted any picture with a girl. But as we know, Grant is a family man who often is found stating he couldn't live without his family, he would keep his loved ones close to his heart. So, even if he is privately dating a girlfriend or when he plans to get married in near future, his partner would be very lucky to have him.
Grant Williams Parents
Grant Williams was born on 30th November 1998 in Houston, Texas with the birthname Grant Dean Williams. He was raised by his parents in Houston until the age of 4. After then his parents got separated so, he moved to North Carolina.
Grant Williams was born in an athletic family and basketball is in his blood. Not just his parents and siblings, but also his grandparents used to play basketball. His dad Gilbert Williams (also known as Gil Williams) was a professional basketball player who initially was a basketball star at Minnesota State University.  Besides basketball, his father Gil also worked a number of jobs, like working as a teacher, in stage management, and is also a jazz artist.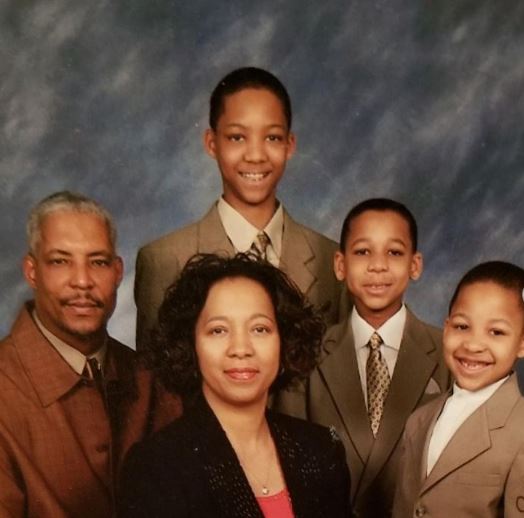 But unlike his father, his mother Teresa Johnson is an electrical engineer employed at NASA for more than 3 decades. Teresa chose the male-dominated field as her career path as one of the only women majoring in electrical engineering at the North Carolina A&T State University.  Back in the 1980s his mom Teresa also helped in designing the International Space Station.
Joining the industry where the path wasn't easy, Teresa had to work hard to prove herself. Looking back, her journey has now made a positive impact on her son Grant. So, from a very young age, Grant inherited his mom's values of diversity alongside her work ethic.
Suggested Read: Is Brodric Thomas Dating? Girlfriend, Family, Salary And Net Worth
Grant Williams Siblings
Grant Williams has 4 siblings in total and all brothers where 2 are his half brothers. All of his brothers are good basketball players. His older brothers fell in love with the sport right away but that wasn't the case with Grant. 
Grant's dad first realized his son's talent when he was named the best player at the basketball camp that he attended at the age of 10. However, Grant was yet to recognize his athletic potential and realized it later when he was a junior at Providence Day School.
Suggested Read: Is Daniel Theis Married? Wife, Girlfriend, Parents, Net Worth
Grant Williams Net Worth & Salary
Grant Williams signed a 4-year contract with the Boston Celtics of about $11.8 million on 11th July 2019 after being selected with the 22nd overall draft pick in the first round. So, for the season 2022/2023, Grant will earn a base salary of about $4,306,281 whereas his net worth is estimated to range between $2 million to $5 million.
Short Wiki
Because of his mom's job at NASA, Grant Williams even got a chance to take part in a simulation at NASA's Johnson Space Center where he drove a shuttle itself which was for people that worked there. 

Through his mother's work, Grant has met some of the smartest people, traveled much of the world, and has frequented a number of International space centers.

As a child, Grant learned chess from his grandfather and he even competed in national tournaments. He became so skilled that he advanced all the way and became the No. 1 player in the country of his age group.

Grant went to Providence Day School of Charlotte and later earned a degree in supply chain management at the Haslam College of Business at the University of Tennessee.

Grant received offers from Ivy League schools like Harvard and Yale but he turned them down and joined the University of Tennessee. 

Grant holds American nationality and comprises of black ethnicity.

As per his height, Grant is 6 feet and 6 inches tall (1.98m) and his listed weight is 236lb (107kg).

Grants celebrate his birthday on 30th November so, his zodiac sign is Sagittarius.