Payton Pritchard is an American professional basketball player currently playing for the Boston Celtics of the NBA. Before playing for the Celtics, the point guard played for the Oregon Ducks as a college basketball player.
Payton doesn't have a consistent role with the Celtics yet but he has always found a way onto the court whether it was in high school, Oregon Ducks, or at NBA.
Short Wiki, Age
Payton Pritchard was born in the year 1998 in Portland, Oregon. His birthday is on January 28 and he is currently at the age of 24. His full name is Payton Michael Pritchard. His zodiac sign is Aquarius.
He attended West Linn High School where he earned 2014 and 2015 Todd Pratt Player of the Year. He later joined the University of Oregon Ducks where he made 39 appearances in his freshman year. Payton was one of the best players in collegiate basketball as a senior.
Suggested Read: Luke Kornet Wiki, Age, Married, Wife, Parents, Net Worth
Payton Pritchard Family
Payton Pritchard has a family full of support without whom he wouldn't be as successful as he is today. His parents' names are Terry Pritchard and Melissa Pritchard.
Growing up, Payton looked up to his parents who are both athletes. His father was a football player who was recruited to play basketball. Similarly, his mother competed in gymnastics. Both his parents attended the University of Oklahoma. They introduced Payton to basketball when he was in kindergarten.
Likewise, Payton's aunt Lisa was also a basketball player at the University of Arizona.
Talking about his siblings, he has a sister named Lexie Pritchard. Payton also has a lifelong friend named Anthony whom he regards as his brother.
Suggested Read: Is Brodric Thomas Dating? Girlfriend, Family, Salary And Net Worth
Is Payton Pritchard Dating?
Yes, Payton Pritchard is currently dating. He has been in a relationship with Lucy Charter for a couple of years now.
Payton and his girlfriend Lucy have shared pictures of them on their Instagram handle which exhibits their relationship. According to Lucy's Instagram posts, they might be dating since 2019. Both of them attended the University of Oregon where they might have met and fallen in love.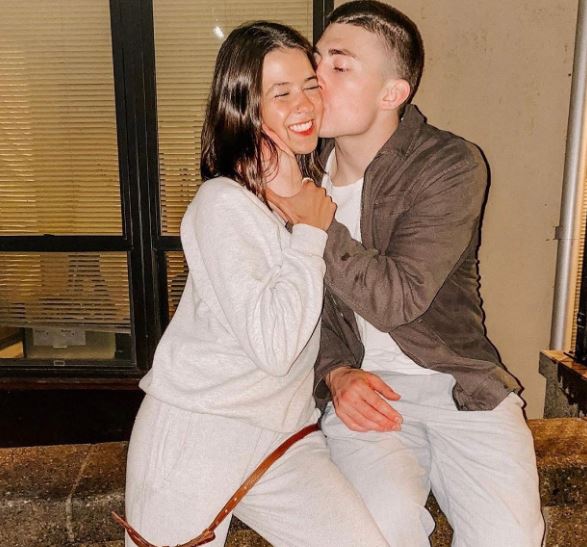 Payton has not shared pictures with his love now but since he hasn't deleted any pictures with her on Instagram, they might still be together.
The last picture of the couple that Payton shared on Instagram was in August 2020.
Suggested Read: Is Derrick White Married? Wife, Family, Salary, Net Worth
Payton Pritchard's Net Worth
The American basketball player Payton Pritchard has signed a 4-year / $10,449,718 contract with the Boston Celtics. The contract includes an annual salary of $2,612,430 and guaranteed $10,449,718. Payton, who earns around $2,137,440 as a base salary, has net worth in millions. His net worth in 2022 is estimated to be in the range of $1 million to $5 million.