Jack Black is not a new name in the entertainment industry. He appeared as Professor Sheldon "Shelly" Oberon in the Jumanji franchise, Dewey Finn in School of Rock, and is also the voice behind the giant panda named Po in Kung Fu Panda films.
The American actor-musician has been able to amaze us with his talents for more than two decades. With the rising success, his personal life has always intrigued his fans.
Here's all that you might want to know about Jack Black- his married life, wife, and children.
Who Is Jack Black's Wife?
Jack Black's wife is Tanya Haden. She is a singer-musician born in the year 1971. Tanya, who is currently at the age of 49, celebrates her birthday on October 11.
She was born to famous jazz bassist Charlie Haden and his wife as one of their triplet daughters. Her sisters' names are Rachel and Petra who are also musicians.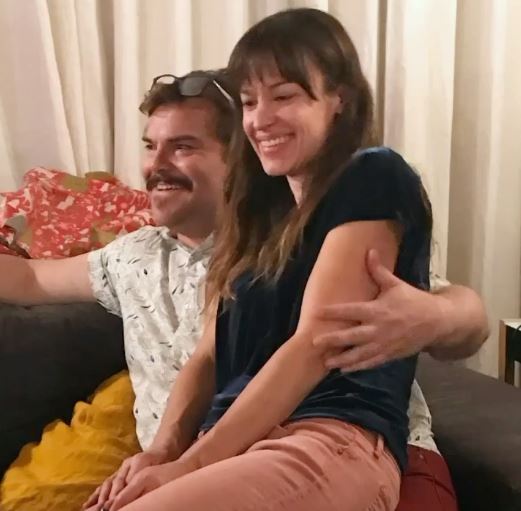 They formed a band named That Dog in the 1990s. They have performed as the Haden Triplets and have toured the country performing together.
She also has a brother named Josh Haden who is a bass guitarist. He is a singer of the American rock band, Spain.
Tanya, who is also an accomplished cellist, has played with popular bands like the Warlocks, the Silversun Pickups, and Sea Wolf.
Their Relationship Details
Black has known his wife since their high school days. The duo met at Crossroads, a private high school in Santa Monica.
It was love at first sight for Black but he couldn't muster up the courage to ask Tanya out. During an interview with The Sun in 2013, Black revealed how he wasted 15 years for his chance to ask Tanya out on a date. He said,
"I wish I'd had more courage to ask out Tanya Haden, the woman who eventually became my wife. We met at school at 18 - and I wasted 15 years waiting for my chance."
He continued,
"She was everything I could wish for. Talented, beautiful and a wonderful performer on stage. She was part of a band called The Haden Triplets. We first worked together on a student film but we did not date."
Fifteen years after graduation, Black met Tanya again at a friend's birthday party. The couple then worked together on a student film but did not date.
Shortly, they started dating and got engaged in January 2006. The duo eloped on March 14, 2006, in Big Sur, California.
Family Life And Children
Both Black and Tanya are now enjoying a successful career and a blissful family life. Married for 15 years, Black and his wife are parents to two kids.
Three months after the wedding, Tanya gave birth to the couple's first child. Their son Samuel Jason Black was born in June at Cedars-Sinai Medical Center in Los Angeles.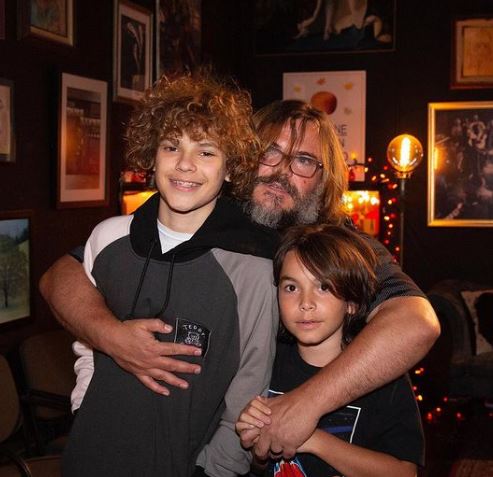 The family of three was joined by their second son Thomas David Black in 2008. His birthday is on May 23.
Both of their sons are carrying on their father's acting legacy. They have inherited their parents' creative genes. The proud father Black talked about his sons' creativity in an interview with People in 2019. He said,
"They've been super creative lately. They both have made cool little short films on their iPhones. I [am] so proud and grateful for my family."
The Jumanji star loves hanging out with his sons and wife. He regards a day by the pool with them as a nice day off.
What Is Jack Black's Net Worth?
Jacob Black is a man with many talents. Apart from being an actor and singer, he is a comedian, musician, and songwriter.
Black has been active in the industry since 1982 and has already received a star on Hollywood's Walk of Fame in 2018.
He has received massive fame and fortune from his prolific career. Talking about his net worth, it is estimated to be $50 million in 2021.
Black also collects some revenue from his YouTube channel named Jablinski Games, which he launched on December 21, 2018.
Short Wiki
American actor Jack Black was born in the year 1969 in Santa Monica, California.
 
His real name is Thomas Jacob Black.
 
His birthday is on August 28. Black is currently 52 years old.
 
His parents' names are Thomas William Black (father) and Judith Love Cohen (mother). Both of them are satellite engineers.
 
Black was just 10 years old when his parents got divorced.
 
Jack Black's height is 5 feet 6 inches (1.68 m).