The American social media personality and influencer Qimmah Russo has over 3.7M followers on her Instagram handle.
She is a fitness instructor who gives coaching and online fitness training through her fitness company Q-Flex Fitness and its website.
Qimmah's fame as a fitness instructor, model, and social media influencer has grabbed people's interest in her personal life.
Let us help you to find out about her family and her relationship status in the content below.
Age And Parents
If you have been following Qimmah Russo then you might be well acquainted with her family life.
Qimmah was born in the year 1993 on 16th December, which will make her age 30 in 2023.
Her parents' names are Kodi Della' Ray and Kenneth Russo.
Her mother Kodi is an entrepreneur and singer. According to her Instagram bio, she is the singer and CEO of Rayden Management.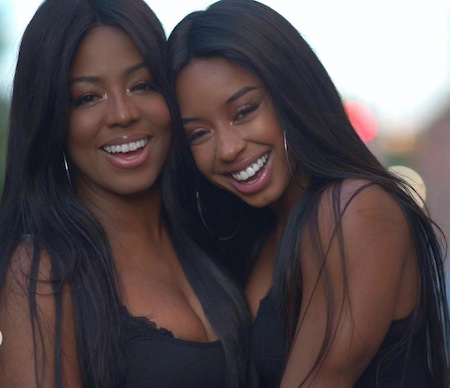 Qimmah's parents are very athletic; her mother played field hockey while her father is a baseball player.
She possesses mixed ethnicity as her father is of white ancestry and her mother has an African-American background. Qimmah has African, American, Italian, and West-Indian roots.
Both her parents are often seen on her Instagram handle.
Back in 2020, Qimmah shared pictures with her dad on her Instagram handle and wished him Father's Day. She captioned the picture with sweet message writing,
"Dad you're the all time Dad ❤️❤️ && I LOVE YOU SOO MUCH!! Something about today was so special, a crazy rush of appreciation and gratitude , you are so hard working and so inspiring & so unselfish! I couldn't ask for a better relationship. Through thick and thin I know you'll ALWAYS have my back and our family. Happy Fathers Day Dad! & to ALL the papas out there! 🤓 (swipe) oh! And thank you for my delicious dinner!!!"
Likewise, Qimmah shared an appreciation post for her mom in June 2020 where the mother-daughter duo looked like twins.
Her mother Kodi is active on Instagram with the username @kodi_ray where she has almost 30k followers, as of writing.
You May Like: Teyonah Parris Family, Husband, Children, Net Worth
Qimmah has also been vocal about her relationship with her parents on her YouTube videos.
She has said that she grew up with strict parents and gave a score of 10 for their strictness in a Q & A video on her YouTube channel.
However, she has also revealed that her parents have been very supportive, which has been crucial to her career.
As for Qimmah Russo's siblings, she was raised with an older brother named Tamir Russo. Her brother Tamir is active on TikTok with over 4.5M followers and 41.4M likes.
Tamir shares posts of him racing motorcycles, superbikes, and cars on his account. He is the brand ambassador of the global fashion label Fashion Nova Men.
Is Qimmah Russo Dating In 2023?
Qimmah Russo's fame and online presence have always made people curious about her relationship status.
However, she has always been private about her dating life and hasn't revealed much about her boyfriend.
In a YouTube video shared in December 2021, Qimmah was seen celebrating her birthday with Zach Andrews.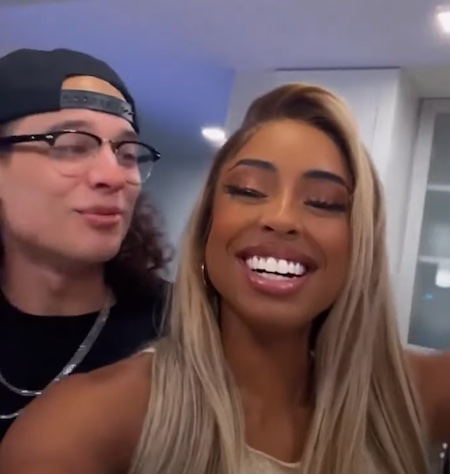 She was also seen kissing Zach in the video. Her boyfriend Zach is also a fitness instructor who goes by the username @zachandrews__ on Instagram.
Qimmah is not married as of 2023 and she doesn't have a husband. Likewise, it's unclear whether she is still dating Zach or not.
Both Qimmah and Zach have been private about their dating life and they haven't shared any posts related to their love life on social media.
Read About: Big Brother Bowie Jane Age, Job, Partner, Parents
Qimmah Russo's Net Worth
Qimmah Russo has been making money as a fitness instructor. She is also a model and social media influencer so she has assembled some part of her net worth through modeling and endorsements.
Qimmah is also on OnlyFans.
As for Qimmah Russo's net worth, it is estimated to be more than $1.5 million in 2023.
Qimmah Russo Education
She wanted to pursue a career in the medical field being an obstetrician-gynecologist. However, she ended up studying sociology and kinesiology.
Qimmah graduated from the College of Canyons in Santa Monica, California in 2015.
Meanwhile, she was involved in numerous sports and gym and eventually pursued a career as a fitness instructor.
Read More: Eli Norman (Janai Norman's Husband) Age, Job, Kids, Net Worth