The child actor, who broke through in his teens in The History Boys, Russell Tovey is now one of the popular English actors with some wonderful acting credits under his name. Russell is known for his work in Being Human, Him & Her, Sherlock, and many more.
Russell has been in the limelight since his teenage days. Being in the limelight has grabbed public interest in Russell's love life. If you are also interested in finding out his relationship status, family, and many more then this article is for you!
Is Russell Tovey Married?
No, Russell Tovey is not married but he nearly was. The wedding might be on the cards for the British actor as he has rekindled his romance with his partner after parting their ways.
The openly gay actor Russell Tovey is known for his relationship with a fitness coach and rugby player, Steve Brockman.
Relationship With Steve Brockman
Russell and his partner Steve reportedly met online in 2016 and eventually began dating. The duo was spotted together several times and also attended various events in 2017. Steve even moved across the world to be together with Russell.
Russell and his boyfriend Steve got engaged in February 2018. The Being Human star described his engagement to the Daily Mail as "completely unexpected." He even stated how happy he was and eager to celebrate it with a proper party.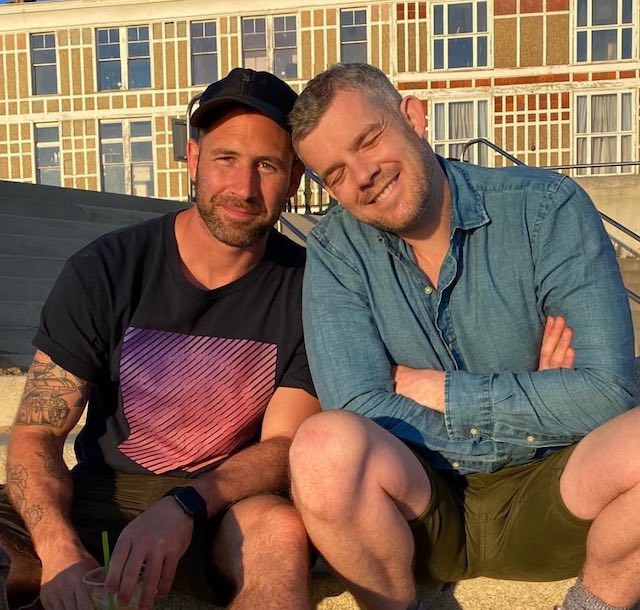 However, four months later, in June 2018, the couple decided to part ways. The news of their separation came to light when Russell was asked if he was still together with Steve on his Instagram by one of his fans after he removed pictures with Steve from his page. Russell then responded, "No darling."
Nevertheless, Russell and Steve reconciled in August 2019 but it's not clear whether they are still engaged or not. During an interview with The Telegraph, the actor said,
"Well, I don't know how it works. Because we were, then we broke up, now we're back together. Is it like Snakes and Ladders? Do you go back to the beginning of the game and have to work your way back up again?"
There's also a slight issue because Russell doesn't have their engagement ring anymore. He sold it and gave the money to his brother to spend on sweets as he was taking his family to Disney World.
Russell has also explained how breaking up and reconciling have made their relationship strong. During an interview with The Guardian in November 2020, Russell stated that breaking up with his boyfriend has made their relationship stronger. He said,
"Breaking up with my boyfriend made us stronger when we got back together. In the whirlwind honeymoon phase, you can forget to work out who the other person is. Now we have more confidence. We both want this. It has all been worth it – even if he still whinges a lot."
Steve is also a trainee architect. He previously played rugby for the Kings Cross Steelers.
Suggested Read: Jasmin Savoy Brown Wiki, Age, Dating, Partner, Parents, Net Worth
Russell Tovey Family, Parents
Russell Tovey was born to Carole Tovey and George Tovey. Talking about his parent's profession, his father ran a Romford-based coach service taking passengers from Essex to Gatwick Airport.
He is the younger of two children of his parents so he has a sibling. He has an older brother named Daniel.
Russell has always revealed how supportive his parents are and how they encouraged his geekiness. They have always been his greatest support and his biggest fans.
Russell Tovey's Net Worth
Russell Tovey has appeared in various movies, TV series, and stage performances throughout his career. He has garnered huge fame and a wonderful fortune as an English actor.
Celebrity Net Worth has estimated his net worth to be $4 million but his net worth is likely to be more than $6 million now.
Recently, Russell was seen in the movie Allelujah as Colin Colman (2022) and in television series like Flesh and Blood (2020) and The Sister (2020). Russell was also a guest judge in RuPaul's Drag Race UK in 2021.
He will be seen in the movies like Night of the Lotus and It's All Coming Back To Me in 2023, which will increase his net worth to some extent.
Suggested Read: Ruby Hartley Wiki, Age, Dating, Boyfriend, Parents, Net Worth
Short Wiki
The English actor Russell Tovey was born in the year 1981 and is currently at the age of 40.
 
His birthday is on November 14 and his zodiac sign is Scorpio.
 
Talking about his education, he attended Harold Court School and Shenfield High School.
 
Russell loved acting from an early age so he joined a local drama club where a talent agent spotted him.
 
His parents' names are Carole Tovey and George Tovey.
 
He has a brother named Daniel Tovey.
 
Russell Tovey is currently in a relationship with Steve Brockman.