The American journalist Margaret Brennan has been interviewing top government officers and policymakers as the moderator on CBS's Sunday morning public affairs show Face the Nation.
She is the foreign affairs correspondent for CBS News. The Connecticut native, Brennan has traveled the world reporting news from Afghanistan, Iran, and Iraq among others. 
Who Is Margaret Brennan's Husband?
Margaret Brenan's husband is Ali Iyad Yakub. He is a Syrian-American attorney and a Major in the US Marine Corps.
According to his LinkedIn profile, he worked at Pentagon. He also served as a judge advocate for the Marine Corps in 2007.
He has a degree from the University of Virginia. He also attended the University of Miami from where he earned his law degree. In the year 2004, he earned his legal license in the state of Florida, which has now expired.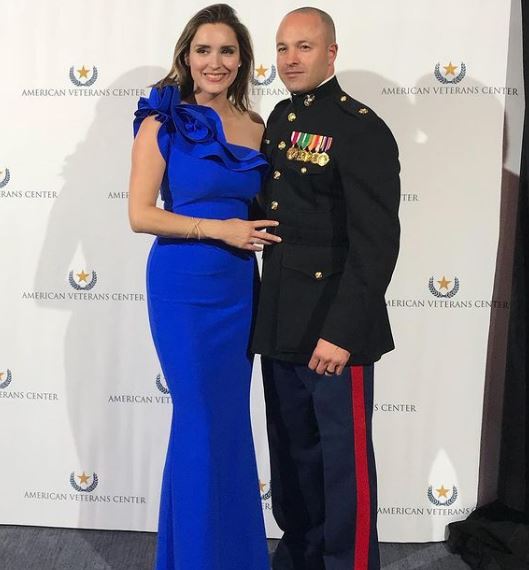 The Marine veteran, who goes by the nickname 'Yado,' was born on July 23, 1977. Ali, who is currently at the age of 44, was born to Dr. Y. Nabil Yakub and his wife Rolana.
His father is a nephrologist and his mother worked as a preschool teacher in McLean, Virginia.
Dr. Y. Nabil Yakub has more than 50 years of medical experience. He currently works at Inova Fairfax Hospital.
According to his hospital profile, he attended the American University of Beirut and the University of Rochester School of Medicine and Dentistry.
Talking about Yakub's siblings, he has a younger sister named Samia. Samia is close friends with his wife Brennan as they both were roommates while they studied in Jordan during the summer of 2000.
Suggested Read: CBS News Adriana Diaz Married Life, Husband, Baby, Net Worth
How Did They Meet?
Brennan and Yakub first met at the University of Virginia in 1998 where Brenan was a freshman and Yakub was a senior.
Talking to New York Times, Brennan said that she thought Yakub partied too much at that time. Likewise, Yakub said that he thought Brennan was attractive, conservative, and serious.
After graduation, the couple met again in 2013 on the street in D.C. from where their relationship took off.
The couple who had moved to Washington, D.C. for their respective careers, ran into each other by chance while Brennan was walking her dog.
Yakub then invited her to his housewarming party and the rest is history!
One year after the reconnection and dinner dates, Yakub asked her to marry him by bringing Brennan back to the campus where they first met.
The lovebirds got married in a classic wedding ceremony on April 11, 2015, at the Decatur House in Washington, D.C.
Suggested Read: Is CBS News Jericka Duncan Married? Husband, Family, Net Worth
Family Life, Children
Three years after tying the knot, Brenan took a new role as a mother. She welcomed the couple's first child, a son named Eamon Brennan Yakub on September 11, 2018.
Their son Eamon's name pays tribute to both of their backgrounds. She revealed,
"We wanted to find a name that honors both his Irish-American and Syrian-American heritage. Eamon means guardian in Irish and, while spelled differently, also means righteous in Arabic. We picked it long ago while traveling through Ireland on a road trip."
Brennan first opened up about her pregnancy while attending The Late Show with Stephen Colbert on April 30, 2018.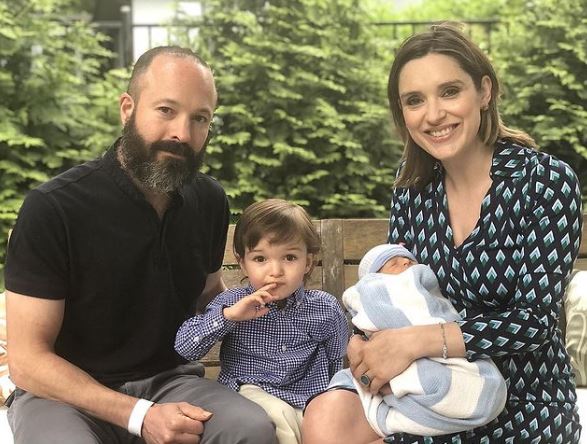 She got pregnant with their second baby in 2020. Their second son, Malek Murphy Yakub was born on April 28, 2021, at Sibley Memorial Hospital in Washington, D.C.
On May 2, 2021, she shared a family picture with her newborn baby stating that their son Malek Murphy Yakub has joined the family. They also have a pitbull named Callie in their family.
The family of four currently lives in Washington, D.C.
Suggested Read: CBS News Carter Evans Wiki, Age, Wife, Family, Net Worth
What Is Margaret Brennan's Salary And Net Worth?
The average annual salary for CBS News employees is estimated to be $68k. In addition to that, one receives an average bonus of $3k.
Since Brennan has been working for the network for more than a decade, her annual salary might be more than the estimated annual salary.
Likewise, her net worth as an American journalist is estimated to be in the range of $1 million to $5 million.
Brennan has been active in her business news career for almost two decades. She started as a producer for prominent financial journalist Louis Rukeyser at CNBC in 2002.
She later joined CBS News July in 2012. Brennan, who was previously a White House correspondent for CBS, has been based in Washington since that time.
Suggested Read: CBS News Lee Cowan Bio, Wife, Family, Net Worth
Short Wiki
The American journalist Margaret Brennan was born in the year 1980 in Stamford, Connecticut.
 
Her birthday is on March 26. She is currently at the age of 41.
 
Talking about her parents, she was born to Edward Brennan and Jane Brennan.
 
Her father worked at the Guardian Life Insurance Company of America in New York as a senior director.
 
Her mother worked as an elementary school art and art history teacher in the Pennsbury, PA, school district.
 
For her education, she attended the Convent of the Sacred Heart in Greenwich, Connecticut, and graduated with honors in 1998. She then attended the University of Virginia.
 
She also attended Niagara University from where she received an honorary Doctor of Letters degree for her work in international affairs.