After showing his considerable volleying skills on-court, the former American professional tennis player, John McEnroe has been amazing us with his acting skills on-screen.
John, who states that the greatest compliment that he has ever got is being called an artist, recently narrated the American coming-of-age comedy-drama, Never Have I Ever.
Apart from that, he has made several television and film appearances. Since his professional life is like an open book, you might be aware of his career and progression.
But are you acquainted with his personal life? If not, this article might help you to know about his life behind the camera!
Who Is John McEnroe Married To?
The Tennis Icon John McEnroe is married to rock singer Patty Smyth.
Patty is a Grammy Award-nominated American singer and songwriter who came to prominence with the rock band Scandal.
She gained fame with her debut solo album Never Enough and also with her single "Sometimes Love Just Ain't Enough" which reached the Top 10 in the early 1990s.
Patty is one of the founding members of the '80s rock band Scandal. Her success as a band member and vocalist of Scandal was short lived as the band broke up in 1985.
She then pursued her solo career and released 'Patty Smyth,' her self-titled album, in 1992.
Patty took a break from music for 16 years amidst the divorce from her first husband and a budding relationship with John.
She released a Christmas album, 'Come On December' in 2015 and released her first full-length album 'It's About Time' in October 2020.
How Did They Meet?
John and Patty met in the year 1993 at a Christmas party in L.A. Their mutual friend intended to set them up that night but forgot to tell Patty.
John asked Patty out but she was going away the next day because of this they had their first real date nearly a year later.
The couple eventually fell in love and by the spring of 1995, Patty was pregnant with their first baby, daughter Anna.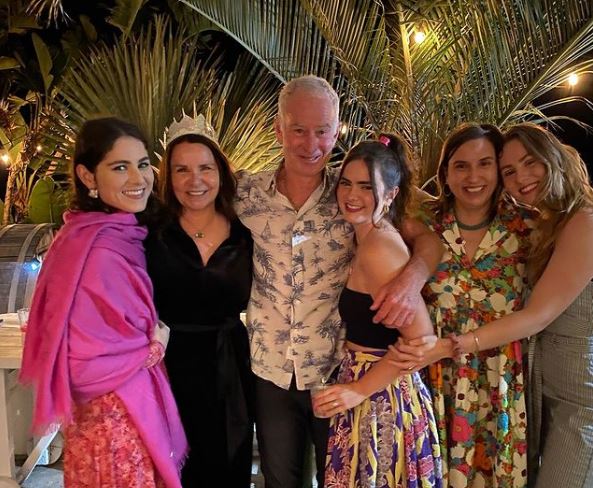 The duo tied the knot in the year 1997 and has been relishing married life for 26 years.
The couple got married in a secret wedding in Hawaii on the day of the Oscars so nobody would notice.
They also have a daughter named Ava. His wife Patty also has a daughter named Rudy from her previous marriage to American singer Richard Hell.
John now lives in a duplex on the Upper West Side of Manhattan with his family.
Suggested Read: Is Jaren Lewison Dating? Girlfriend, Wiki, Age, Net Worth
Blissfully Married For 26 Years
John and his second wife Patty preferred to keep their married life private so they rarely did interviews.
However, the couple is now vocal about their relationship and the bonding that they share.
During an interview with AARP magazine in 2020, Patty revealed that she did not believe in love or marriage when she met John.
But when she went out on a date with John, it was familiar and exciting and she felt like she knew him.
She also opened up about the secret behind their successful marriage saying,
"It was such good luck to have met each other. But it did not come without a price tag. No one will ever know the stuff we had to go through. The odds were so stacked against us. We never did any interviews. We got married in Hawaii on the day of the Oscars so nobody would notice. I almost went too far. I went so underground with our relationship that a lot of people didn't know I was married to John. I thought if we started talking about how happily married we are, we would jinx it."
Similarly, John and Patty opened up about their marriage in an interview with People in 2020. The couple, who had been married for 23 years at the time of the interview, said that they hadn't lost the spark.
John and Patty have now been married for 26 years and are giving major relationship goals when there are several reports of celebrity divorces every other day.
Suggested Read: Lee Rodriguez Wiki, Age, Dating, Partner, Net Worth
His Previous Marriage
Before finding love in the former Scandal lead singer Patty Smyth, John was married to Oscar-winning actress Tatum O'Neal.
The estranged pair got married on August 1, 1986. They tied the knot a few months after they welcomed their eldest son Kevin McEnroe.
They are also parents to two children Sean McEnroe (born in 1987) and Emily McEnroe (born in 1991). But with the increase in sourness in their relationship, she divorced in 1994.  
His first wife Tatum has opened up that she likes women. During an interview with People in 2015, Tatum revealed that she has been dating mostly women.
But when talking about her sexuality, she said that she is not one or the other.
Tatum had a long struggle with drugs but she is clean now and in a good place these days.
Suggested Read: Is Michael Cimino (Actor) Dating? Girlfriend, Parents, Net Worth, Now
How Many Children Does John McEnroe Have?
John McEnroe has altogether six children.
He has three kids with his first wife Tatum O'Neal.
Their eldest child Kevin was born in the year 1986. She got pregnant with their second child shortly after their wedding.
Their two children Sean McEnroe and Emily McEnroe were born in the year 1987 and 1991 respectively.
Later, when Jhon got married to Patty, they welcomed two kids together.
The duo has two daughters named Anna And Ava. They are also parents to Ruby, Patty's daughter from her previous relationship.
What Is John McEnroe's Net Worth?
John McEnroe falls on the list of 25 Richest Tennis players in the world. Former American World No. 1 professional tennis player, John has an estimated net worth of more than $100 million in 2023.
Best known for his on-court temper tantrums, John was inducted into the International Tennis Hall of Fame. He has won seven Grand Slam Single titles throughout his professional career.
Suggested Read: Megan Suri Wiki, Age, Parents, Dating, Boyfriend
Short Wiki
John McEnroe was born in the year 1959 and is currently at the age of 64.
 
His birthday is on the 16th of February.
 
He was born to American parents Kay McEnroe and John Patrick McEnroe in Wiesbaden, West Germany (present-day Germany).
 
He is currently married to Patty Smyth with whom he has two daughters Anna and Ava.
 
He also has three children Kevin, Sean, and Emily with his ex-wife, Tatum O'Neal.
 
His net worth in 2021 is estimated to be more than $100 million.
 
John McEnroe's height is 5 feet 10 inches (1.8 m).