Asher Grodman has explored many career paths in the entertainment industry. He is an actor, writer, director, and producer known for writing, directing, and producing the award-winning short film, The Train.
Grodman is currently seen in the CBS comedy 'Ghosts' where he appears as one of the ghosts named Trevor.
Asher Grodman Wiki, Age
The American actor Asher Grodman was born in the year 1987 and is currently at the age of 34. His birthday is on July 28 and his Zodiac sign is Leo.
Born and raised in New York City, Grodman attended Columbia University and earned BA in Film and English. He also attended the American Conservatory Theater and graduated with a Master of Fine Arts in acting from the American Conservatory Theater.
Grodman also teaches acting in the theater department at Hunter College, New York, Previously, he taught the inmates at Rikers Island.
Grodman has been professionally active in the entertainment industry for more than 17 years. In between these years, he is known for his work in Train (2015), Succession (2018), and Ghosts (2021).
Parents And Siblings
Asher Grodman was born to Marc Grodman and Pam Grodman. His father Marc is a graduate of Columbia Medical School. He has a brother named Zane Grodman who is a doctor.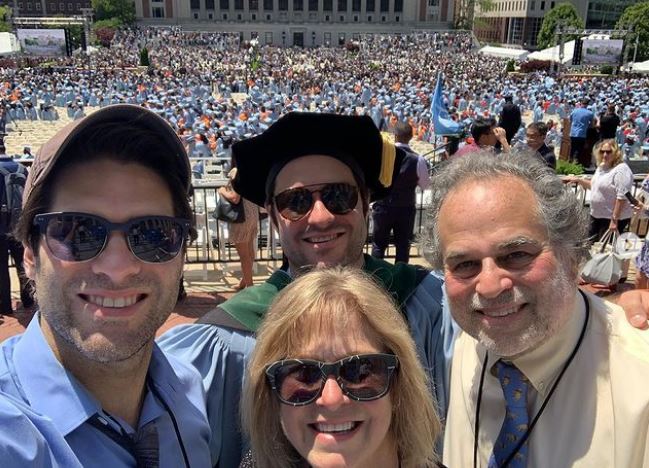 Grodman has a very close relationship with his parents. He seldom shares pictures with his dad on Instagram which exhibits the father-son relationship.
Is Asher Grodman Married?
Asher Grodman is not married as of October 2021. Since he hasn't been married, he doesn't have a wife.
Is Asher Grodman Dating?
Despite being in the limelight for a long period of time, the details about Grodman's personal life is a mystery to the public, especially his love life.
The Ghosts star has been keeping his possible dating life inside the closed box which has created difficulty for his fans to known about his girlfriend/ partner.
Unlike many other celebrities who give glimpses of their love life on social media, Grodman has never given any hint on his relationship status.
The actor might be dating someone secretly or might just be focusing in his career for now. Stay connected with us to get updated on his relationship status.
Asher Grodman Net Worth
The kid who was shy, dyslexic with social anxiety and vocal issues, is now trying his hands on almost everything in the entertainment industry.
Grodman overcame his insecurities and has now established himself in his profession. He is also inspiring other people who doubt themselves as an actor and think that being an actor is impossible.
Grodman has appeared in shows like House of Cards, Chicago Med, and Succession. He has gained good fame from his career and also has assembled some fortune.
Asher Grodman's net worth is estimated to be in the range of $1 million to $5 million.