Netflix's Shadow and Bone has introduced us plenty of new faces and one of them is Calahan Skogman. You might have seen Calahan on-screen for the first time but he has been in the entertainment industry for several years.
Although Calahan doesn't have much on-screen experience and might not have spent much of his time in front of the camera, it seems that his big break is officially here with Netflix's young adult fantasy adventure.
Short Wiki
Calahan Skogman is an American actor who was born on May 13, 1993. Calahan is currently at the age of 27 and will soon turn 28. He was born and raised in Green Bay, Wisconsin.
Calahan has described himself as an actor and writer on his Instagram bio. Since Calahan has focused most of his attention on acting, he doesn't have any official screenwriting credits at the moment.
Although it's unclear when Calahan began his acting journey, he spent the early years of his career performing in theatres.
Find Out: Is Jessie Mei Li Dating Or Single? Her Personal Life Details!
Before getting started as an actor, Calahan decided to get some formal training so he attended the University of Southern California from where he graduated with a master's degree in acting.
You can follow him on his Instagram handle @calahan.skogman where he has 146k followers as of May 2021. His height is 6 feet 5 inches (1.96 m).
Is Calahan Skogman Married?
Calahan Skogman is not married and doesn't have a wife.
You May Like: Julian Kostov Relationship Status In 2021|Girlfriend, Net Worth
Calahan Skogman's Relationship Status In 2021
Even though Calahan Skogman has gathered a lot of attention with his performance from the Netflix series Shadow and Bone, he has successfully kept his personal life out of the spotlight.
He seems to be one of those celebrities who prefer to keep their possible dating life inside the closed box. The actor hasn't talked about his love life or family life in any of his interviews so far. Likewise, he hasn't given any hint about whether he has a girlfriend or not.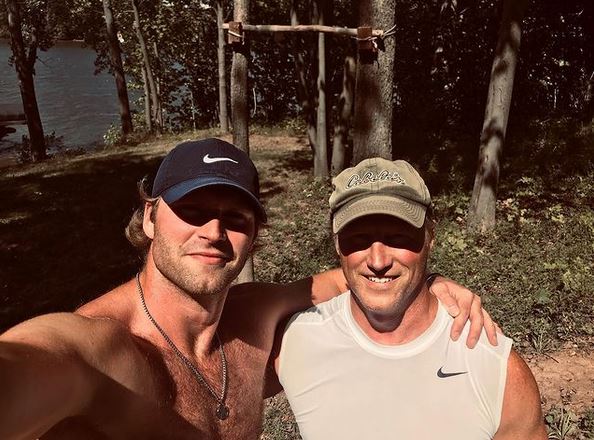 However, Calahan doesn't shy away to gush about his family on Instagram. He seem to have a very close relationship with his parents, especially his father as he has shared different posts appreciating his father. He also has a brother in his family.
Likewise, he has shared pictures with his Shadow and Bone co-stars like Amita Suman on Instagram.
What Is Calahan Skogman's Net Worth?
Calahan Skogman's appearance in Shaddow and Bone is his biggest project to date where he is seen as ex-witchhunter Matthias.
Before this, he performed in some small theatres and in some short movies. Calahan started to appear in variety of short movies since 2017. His latest acting credit includes in the 2019 comedy film Blood Puppet! Christmas '94 where he portrayed the character of George.
See More: Sebastian Stan Married, Wife, Girlfriend, Net Worth, 2021
Since Calahan Skogman doesn't have notable acting credits under his name, his haven't amassed noteworthy net worth. However, with the success from his role in the Netflix series, he might assemble net worth in thousands.