The American journalist Jake Tapper has two programs on CNN, has moderated debates, won awards, has written four books, and is also a talented cartoonist.
Jake, who was a Senior White House Correspondent for ABC News, is now known for hosting The Lead with Jake Tapper and co-hosting State of the Union.
Who Is Jake Tapper Married To?
Jake Tapper, age 54, is married to Jennifer Marie Brown. His wife Jennifer is a former Planned Parenthood official.
According to Jake's interview with Dartmouth Alumni Magazine in 2016, his wife Jennifer worked part-time at Upstream, an organization with a motto to make the lives of parents and children better by reducing unplanned pregnancies.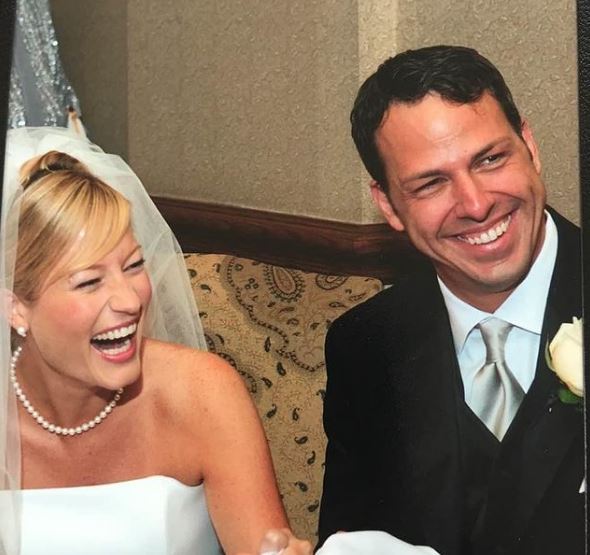 Jake and his beautiful wife Jennifer got married on September 3, 2006, at the Clubhouse in Baltimore in Kansas City, Mo.
The pair exchanged wedding vows after dating for two years. Jake met his life partner in the year 2004 while covering the Iowa caucuses for Good Morning America.
When Jake saw Jennifer, he walked up to her and went out the next day in D.C. This is how their love story began.
Suggested Article: Find Out About Ana Cabrera's Family Life With Husband & Children
Jennifer was working for Planned Parenthood Federation of America in Washington, D.C. as a regional field manager when the duo got married. She is a graduate of the University of Missouri-Kansas City.
Jennifer is Jake's first wife. Previously, he went on a date with American activist and writer Monica Lewinsky once.
He had a date with Monica a few weeks before her affair with President Bill Clinton broke.
Jake wrote an article about his date with Monica in 1998 saying,
"It's not that we didn't hit it off, it's just that D.C. tends to be a town where things are compressed. In order for something to last, it has to rear up huge to begin with. We're busy; we have schedules. I'm already booked for half my nights next week, and little of it involves fun. The way Monica and I came together—at a goodbye party for someone else, with her right on the cusp of leaving herself—wasn't exactly the stuff of commitment."
Jake is also known for dating Miss America Kate Shindle before he got married to his current wife Jennifer.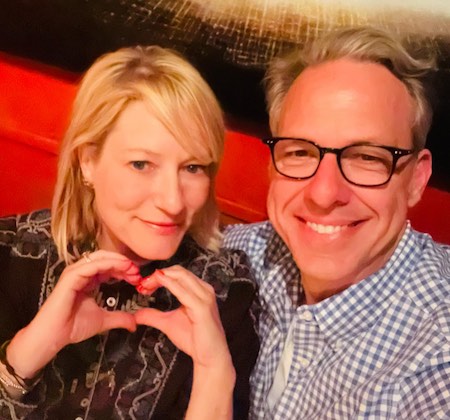 Jake and Jennifer have now been married for 17 years. On the occasion of their 17th wedding anniversary earlier this year in September, Jake shared a picture from their wedding with a sweet caption.
He wrote,
"17 years of love and laughter. Happy anniversary, Jennybenny

I'll love you Till China and Africa meet, And the river jumps over the mountain And the salmon sing in the street"
Jake Tapper's Family Life With Wife And Children
Jake Tapper and his wife Jennifer have been blissfully married for 17 years. Although the CNN host prefers to keep his family life private, he sometimes posts pictures of his wife on social media.
The duo is the parents of two children named Alice and Jack. His daughter Alice is an author who has published a children's book titled, Raise Your Hand.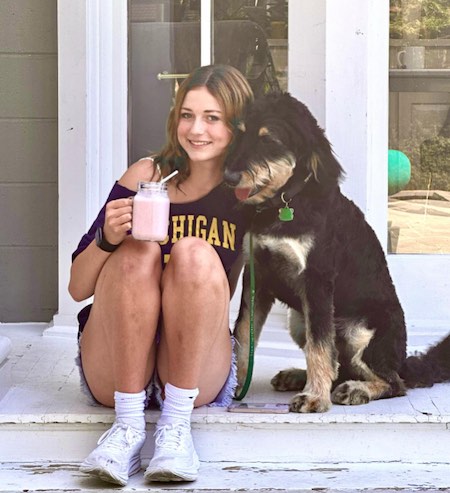 Jake also shares pictures of his daughter on several occasions. He shared a picture of Alice with their dog Moose on National Daughter's Day in 2023 mentioning her as an "amazing, strong, smart and brilliant daughter."
Jake lives in Washington with his wife and two kids.
You May Like: Tommy Dorfman Is Married! Find Out Who His Husband Is!
How Much Is Jake Tapper's Salary And Net Worth?
The 51-year-old anchor of CNN's "The Lead," Jake has been earning an amazing salary from his job.
Active as a journalist for almost three decades, Jake has a huge net worth of $16 million as of 2023.
According to Celebrity Net Worth, his annual salary is estimated to be $4 million.
Short Wiki
American journalist Jake Tapper was born as Jacob Paul Tapper in 1969. His birthday is on the 12th of March.
 
He was born to his parents Dr. Theodore S. Tapper and Anne Tapper in New York City. Jake grew up in Queen Village, Philadelphia.
 
Jake is the author of The Outpost: An Untold Story of American Valor and The Hellfire Club.
 
Jake Tapper stands tall at the height of 5 feet 11 ¾ inches (182.2 cm).
 
Jake Tapper's nationality is American.
 
Jake Tapper attended Philadelphia School and then joined Akiba Hebrew Academy. He enrolled at Dartmouth College from where he earned Phi Beta Kappa and magna cum laude with a B.A. He also attended the USC School of Cinematic Arts for a short time.