Leah Hextall is a professional Canadian journalist and Sportscaster who currently is a play-by-play commentator for NHL coverage on ESPN. Leah has made many histories since making history in 2019 as the first woman to call an NCAA Men's Ice Hockey Championship game for ESPN.
In the male dominating field, Leah became the first woman to play-by-play for a nationally televised NHL game. Rated as one of SHEday 2019's top speakers, Leah Hextall has been active as a journalist for over 18 years now.
Is Leah Hextall Married?
Sports journalist and NHL commentator Leah Hextall is not married. Leah is in her early 40s and is single. That being said, Leah has never revealed having a partner whom she would love to have as her husband. 
Leah Hextall has kept her love life relatively low-key and has never publicly dated anyone so, there is no trace of her past relationship and news of having a boyfriend. Similarly, Leah doesn't have any children.
Leah Hextall Family
Leah Hextall was born in Brandon, Manitoba, Canada as the second daughter of her parents Randy Hextall and Elizabeth Hextall. Sadly, her dad Randy is no longer alive. Her mom Elizabeth is a nurse by profession who worked tirelessly for the health and safety of others for over 44 years.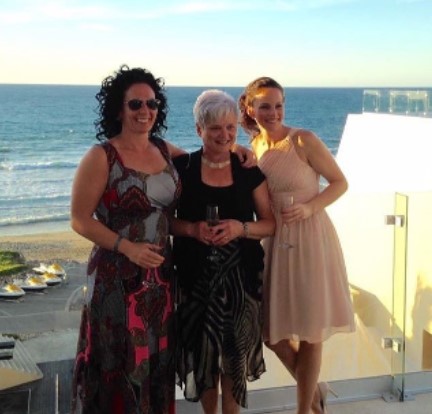 According to the Instagram post of Leah's mom, Leah celebrates her birthday on the 11th of June. Likewise, the 40th birthday celebration post was shared by Leah in July 2019 so, she was likely to be born in the year 1979.
Her grandfather, Bryan Hextall was a Canadian Ice Hockey Player who played in NHL for New York Rangers. Bryan was inducted into the National Hockey League's Hall of Fame in the year 1969.
Talking about the siblings of Leah, she has one elder sister who goes by the name Hex on Instagram.
Is Leah Hextall Related To Dennis Hextall and Ron Hextall?
Canadian former professional ice hockey goaltender and executive, Ron Hextall is the cousin of Leah Hextall.
Likewise, former professional ice hockey forward player Dennis Hextall is the uncle of Leah Hextall and Ron Hextall.
Leah Hextall Salary & Net Worth
Gathering experience as a sportscaster and journalist for over 18 years, Leah has been part of the largest network in North America including ESPN, Sportsnet, Hockey Night in Canada, and NESN.
As a Canadian sports journalist and NHL commentator for ESPN, Lean Hextall's net worth is estimated to be around $600k. Her salary is also assumed to be in good sum but her exact salary details are yet to be unveiled.
Short Wiki
Leah went to Vincent Massey High School located in Brandon, Manitoba.

Leah Hextall earned a diploma degree in radio & television broadcasting from the Columbia Academy: Broadcasting of Performing Arts in 2003.

Leah started her journey as a reporter in 2005 as a host for CTV News. She then also worked as a substitute host for TSN, The Sports Network.

Leah Hextall holds Canadian nationality and comprises of white ethnicity.

Leah celebrates her birthday on 11th June so, her zodiac sign is Gemini. Talking about her age, Leah is 43 years old as of 2022.

As for the height of Leah Hextall, she is assumed to be around 5 feet and 4 inches tall.