Linsey Davis is an Emmy Award-winning journalist and a bestselling author currently working as an ABC News anchor.
She anchors World News Tonight on Sundays and also appears on Nightline, Good Morning America, and 20/20.
Who Is Linsey Davis Married To?
Behind the screen, Linsey is blissfully married. She has been married to Paul Roberts for 10 years.
Linsey met the love of her life at a charity event organized at the Plaza Hotel. Paul attended the event with his cousin and stayed at the same table with Linsey.
Later, after the event, both Linsey and Paul were waiting for separate cabs but they ended up sharing one cab.
During that time, Linsey was dating someone else but fast forward to 2023, the couple is now sharing their lives as life partners.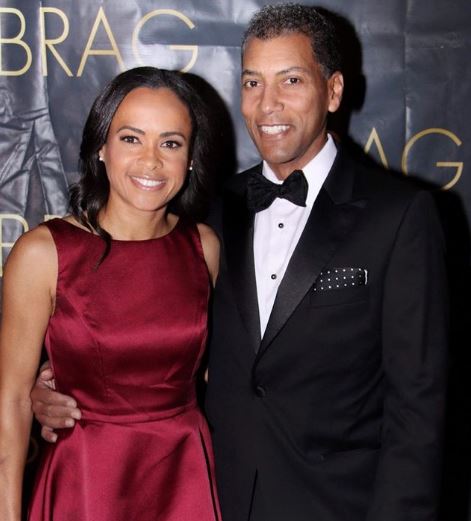 Linsey and her loving husband tied the knot in front of their closest friends and family on March 10, 2013.
They celebrated their big day at Oheka Castle on Long Island NY. The lists of guests who attended their wedding included Kristen Overholt Ireland, Ashley King, and Michael.
Suggested Read: ABC News Rachel Scott Bio, Age, Married, Boyfriend, Net Worth
To choose her wedding gown, she appeared on the TLC show Say Yes to the Dress. Her wedding plans and preparations were also highlighted on ABC's Good Morning America.
Since then, Linsey has never been hesitant in giving glimpses of her married life with her husband.
No matter what the occasion is, Linsey shares pictures with her husband on Instagram, flaunting their love and chemistry in the caption.
Back in March 2021, Linsey shared an image of her husband setting up a home studio for her.
Likewise, on Valentine's Day of 2021, she shared a lovely picture with her husband with a sweet caption, " Here is to love... here is to life... here is to you ❤️"
Does Linsey Davis Have Kids?
Linsey and her loving husband have one child together.
Just a year after getting married, Linsey got pregnant with their baby. On March 28, 2014, she gave birth to their son Ayden.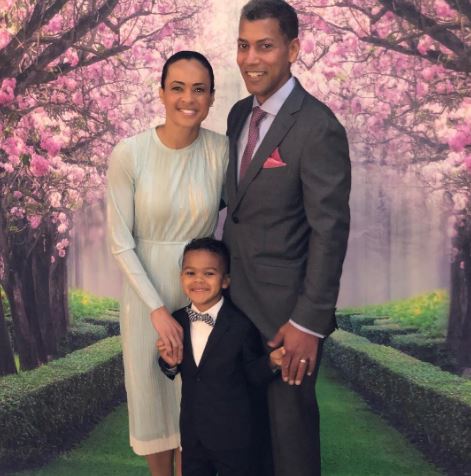 Linsey not just shares pictures with her husband but also with her cute little son.
Ayden frequently appears on Linsey's Instagram handle either reading his mom's children's book or doing some cute stuff.
Suggested Read: ABC Lauren St. Germain Wiki, Age, Married, Husband, Net Worth
He also inspired her to write the book "How High is Heaven?".
A few years ago, Linsey was on a plane with her son Ayden when he mentioned his Grandma P. who passed away when he was just one year old.
He said that he couldn't see his grandma in heaven when he looked out through the window.
Linsey was inspired to write her book "How High is Heaven?" after the plane ride. Her book helps parents to navigate similar conversations with their kids about their deceased loved ones.
As an author, Linsey wants to write books for her son and young readers of color to connect with.
Linsey Davis Parents
Linsey's mother's name is Beverly Davis and her father's name is Ronald Davis.
Both her parents were teachers and have played an important role in motivating her to follow her dreams.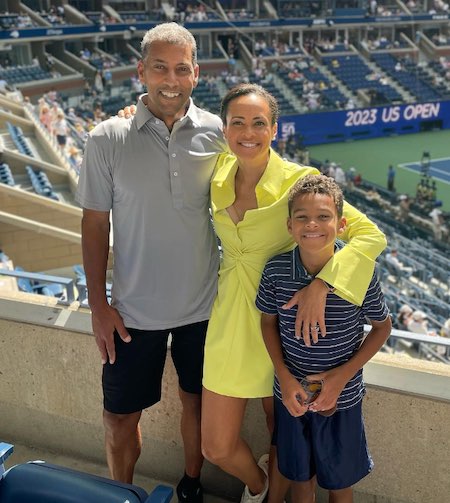 As for her parents' profession, her mother was an English teacher and her father was a Math teacher.
Linsey hasn't opened up much about her early life and her family. Likewise, there is not much information on Linsey Davis' siblings.
Suggested Read: ABC Ian Pannell Bio, Wife, Children, Net Worth
What Is Linsey Davis' Salary & Net Worth?
Apart from Linsey's family life, her net worth and earnings have intrigued her fans the most.
Linsey has been receiving an amazing salary from ABC News which has helped her to amass a whooping fortune.
According to PayScale, the average base pay salary for a news anchor in ABC News is $70000 annually. Similarly, the total pay ranges from $24k to $123k.
Since Linsey has been working for ABC News for more than years, covering breaking news and interviewing several influential figures, politicians, and renowned personalities, her earnings from the network is reckoned to be lucrative.
Likewise, her net worth is estimated to be more than $3 million in 2023.
Short Wiki
The American journalist Linsey Davis was born in 1979 and is currently at the age of 44.
 
Her mother's name is Beverly Davis. Her mother has a twin sister.
 
She is a member of the National Association of Black Journalists and Alpha Kappa Alpha Sorority, Inc.
 
Also an author, Linsey is known for her books like "The World is Awake" and "One Big Heart".
 
She attended the University of Virginia from where she earned her undergraduate degree in psychology. She then joined New York University to earn a master of arts degree in Communications.
Suggested Read: What Is ABC Denis Phillips Net Worth? Insight Into His Salary & Earnings