The American political commentator and author Thomas Friedman has been working as a foreign affairs columnist for the New York Times for 29 long years.
The three-time Pulitzer Prize winner, Thomas Friedman is known for writing extensively on foreign affairs, globalization, global trade, the Middle East, and environmental issues.
Who Is Thomas Friedman's Wife?
Thomas Friedman is married to Ann Bucksbaum. His wife Ann is the daughter of American businessman and philanthropist, Matthew Bucksbaum, the founder of a shopping mall empire.
Ann is a philanthropist and also the founder of Planet Word, which is the word-language-literacy museum in Washington DC. Thomas is the Chairman of Planet Word.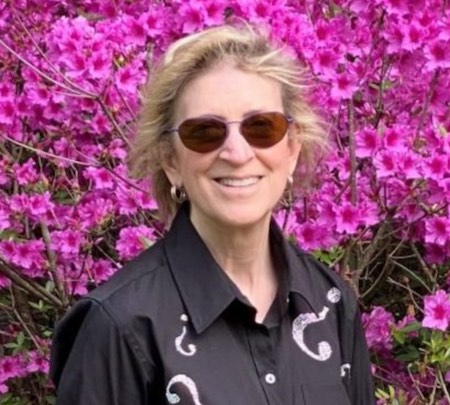 Ann, who is a former reading instructor, has a B.A. in economics from Stanford. She then attended the London School of Economics after graduating from Stanford.
She is also the founder of Planet Word Museum, which is dedicated to renewing and inspiring a love of words and language.
According to the museum's website, the idea of Planet Word struck Ann when she had just retired from teaching first-grade reading.
The museum is a non-government, private museum, which is supported by the generosity of its donors.
Suggested Read: BBC Richard Preston Wife: Is Richard Preston Married? His Parents, Net Worth & More
Thomas Friedman Is Married With Two Children
Thomas met Ann in London. The couple eventually began dating and got married on Thanksgiving Day in 1978 in London.
Thomas and his wife Ann have been married for 45 years in 2023. In the course of their four-decade-long marriage, they became parents to two children. They have two daughters named Orly and Natalie.
Orly was born in the year 1985 and Natalie was born in 1988. Orly is the founder of Red Bridge School situated in San Francisco.
Likewise, Natalie is the executive producer of "Weekend All Things Considered'' on NPR.
Thomas now lives in an 11,400-square-foot mansion in Bethesda, Maryland with his family. Do you know that his house is completely carbon neutral?
Well, Thomas and his wife Ann have made efforts to reduce their carbon footprints- their house is partially solar-powered. They also saved 7.5 acres from being developed as they have planted 200 trees.
What Is Thomas Friedman's Salary And Net Worth?
The award-winning author Thomas Friedman has achieved huge success in his professional career. He is recognized globally for his columns and books.
Thomas has garnered a huge fortune from his career. However, the exact value of his net worth hasn't been revealed yet. Despite that, his fortune is estimated to be between $20 - $30 million in 2023.
Suggested Read: Is Seema Mody Married? Husband, Net Worth
Thomas Friedman's Education And Career
Thomas attended Brandeis University in 1971 and earned his bachelor's degree in Mediterranean Studies in 1975.
Later, he enrolled at the University of Oxford. Thomas has M. Phil. In Modern Middle East Studies.
After graduating in 1978, he joined United Press International in 1979 as a Beirut Correspondent.
He worked there for two years and then joined The New York Times in 1982 as Beirut Bureau Chief.
Thomas then worked as Jerusalem Bureau Chief from 1984 to 1989 and Chief Diplomatic Correspondent from 1989 to 1994.
Thomas has been working as a Foreign Affairs Columnist for The New York Times since 1995. He is also working as an author of Farrar, Straus, and Giroux.
Short Wiki
The internationally renowned author Thomas Friedman was born on July 20, 1953, and is currently at the age of 70.
 
Thomas was born to his parents Harold Friedman and Margaret Friedman in Minneapolis, Minnesota.
 
Talking about his siblings, he has two older sisters named Shelley and Jane.
 
When Thomas was 19 years old, his father Harold died of a heart attack in 1973. Similarly, his mother passed away in the year 2008.
 
Some of his popular published works are Thank You for Being Late, That Used To Be Us, The World Is Flat, 3.0, Longitudes and Attitudes, the Lexus and the Olive Tree, From Beirut to Jerusalem, and Hot, Flat, and Crowded 2.0.
Suggested Read: CNN Ryan Young Wiki, Married, Wife, Family, Net Worth