The American journalist Yamiche Alcindor is giving voice to the voiceless by shedding light on the stories that we might not hear normally.
She is the White House correspondent for the PBS NewsHour who was one of the 30 members of the White House press corps who gained access to President Joe Biden's first formal press conference.
Who Is Yamiche Alcindor's Husband?
Yamiche Alcindor's husband is Nathaniel Cline. Nathaniel is a Haitian-American journalist who has been working for the Loudoun Times-Mirror as a politics and government reporter since May 2018.
Nathaniel joined the Loudoun Times-Mirror in May 2018. Before that, he worked for Cleveland.com as a sports reporter from December 2013 to April 2018.
His resume also includes working at Westmoreland News, USA Today, Northern Neck News on Fox 5, NBC Washington, and WAMU 88.5.
Nathaniel is a graduate of Bowie State University from where he earned a BA in broadcast journalism in 2006.
Yamiche Alcindor's Wedding
After dating for quite a long time, Yamiche got married to Nathaniel in March 2018.
On their wedding day, she shared a picture with her husband-to-be on Twitter with the caption, 'Unplugging to celebrate my marriage to @nathanielcline."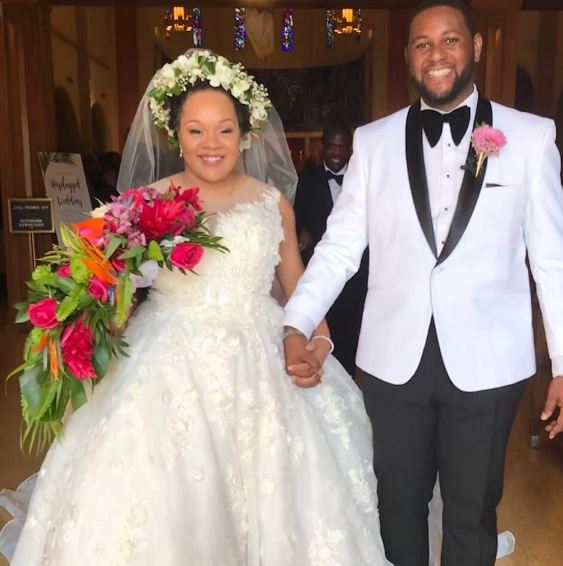 The PBS correspondent and her husband have been married for five years now.
They are enjoying a blissful marital relationship on one hand and on the other, they are inclining their career to the new height of success.
Both Yamiche and her husband Nathaniel give insights into their married life time and again through their social media handles.
You can follow Yamiche on Instagram @yamichealcindor and her husband Nathaniel @natecline_reports.
Suggested Read: Amna Nawaz's Married Life With Husband | Family, Children, Net Worth
Yamiche Alcindor's Children
Yamiche's fame as an American journalist has made people wonder 'Did Yamiche Alcindor have a baby?'
As for Yamiche Alcindor's kids, she has a son named Yrie Myles Alcindor Cline.
Yrie was born on May 30, 2023, but the news of his arrival was shared by his mom on Instagram in June with the caption,
"Yrie was born on Tuesday, May 30th. His name is pronounced "i-ree" — the same pronunciation of the Jamaican saying "Irie," which means vibes are good and everything is well."
She further thanked Today Show for telling their story about Yrie's birth and their journey to parenthood.
Yamiche announced the news of her pregnancy in April of 2023. She shared a picture with her husband flaunting her baby bump and a sonogram on Instagram writing,
"I am pregnant with a baby boy due in June. I'm feeling blessed after a tough few years trying to get here. With that in mind, I wrote an essay dedicated to other women whose paths to motherhood have hit roadblocks."
Yamiche and her life partner Nathaniel feel blessed with the arrival of their son. Her Instagram bio even states that she is Yrie's mom and Nate's wife.
You May Like: CNN Poppy Harlow Married Life With Husband! Her Net Worth, Children
What Is Yamiche Alcindor's Salary And Net Worth?
Yamiche, who focuses on politics and social issues, has been active in the field of journalism for more than a decade.
She started in journalism as a full-time reporter at Newsday and is now the White House correspondent for the PBS NewsHour.
Yamiche has received various awards and accolades for the success that she has attained in her journalism career.
By the National Association of Black Journalists, she was named Emerging Journalist of the Year in 2013.
Likewise, Yamiche has also been receiving a wonderful salary from her job. Although the exact figure of her earnings has not been revealed yet, her net worth in 2023 is estimated to be more than $2 million.
Her net worth is also contributed by the salary she receives working as a political contributor for MSNBC and NBC News.
In addition to that, she has also worked for publications like The New York Times and USA Today.
Short Wiki
American journalist Yamiche Léone Alcindor was born in the year 1986 and is currently at the age of 36.
 
Yamiche celebrates her birthday on 1st November.
 
She was born to Haitian-born parents in Miami, Florida.
 
Yamiche attended Georgetown University where she earned her bachelor's degree in English and government. She also has a minor in African-American studies.
 
She attended New York University where she earned her Master's degree in broadcast news and documentary filmmaking.
 
Yamiche is fluent in Haitian Creole.
Suggested Read: Jim Sciutto Family (Updated 2023), Wife, Children, Salary, Net Worth