Mike McGlinchey is an American football offensive tackle who currently plays for the Denver Broncos of the National Football League (NFL).
Born on January 12, 1995, in Philadelphia, Pennsylvania, Mike played college football at the University of Notre Dame before being drafted in the first round of the 2018 NFL Draft by the San Francisco 49ers.
Mike's coach at Notre Dame once said, "He's a throwback. He's a guy that loves football. He's not looking for shortcuts. He's not looking for the easy way out. He's looking for the toughest path, and he's willing to take it."  This shows Mike's work ethic, dedication, and toughness towards the game.
Early Life- Parents & Siblings
Mike McGlinchey was born on January 12, 1995 (age 28), in Warrington, Pennsylvania, U.S.A.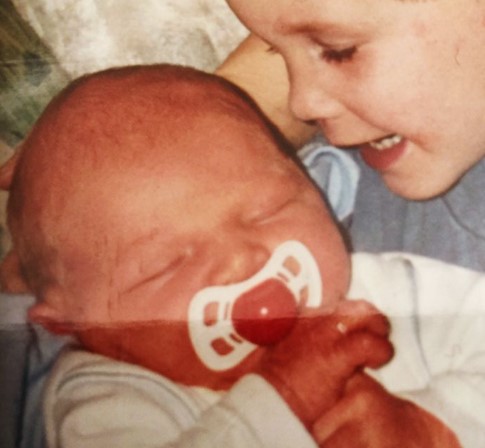 Mike's father's name is Mike McGlinchey Sr. and his mother's name is Janet McGlinchey.
As for his siblings, he has a brother named Matt McGlinchey who also plays football for Ursinus College in Collegeville, Pennsylvania.
There are other people in Mike's family who play football. His cousin, Matt Ryan, nicknamed Matty Ice is a quarterback in the National Football League (NFL).
Mike McGlinchey's Education
Mike went to William Penn Charter School in Philadelphia, Pennsylvania for his high school. Advantage of his height, Mike used to play both basketball and football in his high school.
For his college career, Mike went to the University of Notre Dame. He began his college football career in 2013 but redshirted his first year.
He played in all 12 games with one start in 2014 and then became their starter starting all 13 games at right tackle.
Mike also led his team as a captain in his college days.
Mike McGlinchey's Career Overview
Mike McGlinchey was drafted by the San Francisco 49ers in the first round (ninth overall) of the 2018 NFL Draft.
McGlinchey signed a four-year, fully guaranteed contract worth $18.34 million, including a signing bonus of $11.41 million.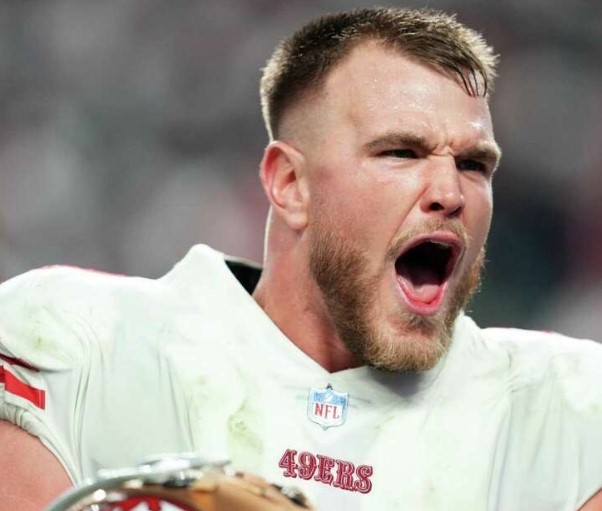 In his rookie season, McGlinchey started all 16 games as the team's starting right tackle. He played in 12 games in the 2019 season and helped the 49ers reach Super Bowl LIV, where they lost to the Kansas City Chiefs.
The 49ers picked up the fifth-year option on McGlinchey's contract for the 2022 season.
He suffered a season-ending torn quadriceps in Week 9 and was placed on injured reserve. On March 12, 2023, he signed a five-year, $97.5 million contract with the Denver Broncos.
Is Mike McGlinchey Married?
Mike McGlinchey is now married to his girlfriend-turned-fiance, Brooke Rhoades.
The duo tied the wedding knot on July 7, 2023, in San Diego, California in the presence of their closest friends and family.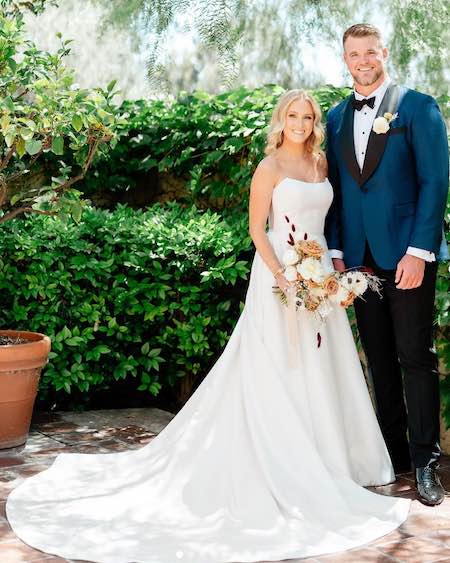 They shared glimpses of their big day on their respective Instagram accounts. Brooke shared a carousel on Instagram featuring their wedding pictures with the caption, "Forever and ever, amen ❤️."
Mike McGlinchey got engaged to his then-girlfriend in May 2020. They first met each other in 2019 and started dating in 2020.
Mike and Brooke met each other in October 2019 at a dinner. Brooke passed her number to Mike's dinner table and they started talking over the phone.
Mike took his partner on a first official date in July 2020.
Mike's wife is his biggest supporter and fan and is often seen showing her support for her husband in the stadium.
Who Is Mike McGlinchey's Wife?
Mike McGlinchey's wife Brooke Rhoades is a project manager at Xactly Corp.
She previously worked as a customer marketing manager at LeanData, Inc. for more than two years from January 2021 to February 2023.
Brooke has been associated with Xactly Corp for more than 7 years now. Xactly Corp is a leading provider of sales performance management solutions.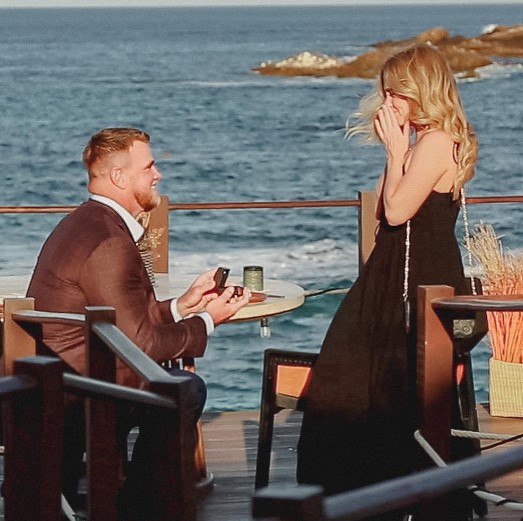 She joined the company as a human resources intern in June 2016 and has worked as an HR Representative, Growth Marketing Specialist, and Customer Advocacy Marketing before being promoted to Project Manager.
Talking about Brooke Rhoades' education, she attended San Jose State University and earned her Bachelor's Degree in Communication Studies.
How Much Does Mike McGlinchey Make?
As per Wiki, Mike's net worth is estimated to be around $5 million.
Mike's recent 5-year contract with Denver is worth $87.5 million, which includes his average annual salary of $17.5 million. It also includes his signing bonus of $17.5 million.
How Big Is Mike McGlinchey?
Mike has a humungous height of 6 feet 8 inches (2.03 m).
His body weight is 310 lbs (141 kg).
Mike is one of the tallest players in the league right now.
Mike has brown hair and bread. He usually wears jersey number 69.