The American professional basketball player Miles Bridges is popular as an NBA player for the Charlotte Hornets. Miles is also an occasional rapper who is currently enjoying a prolific career and a blissful family life.
At just 24 years old, Miles has been able to make a name for himself as a professional basketball player and is a father of two kids.
If you are a basketball lover and Charlotte Hornets fan then you might have known about Miles Bridges' professional career. But are you aware of his personal life? If not, here is all that you might want to know about Miles Bridges' personal life.
Is Miles Bridges Married?
Despite being in the limelight because of his professional career, the NBA player prefers to keep his personal life private. Miles hasn't opened up about his relationship status but various sources claim that he is married.
Miles Bridges is reportedly married to Mychelle Johnson aka Michelle Johnson, who is also the baby mama of his two kids.
Miles and his wife Mychelle have been together for more than 5 years. The duo began dating in 2016 and has been together since then.
However, Miles and his girlfriend-turned-wife Mychelle have been very reluctant in giving glimpses of their relationship on social media. Miles has also not opened up about his love life in his interviews.
Miles Bridges Children
Miles and his longtime partner Mychelle Johnson are parents of two children. Mychelle got pregnant with the couple's first child in early 2018. She gave birth to their baby boy named Ace Miles Bridges on October 26, 2018.
Miles announced the news of the arrival of their son by sharing the picture of their newborn baby on Instagram in November 2018 thanking the Lord for the blessing. He even promised his son to love him unconditionally forever no matter what.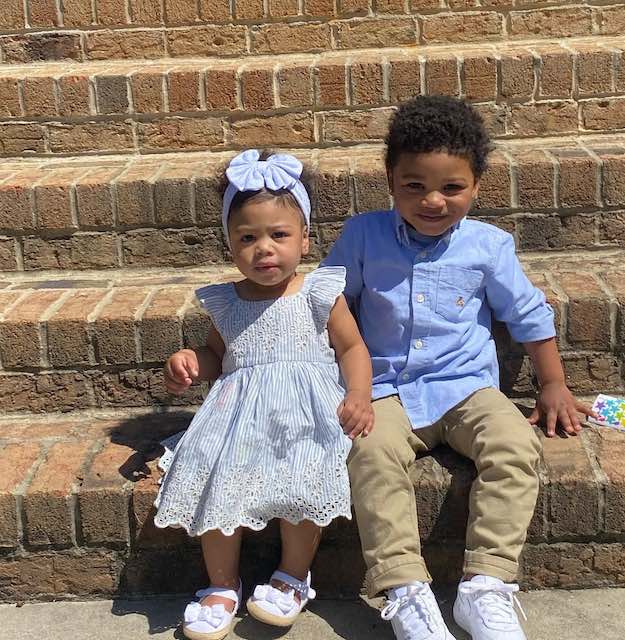 Two years later, the couple welcomed their baby girl named Aylä Marie Bridges on February 23, 2020.
Miles has been blessed to have his kids in his life. Although he never posts pictures with his wife, he has been sharing pictures with his children exhibiting his love for them.
Recently, on Father's Day, Miles shared a cute video with his son and daughter on Instagram and wished all the real fathers holding it down as it is the best job in the world.
Who Is Miles Bridges Partner?
Miles Bridges partner Mychelle Johnson is an Instagram model with over 46.3k followers. She has been sharing posts related to fitness, beauty, and fashion on her Instagram handle.
Mychelle was born in the year 1997 in Huntington, West Virginia, and was raised with three siblings. Mychelle, who is currently at the age of 24, celebrates her birthday on the 3rd of September. She will turn 25 years old this year on her birthday in September. Her zodiac sign is Virgo.
Her parents' names are Scott Johnson and Holli Johnson. Her father is the head coach of the West Virginia Thunder AAU club.
Like Miles, Mychelle shares a love for basketball. She was a basketball player at St Joseph Catholic High School where she led the basketball team to three state championships. Mychelle was also a two-time defensive player of the year.
Later, Mychelle played for Middle Tennessee State University's Blue Raiders from 2016 to 2017. She then got transferred to Marshall University.
Mychelle first gained huge media attention when she accidentally posted a nude selfie on her Instagram story. Upon realizing her mistake, she swiftly deleted it and deactivated her Instagram account.
Miles Bridges Net Worth
Miles Bridges has assembled a wonderful net worth as a professional American basketball player. Miles has been playing professionally since 2018 and has signed a 4-year / $16,317,853 contract with the Charlotte Hornets. Reportedly, his contract includes an annual average salary of $4,079,463.
Miles previously revealed that he rejected a contract-extension offer worth $60 million from the Hornets.
Miles now has a net worth in the range of $1 million to $5 million. He also makes money through brand endorsements.
Parents and Siblings
Miles Bridges was born to Cynthia and Raymond Bridges in Flint, Michigan. His father was the one who introduced Miles to basketball as he was a two-time basketball state champion at Flint Northern High School.
His mother Cynthia previously worked as a hospital receptionist.
Talking about his siblings, he has a sister named Tara Rushing. According to Raymond, his sister Tara was an important figure in his life during his childhood.
Miles is also confused as American professional basketball player Mikal's brother as both of
Short Wiki
The American professional basketball player Miles Bridges was born in the year 1998 and is currently at the age of 24.
 
His birthday is on March 21 and his zodiac sign is Aries.
 
He attended Woodland Park Academy in Grand Blanc, Michigan for his early education.
 
He later joined Flint Southwestern Academy and Michigan State.
 
Miles has been playing professionally since 2018 and has assembled a net worth in the range of $1 million to $5 million.