Thibaut Courtois is a professional Belgian footballer who plays for the Spanish club Real Madrid as a goalkeeper. Considered as one of the best goalkeepers in the world, Thibaut has played in the vast majority of their Primera División games in 2021/2022. He has played 3,150 minutes making 35 appearances overall.
Is Thibaut Courtois Married?
The 30-year-old Real Madrid player Thibaut Courtois is not married and doesn't have a wife. However, he has been relishing an ecstatic relationship with his girlfriend, Mishel Gerzig.
He has been sharing pictures with his lady love on Instagram addressing her as 'partner for life' and 'better half.'
The duo began dating in 2021 and has been inseparable since then. Earlier this year in January, on the occasion of New Year, Thibaut shared a series of beautiful pictures with his girlfriend on Instagram thanking 2021 for bringing her into his life.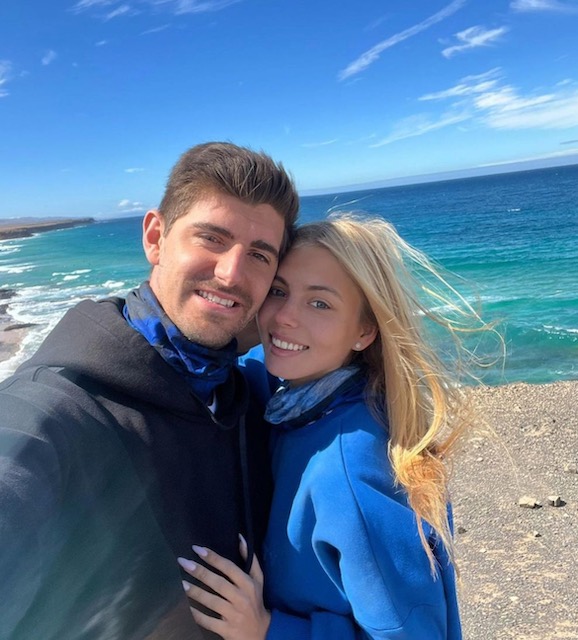 Thibaut seldom shares pictures with Mishel expressing his love for her. Recently, Thibaut went to the F1 GP with his girlfriend and kids and shared some glimpses on Instagram. Before that, he shared a picture with Mishel on Instagram writing "My amazing girlfriend and me!"
The couple was first spotted together in Ibiza following Belgium's exit from last summer's Euros in the summer of 2021, which sparked their dating rumors. They made their relationship official in August 2021.
Who Is Thibaut Courtois' Girlfriend?
Thibaut Courtois' girlfriend is Mishel Gerzig, who is an Israeli model. She was born on June 5, 1997, and is currently at the age of 24. Mishel will soon turn 25 on her upcoming birthday.
Although Mishel is famous for being the girlfriend of Real Madrid's goalkeeper, she has achieved incredible feats.
She is currently signed under ITM Model MGMT. Mishel is also a social media star with more than 437k followers on her Instagram handle @mishelgerzi.
The beauty with blue eyes and blonde hair, Mishel stands tall at the height of 1.78 m.
Children And Baby Mama
Thibaut has two children with his previous partner, Marta Dominguez. They welcomed their first child, daughter Adriana on May 26, 2015. Their second child, son Nicolas was born on 2nd May 2017.
The couple got separated in 2017 following the rumors of Thibaut cheating on Marta with his neighbor when Marta was pregnant.
Thibaut allegedly slept with his neighbor Elsa Izac and fathered a secret love child. The baby was born in September 2017- the same month Thibaut and Marta parted ways.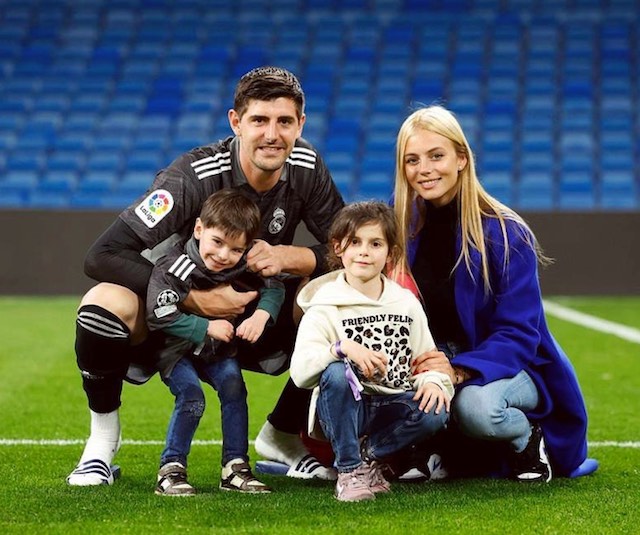 Back in 2014, Jeny Sanchez, a tapas bar waitress, came forward and said how Thibaut cheated on Marta after they met online. Likewise, Belgian model Emily Vanhoutte claimed that she had a fling with Thibaut in 2015.
Thibaut released a statement in April 2018 announcing his separation with Marta. He said,
"My girlfriend Marta and I are no longer together. Since the beginning of September, we have decided to end our relationship on amicable terms."
"We both went our own way, even though she was already expecting our second child. She moved to Madrid, I stayed in London."
"We still love each other and we get along very well, but we don't have a romantic relationship anymore."
The Real Madrid shot-stopper also had relationships with Caroline Lijnen and Brittny Gastineau in the past.
Family Background, Parents
His parents' names are Thierry Courtois and Gitte Courtois. His father is a Walloon and his mother is a Flemish.
According to some wiki sites, both of his parents were semi-professional volleyball players. His mother is also a physiotherapist by profession.
Talking about his siblings, he has one brother named Gaetan Courtois and a sister named Valérie Courtois.  
Thibaut Courtois Net Worth
Real Madrid's goalkeeper Thibaut Courtois has been able to assemble a whopping net worth being one of the best goalkeepers in the world. He signed a new contract with Real Madrid in 2021 which will last until 2026.
His net salary is reported to be 7.2m euros per year, which means around 140,000 euros per week. Similarly, his net worth in 2022 is estimated to be around 113 million euros.
Thibaut is also active on social networking sites, brand promotion, and endorsements.
Short Wiki
The Belgian professional footballer Thibaut Courtois was born in the year 1992 and is currently at the age of 30.
 
His birthday is on 11 May and his zodiac sign is Taurus.
 
He joined the Premier League club, Chelsea, in 2011 signing a five-year deal for a reported €9 million.
 
He was later sent on a season-long loan to Atlético Madrid.
 
Thibaut returned to Chelsea for the 2014-2015 season.