Gavin Casalegno has made a big impact as an actor at a very young age. He started acting at the age of 7 and has now already marked his place in the industry by the age of 22.
Casalegno is known for his roles in Noah, The Vampire Diaries, Hear Me Whisper, I am Gabriel, Walker, and more. He is also seen as a lead in Amazon's YA drama The Summer I Turned Pretty.
Gavin Casalegno Wiki, Age
Gavin Casalegno is an American actor born in the year 1999. His birthday is on September 2 and his birth sign is Virgo.
Casalegno started acting at the young age of 7 after he appeared in a commercial for Papa John's Pizza.
He gained recognition when he was cast as young Damon in a flashback episode of Vampire Diaries.
Since then there was never looking back for Casalegno. As an actor, Casalegno has worked with some of the big names in Hollywood.
When Casalegno was cast in Noah as Darren Aronofsky, he shared the screen with Anthony Hopkins, Russell Crowe, and Jennifer Connelly.
His other acting credit includes Walker, Lone Star (2010), Hear Me Whisper (2011), I am Gabriel (2012).
He is seen as Jeremiah Fisher in Amazon's YA drama The Summer I Turned Pretty. His character is popular athletic, playful, easygoing, and incredibly magnetic who flirts with everyone.
Casalegno has charismatic blue eyes and stands tall with a height of 6 feet 2 inches. He inherits blue eyes from his mother but his siblings have brown eyes like their father.
Suggested Read: The Summer I Turned Pretty Cast Lola Tung Wiki, Age, Parents, Dating, Boyfriend, Net Worth
Gavin Casalegno Is Dating: Meet His Girlfriend!
While inclining his career to the new height of success, Casalegno is also relishing a blissful relationship with his longtime girlfriend, Larsen Thompson.
Unlike many other celebrities who keep their love life inside a closed box, Casalegno has been giving glimpses of his dating life on Instagram.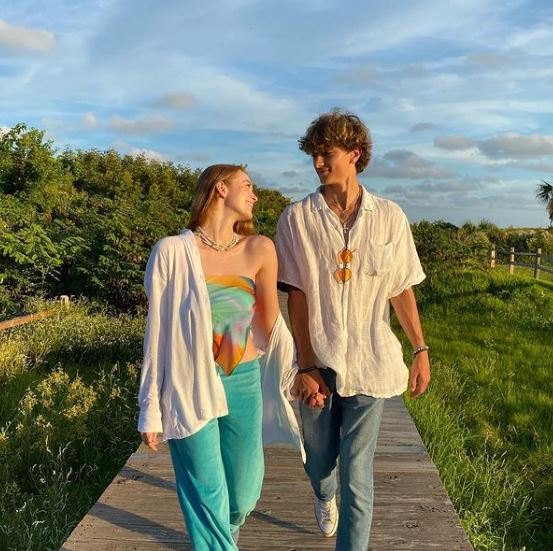 He is making the most out of his time with his lady love which is evident from his Instagram posts. He often shares pictures with his girlfriend from their vacations, romantic dates, and other events.
Earlier this year in February, the couple celebrated their 5th anniversary. Back in February 2020, Casalegno shared a series of pictures and videos with Larsen on their 4th anniversary, giving a little sneak peek of their togetherness.
Likewise, he exhibits his love for her through captions. Casalegno shared a picture with Larsen from Wrightsville Beach, North Carolina, on Instagram and wrote,
"I am so grateful to have the most incredible woman always supporting and encouraging me. She is my bestest friend in the world and I couldn't imagine doing this life without her❤️"
In an interview with Seventeen magazine in June, the actor stated that he is kind of a hopeless romantic. He recalled how he surprised his gf on her 16th birthday although they had just spent time together for around a week. He said,
"I'm kind of a hopeless romantic myself. I'm all about it. I think the craziest gesture was when my current girlfriend had her 16th birthday party and I had only spent like a week with her at that point. I lived in Texas at the time and she was inviting all of her friends to the party, and at this point, I was already talking to her parents. I secretly bought a plane ticket out to go surprise her for her 16th. "
He continued,
"I secretly bought a plane ticket out to go surprise her for her 16th. Her parents brought her to some restaurant at Universal Studios and I jumped out of the corner and fake proposed with a Hershey's kiss. Little did I know her dad was standing right there, and so that was the first time meeting him. It was hilarious. We laugh about it now, but I haven't found a length that I wouldn't go to make a romantic gesture."
Larsen Thompson is an actress and model currently signed with Next Model Management. She is active on Instagram with the username @larsenthompson where she has more than 702k followers as of October 2021.
She is also active on Tiktok with the username @larsenthompson and her own YouTube channel where she talks about dance, fashion, beauty, and modeling. She has 125k subscribers on her YouTube channel now.
Suggested Read: Is Jenny Han Married? Husband, Partner, Family, Net Worth
Parents, Siblings
Actor Gavin Casalegno has supportive parents who have been motivating him and his siblings to pursue their dreams since they were young.
He was born to Bryan Casalegno and Allyson Casalegno. Talking about his parent's profession, his father previously served in the US Navy. He then began working at the Ericsson Company after his retirement. His mother Allyson Casalegno's profession is not known yet.
He has an identical brother named Logan Casalegno. Reportedly, he was on his way to becoming a pilot. He also has a sister named Ashlyn Casalegno. She is also an actor known for her roles in Something's Here (2015) and Logan (2017). Ashlyn is represented by The Campbell Agency.
Gavin holds mixed ethnicity as his paternal grandfather, Phillip A, Casalegno, has Italian roots and his maternal grandfather, Howard Michael Fannin, is from Kentucky.
Suggested Read: David Iacono Wiki, Age, Family, Dating, Girlfriend, Net Worth
Gavin Casalegno Net Worth
The young and rising star Gavin Casalegno is making big things happen in life. He has appeared with some of the biggest stars on screen and also has successfully made her presence felt in the industry.
Casalegno has appeared in more than 17 movies and TV shows by 2021. He also has garnered an amazing net worth from his acting career. His net worth in 2021 is estimated to be around $2 million in 2021.
Some of his popular movies are The Unhealer (2020), Nine Seconds (2017), Dead Still (2014), When the Game Stands Tall (2014), Noah (2014), Hear Me Whisper (2011), and Butter (2011).
Likewise, he is known for appearing in TV series like Walker (2021), The Vampire Diaries (2015), Lone Star (2010), and Chase (2010),