Lauren Ridloff is an American actress who has been deaf since her birth. She played the role of the first deaf superhero in the Marvel Cinematic Universe as Makkari in Eternals.
Apart from Eternals, she is also known for her role in The Walking Dead. She had a breakthrough in her career with the lead role in the Broadway play Children of a Lesser God in 2018.
Lauren Ridloff Is Married!
Actress Lauren Ridloff is relishing a successful career and a blissful married life. She has been married to Douglas Ridloff for 15 years. Her husband Douglas is also deaf.
Lauren and Douglas met while attending California State University, which is an institution with a large deaf population.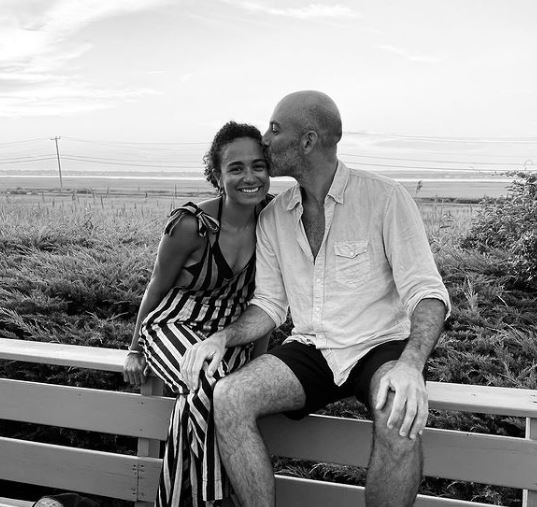 Years later, they ran into each other again in New York. The chemistry between them hit off immediately when Douglas came into her life. During that time, Lauren was going through a slow break up with her then-boyfriend.
Even at that time, Lauren was enjoying an ecstatic relationship and thriving career. She was the winner of the National Association of the Deaf's Miss Deaf America pageant in 2000.
Suggested Read: Is Richard Madden Married Or Dating? Wife, Girlfriend, Net Worth
Lauren graduated from Hunter College with a Master's in Education in 2005 and got married to Douglas a year later.
Douglas has always been with Lauren through thick and thin. The couple has now been married for 15 years and is parents to two children. They have two sons named Levi Sol Ridloff and Wyatt Che Ridloff.
Their eldest son Levi was born on 12 December 2011. Shortly, Lauren got pregnant with their second child. She gave birth to their youngest son Wyatt on 4 February 2014. Both Levi and Wyatt are deaf.
The family of four currently lives in Brooklyn, New York.
Suggested Read: Lia McHugh Wiki, Age, Dating, Parents, Net Worth
Who Is Lauren Ridloff's Husband?
Lauren Ridloff's husband Douglas Ridloff is a poet and visual storyteller. He is the founder and executive director of ASL SLAM. It is a widely popular platform that organizes a monthly open mic event in NYC, Washington DC, Chicago, and Orlando that functions as a space for the Deaf community.
Douglas also worked as the ASL consultant for the Eternals. He supported Chloe Zhao in the direction of developing specific signs unique to the film. He also worked with the cast to make the sign dialogue in the film look natural.
Suggested Read: Is Brian Tyree Henry Married? Wife, Movies, Net Worth
Lauren Ridloff Net Worth
Actress Lauren Ridloff didn't dream about becoming an actor while growing up. However, she has now become part of the Marvel Cinematic Universe.
Lauren has been active in her acting career since 2017 and has already made her presence felt in the industry. She has not just garnered popularity from her acting job but also has been earning well. According to The Richest, her estimated net worth in 2021 is $1 million.
Suggested Read: Is Haaz Sleiman Married? Husband, Partner, Net Worth
Short Wiki
The American actress Lauren Ridloff was born in the year 1978 and is currently at the age of 43. Her birthday is on April 6.
 
She was born deaf to hearing parents in Chicago, Illinois. Her father Hugo is a Mexican-American and her mother is an African-American.
 
Talking about her parents' profession, her mother was an artist. Likewise, her father was a counselor at the University of Illinois at Chicago and a musician.
 
She attended the Model Secondary School for the Deaf in Washington, DC, and California State University, Northridge for her education.
 
Lauren is currently married to Douglas Ridloff with whom she has two kids.
 
Lauren Ridloff's net worth in 2021 is estimated to be $1 million.