The Boston Celtics have their fair share of players but if there is one player who has defined the Boston mentality of playing until you can no longer walk and who plays like each game is his last: it's point guard Marcus Smart.
Marcus Osmond Smart is the heartbeat of his team Boston Celtics. Instilled the drive and determination of his late brother, Marcus was raised in a close-knit family that rarely sulked despite tragedy. As a Boston fan, you may be aware of how much his family has shaped his life but as a player with as tough of an origin story as anyone in the league, his family has been everything for the Flower Mound native Marcus.
Who Is Marcus Smart Dating?
The selfless style of playing of Marcus has captivated many of his fans. Alongside the love for his playing style, many of his fans are intrigued about the dating life of jersey no.36, Marcus Smart. While Marcus is vocal about his love for his family and siblings, he barely shares the news of having a girlfriend.
As we dig further about Marcus Smart's girlfriend, we did find that he had one relationship in the past. Marcus dated Maisa Hallum, creative director of Souda Swim. Marcus and his former partner Maisa were spotted together for lane-side fundraising back in March 2018. At that time, Marcus had undergone surgery for his right thumb ligament repair.
As of now, the pair have gone separate ways but the reason for their breakup is still a matter of mystery. Besides Maisa, he has not been spotted with anyone else. So, Marcus is likely to be single for now and is not married. But as we are aware that Marcus is a complete family man, his future wife will be super blessed to have him as a husband.
Moreover, many fans are curious if Marcus has any children, the answer is no. But he does love kids and is often seen spending time and sharing pictures of his nephew on his Instagram.
Suggested Read: Is Jaylen Brown Dating? Girlfriend, Family, Net Worth
Marcus Smart Family, Parents
Marcus Smart was raised by his parents Billy Frank Smart and Camellia Smart in Flower Mound, Texas.
Marcus's mom Camellia Smart passed away at the age of 63 on 16th September 2018 after losing her battle with cancer. The Celtics player took his Twitter to post a heartfelt tribute to his mom on 17th September 2018. The news of his mom being diagnosed with myelodysplastic was revealed in August 2018.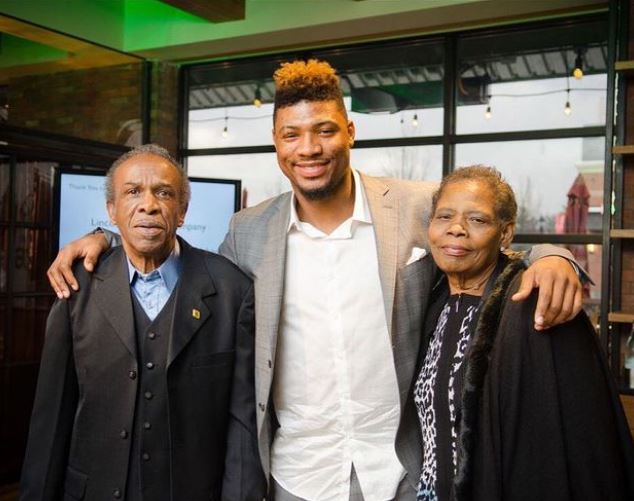 According to Bostonglobe, Marcus' mom's text was always waiting for him in the Celtics locker at halftime. But now, as she passed away he no longer looks at his phone at halftime anymore.
It crushes Marcus that he can no longer see his mother on the stand or receive a text message from her. But whenever he misses his mother Camellia, Marcus enjoys looking at her old pictures and videos from his collection.
Suggested Read: Is Daniel Theis Married? Wife, Girlfriend, Parents, Net Worth
Marcus Smart Siblings, Brothers
Marcus Smart has 3 older brothers: Michael Smart, Jeff Westbrook, and Todd Westbrook. Jeff and Tod are his half brothers from his maternal side. Although they had the same mother but different dads, it didn't stop Marcus and his siblings to band together and create a loving family. Jeff and Todd were many years senior to their younger brothers Michael and Marcus.
His elder brother Todd was his role model and was the scorer of the family. Todd passed away at the age of 33, after an 18-year battle with leukemia, a cancer of the blood cells.
On the other hand, cocaine, drugs, gangs, and guns nearly destroyed his other brother Michael Smart who was a talented point guard at Lancaster High.
Suggested Read: Sam Hauser Dating, Girlfriend, Family, Net Worth
Marcus Smart Net Worth & Salary
Marcus declared forgoing two years of his college eligibility and entering the NBA draft on 7th April 2014. In the 2014 NBA draft, Marcus was drafted by Boston Celtics with the 6th overall pick. Marcus signed with Boston Celtics on 10th July 2014 for the 2014 NBA Summer League. He again signed with the Celtics on 28th August 2018 with a $77 million contract extension.
Regarded as one of the NBA's most dynamic and dependable defenders, Marcus, net worth is estimated to be around $15 million whereas his base salary for the 2021/2022 season is around $13,839,285. 
Suggested Read: Payton Pritchard Dating, Girlfriend, Family, Salary, Net Worth
Short Wiki
Marcus was born on 6th March 1994 and his birth name is Marcus Osmond Smart.

Marcus initially lived in DeSoto and then moved to Lancaster. After Camellia received advice from Marcus's best friend Phil Forte's family, his family then moved into a 3-bedroom ranch house in Flower Mound, a suburb west of Dallas.

Marcus is jersey no. 36 for Boston Celtics. Like other athletes, Marcus also has a special connection with the number. Number 6 resembles his first-round draft no. whereas 'No.3' is for his elder brother Todd. His elder brother Todd wore No. 3 in high school. 

Marcus also has tattooed a big No.3 on his arm.

Marcus went to Edward S. Marcus High School of Flower Mound, Texas, and later attended Oklahoma State University.

Marcus used to play football until 6th grade and even used to play tennis during his spare time. 

Marcus is also a gold medal winner as a member of the USA squad at the 11th U19 World Championships in Prague, Czech Republic.

As for the height of Marcus, he is 6 feet and 4 inches tall (1.93 m).

Marcus Smart holds American nationality and comprises of black ethnicity.

His listed weight is 220 lb which is around 100 kg.